US ambassador visits paratroopers deployed near Poland-Ukraine border as evacuee flow starts to surge
By
Stars and Stripes
February 25, 2022
---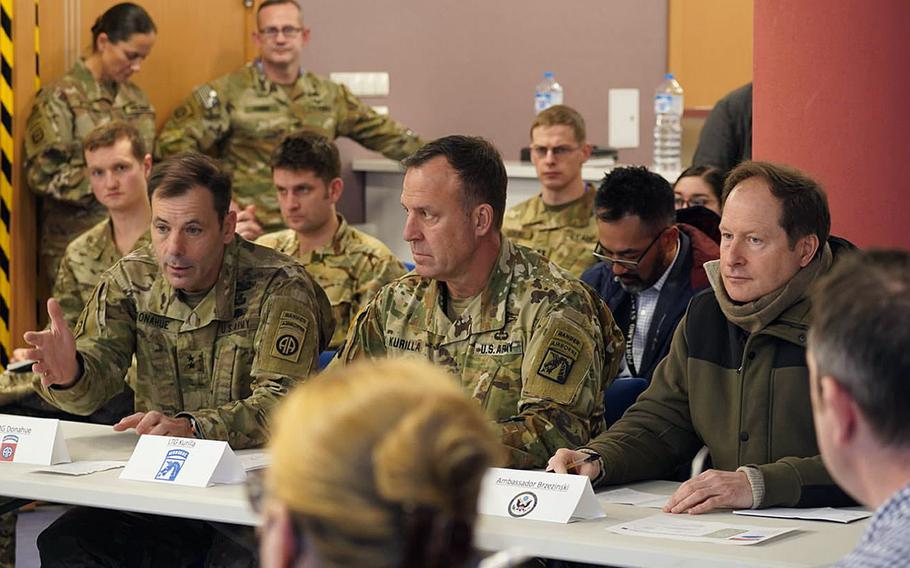 RZESZOW, Poland — The top American diplomat in Poland traveled south Friday aboard a Black Hawk helicopter to meet with U.S. paratroopers, thousands of whom have taken up positions near the border with Ukraine to shore up NATO's defenses.
"I flew in from Warsaw in a way I never thought I would do in Poland," Ambassador Mark Brzezinski said after landing in an area where temporary U.S. Army encampments are popping up.
The U.S. Embassy established a welcome center in Przemysl, which is just 6 miles from Ukraine's border, in the event large numbers of Americans cross into Poland.
So far, few Americans have turned up at the welcome center after leaving Ukraine, where an estimated 6,600 U.S. citizens were believed to reside in recent months.
But the overall number of people departing Ukraine has risen since Russia began its full-scale invasion Thursday, resulting in long waits in the cold for families stuck in lines for 14 hours at a time, Brzezinski said. He blamed Russian President Vladimir Putin for the unfolding crisis.
Since arriving in Poland earlier this month, soldiers with the 82nd and 101st airborne divisions have set up encampments around Rzeszow. U.S. military equipment has been flowing into the area for weeks.
One of the tasks for the troops could be assisting with the flow of people out of Ukraine, depending on the outcome of the war.
Brzezinski said the U.S. and Poland are still assessing what supporting role American military personnel could have.
But when asked by a Polish reporter about American readiness to defend Polish territory should the war spill over, Brzezinski said the U.S. is "fully prepared."
Russia's decision to launch a full-fledged invasion of Ukraine involving ground forces and attacks from the air and sea has brought widespread condemnation amid fears that Moscow is closing in on the Ukrainian capital of Kyiv.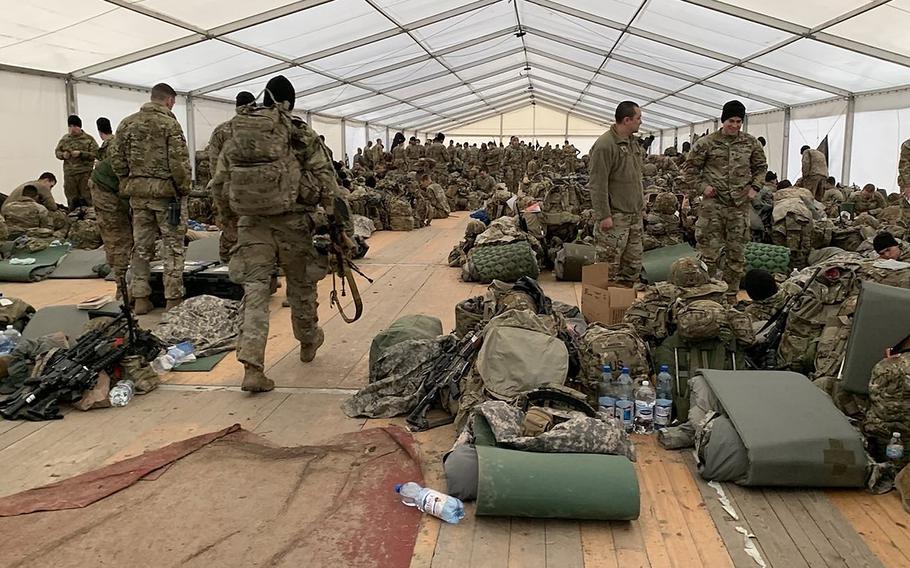 "We are in a dangerous situation," Brzezinski said.
On Thursday, the U.S. said it will deploy 7,000 additional troops to Europe in the days ahead. That comes on top of the 5,000 already deployed to Poland.
Other U.S. forces in Europe have been repositioned closer to NATO's eastern flank in such countries as Romania, Bulgaria and Latvia. Their presence is meant to reassure fellow member countries and send a signal of allied resolve to Russia.
NATO also granted authority to U.S. Air Force Gen. Tod Wolters, the alliance's top military commander, to activate the 40,000-person response force if he deems it necessary.
For now, the U.S. soldiers in Poland are operating out of the public eye, training inside bases and setting up gear along airfields where military hardware can be seen from a distance.
U.S. troops and their counterparts in the Polish 18th Mechanized Division also have been working on carrying out joint operations and practicing medical evacuation.
---
---
---
---