Evacuee processing 'needs to be faster' at U.S. military bases in Europe accepting flights from Afghanistan, EUCOM commander says
by
Caitlin Doornbos
Stars and Stripes
August 25, 2021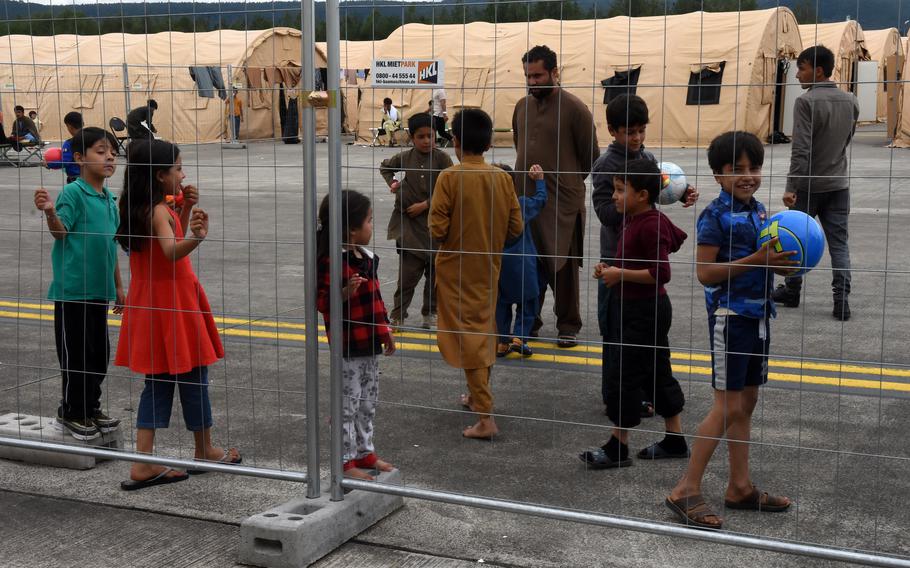 WASHINGTON — The military is working to speed up the processing of Afghan evacuees at U.S. military bases in Europe as thousands pour into overseas sites before they are moved to the United States, the top general for U.S. European Command said Wednesday.
With nearly 5,800 evacuees remaining at Ramstein Air Base in Germany and another 662 at Naval Air Station Sigonella in Italy, the screening and movement of evacuees to the U.S. needs to accelerate, Air Force Gen. Tod Wolters told reporters at the Pentagon.
Since operations there began Friday, about 1,600 evacuees have processed through Ramstein and subsequently sent stateside, Wolters said.
"That's still a process that's in the works — it needs to be faster than what it currently is," he said. "With the numbers that we currently have at Ramstein, the wait from this point forward should be in the three- to four-day timeframe."
However, the process is improving as time goes on, Wolters said. The goal as of Wednesday was to send about 1,500-1,800 evacuees from Ramstein to the U.S. within the next two days.
"We see improvement in the speed with which we can process individuals with 100% accuracy, and it's like anything else, the more you do it, the better you get," he said.
The evacuees are largely special immigrant visa applicants brought from Kabul to secondary locations such as Ramstein, Sigonella and Al Udeid Air Base near Doha, Qatar, for further vetting before they are taken to the U.S. to complete their visa processes. Another six U.S. bases in Europe are now preparing to receive and process evacuees, including Naval Station Rota in Spain and Camp Bondsteel in Kosovo, Wolters said.
The call to expedite the processing comes as the U.S. exceeded its evacuation goal of 5,000-9,000 people per day for three consecutive days. Military aircraft evacuated 11,200 people Tuesday, 12,700 on Monday and 11,000 on Sunday.
Of the approximately 7,000 evacuees transported to U.S. bases in Europe for processing, 52 were flagged as possible security threats, but the Department of Homeland Security has since cleared all of them, Wolters said.
"We feel that we have a very good process in place that is DOD-centered, as well as State Department centered with DHS," he said of the security screenings.
Additionally, fewer than 100 of the evacuees were sent for further medical vetting after completing the initial screening, 25 of whom needed additional medical care for conditions including the coronavirus, Wolters said.
The evacuees are about one-third men, one-third women and one-third children — all of whom "are very, very grateful" to troops and their efforts to remove them from Kabul since the city fell to the Taliban on Aug. 14, Wolters said.
"In what they're getting as far as treatment is concerned at Ramstein and Sigonella, they are very, very much in favor of," he said.
One Afghan family who made headlines Saturday for giving birth to a baby girl aboard a C-17 transport aircraft as they were evacuated from Kabul expressed their gratitude by naming the child "Reach" after the plane's call sign, Wolters said.
"If you could well imagine being an Air Force fighter pilot, it's my dream to watch that young child called Reach grow up and be a U.S. citizen and fly United States Air Force fighters in our air force," he said.