US Navy bases in Spain and Italy, Army posts in Germany to host Afghan evacuees
by
Alison Bath
Stars and Stripes
August 23, 2021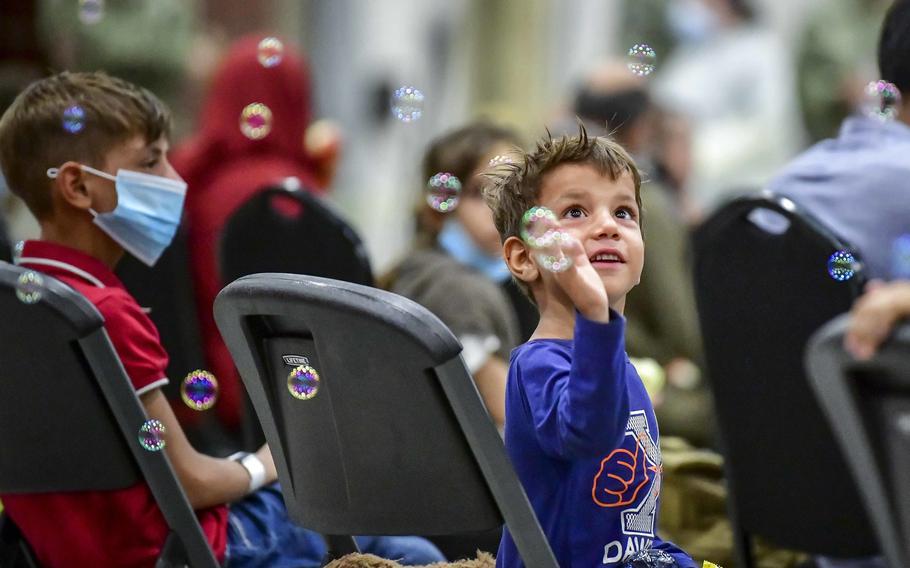 NAPLES, Italy — U.S. Navy bases in Spain and Italy are among those that will assist U.S. and NATO efforts to bring tens of thousands of Afghan refugees to safety, officials said.
Some of the evacuees will be housed temporarily at Naval Station Rota in Spain, the base said in a statement Sunday. Others are being evacuated through Naval Air Station Sigonella in Sicily before moving on to other locations as part of Operation Allies Refuge.
"This will be a major operation for this installation, and an excellent opportunity for this community to support individuals in their time of need," Naval Station Rota said on its Facebook page.
The main effort to house evacuees at bases in Europe thus far has been at Ramstein Air Base in Germany, where nearly 7,000 people have arrived since Friday, officials there said Monday. The Army will also host Afghans at Rhine Ordnance Barracks in Kaiserslautern, and at the Grafenwoehr Training Area.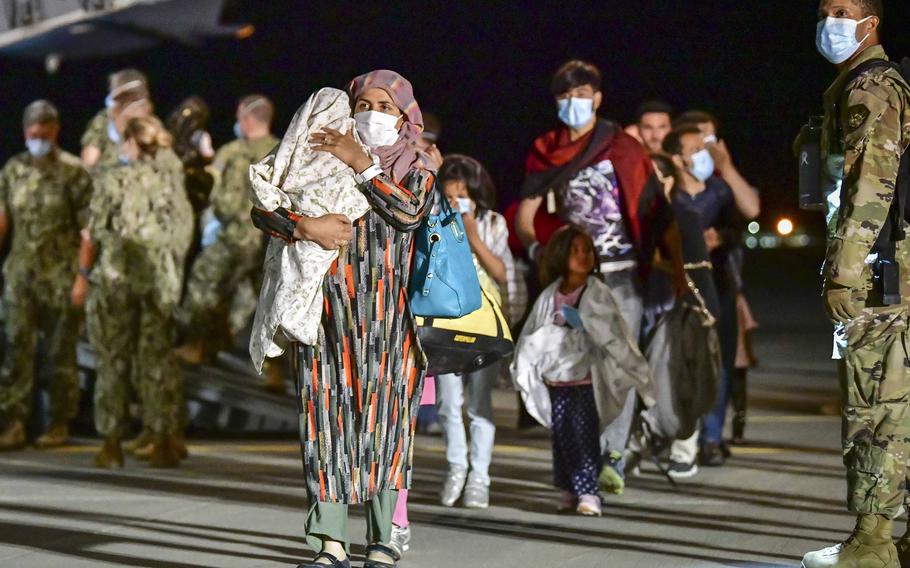 Fort Lee, Va., Fort McCoy, Wis., and Fort Bliss, Texas, have also been designated to house evacuees, along with Al Udeid Air Base in Qatar, as part of a growing list of worldwide U.S. bases involved in the operation.
The evacuations come as thousands of Afghans and foreigners continue to clamor for access to Kabul's airport in the days before the anticipated withdrawal of foreign forces by Aug. 31. Taliban spokesman Suhail Shaheen, in an interview with Sky News, said extending the U.S. presence past that date would "provoke a reaction."
Many of the evacuees worked for the U.S. military, government agencies or other U.S. organizations during the nearly 20-year war in Afghanistan.
The Rota posting did not say how many evacuees would be sent to the base, when they would arrive or how long they would stay. But the base's fitness center was closed starting Monday and closures of other facilities are expected to accommodate the effort, NS Rota said. Officials also anticipated the need for donations of adult, child and infant clothing, toys and infant supplies, such as bottles and blankets.
NAS Sigonella saw its first group of 140 evacuees arrive on a U.S. Air Force KC-10 Extender from Al Udeid Air Base on Sunday night. More were expected in "the coming hours and days," said U.S. Naval Forces Europe-Africa/U.S. 6th Fleet in a Sunday post to its Facebook page.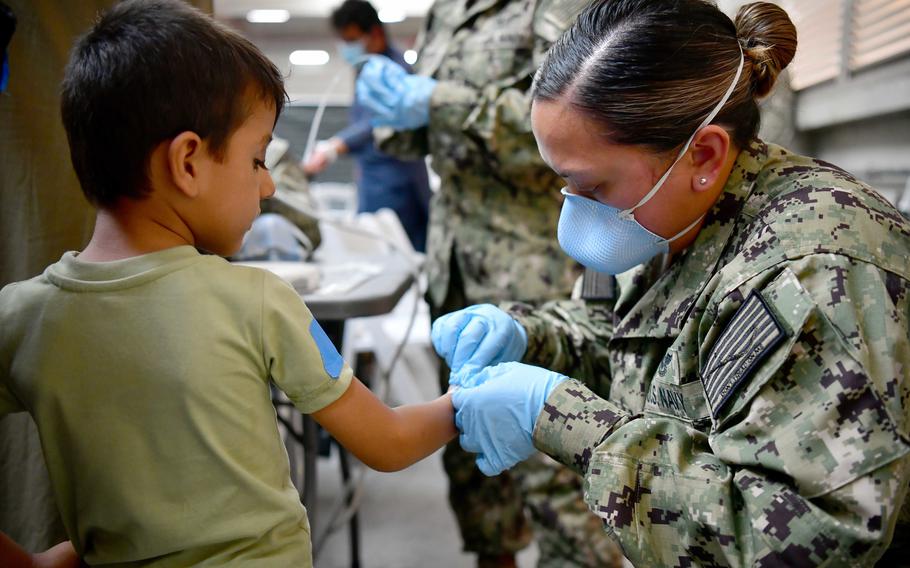 Officials worked with the Italian air force and Italian government to coordinate the effort, it said. The base obtained necessities from its commissary and Navy Exchange, and asked community members for patience as items were restocked.
"The people we're helping are going to be joining our American family," said Capt. Kevin Pickard, NAS Sigonella commanding officer, to a gathering of U.S. military and State Department personnel before the first aircraft arrived. "We're proud to welcome them with open arms."
Naval Support Activity Naples in Italy was not asked to house evacuees but base and tenant command personnel were at NAS Sigonella assisting with efforts there, said Lt. Jamie Moroney, NSA Naples spokeswoman. It wasn't immediately clear if Naval Support Activity Souda Bay in Crete also would be participating in evacuation efforts.