US bases in Japan, South Korea 'stand ready' to assist Afghan evacuees
by
David Choi, Seth Robson and Joseph Ditzler
Stars and Stripes
August 23, 2021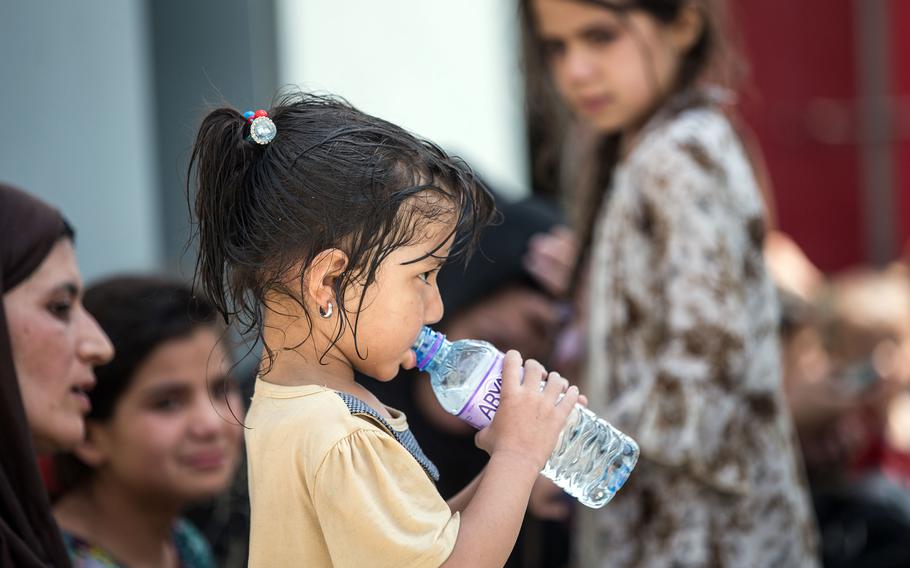 CAMP HUMPHREYS, South Korea – U.S. military commands in the Pacific are ready to assist with the evacuation of vulnerable Afghans in their ongoing flight from Kabul but are not tasked thus far to do so, spokespeople said Monday.
Thousands of Afghans who worked for NATO, the United States, and its allies in the 20-year war against the Taliban are crowded into Hamid Karzai International Airport outside Kabul, the capital of Afghanistan, seeking a way out.
Over the weekend, the U.S. flew evacuees to Ramstein Air Base in Germany, where about 5,000 men, women and children who fled Taliban rule made temporary homes. Rumors surfaced that some evacuees from Kabul were heading to Japan, where the Air Force maintains key air hubs, and South Korea, home of the largest Army base overseas.
The Red Cross and military families solicited donations of clothing and other items to give to Afghans, which further fueled speculation. But no flights with evacuees are imminent, according to the U.S. commands in both those countries.
U.S. Forces Korea "has not been tasked to provide temporary housing or other support for anyone departing Afghanistan," spokesman Col. Lee Peters said in an email Monday to Stars and Stripes.
"If tasked, USFK will work with the Department of State, Department of Defense and the [South Korean] government," while maintaining the "obligation to provide and maintain a robust combined defense posture," he wrote.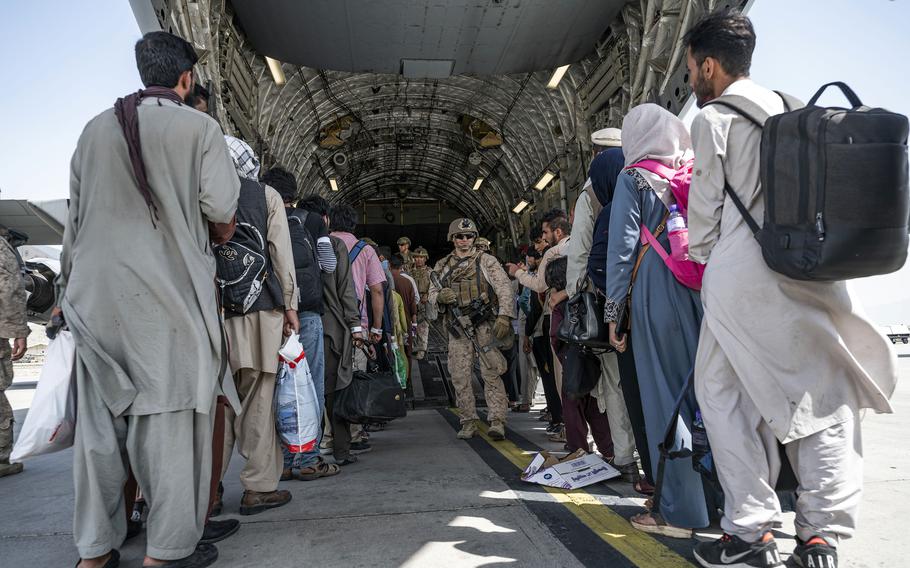 Likewise, U.S. Forces Japan "stands ready to support any transit of individuals and families departing Afghanistan," said spokeswoman Lt. Col. Brooke Brander.
But no evacuees are inbound to Japan, she told Stars and Stripes in an email Monday. Any support USFJ provides "will be closely coordinated with the Department of State and the Government of Japan."
The U.S. Embassy in Tokyo had no further information available, according to an email Monday from an information assistant, Naoko Chimaru.
She referred Stars and Stripes to a recent statement by Secretary of State Antony Blinken, in which he said President Joe Biden has ordered commercial airlines to provide 18 aircraft for shuttling evacuees from transit points outside Afghanistan to other destinations.
Since Saturday, about 8,000 people had left the Kabul airport on about 60 flights, Blinken said Sunday. He said about 30,000 people were evacuated on military and charter flights since the end of July. Around 17,000 people have been evacuated since Aug. 14, the Defense Department said in a Sunday news release.
Blinken said the 18 commercial airliners would help move people, not from Kabul itself, but from third-country transit points as they are processed and complete security checks.
"We've reached agreements with about two dozen countries over four continents who are now helping or are soon going to help with the transit of people out of Kabul," he said.
Denmark and Turkey are allowing Americans and other evacuees to process through there to expedite the process, State Department spokesman Ned Price said Friday.
Price said Bahrain, Italy, Kazakhstan, Kuwait, Qatar, Tajikistan, the United Arab Emirates, the United Kingdom and Uzbekistan also will or have allowed Americans or other evacuees to transit their territories.
Other countries have "made generous offers," he said regarding "relocation efforts" for Afghans: Albania, Canada, Colombia, Costa Rica, Chile, Kosovo, North Macedonia, Mexico, Poland, Qatar, Rwanda, Ukraine and Uganda.
Roughly 5,800 U.S. troops have deployed to the airport in Kabul in recent days to assist in Operation Allies Refuge. Thousands of Afghans hoping for a flight out of the country amid the Taliban advance have rushed to the airport, the last hub still under U.S. control in Afghanistan.
Pentagon press secretary John Kirby on Saturday described the airport scene as "very fluid and dynamic" as U.S. officials negotiate with the Taliban for the safe passage of evacuees.
Evacuees transported to military bases in Qatar and Germany are being processed to Fort Bliss, Texas; Fort Lee, Va.; and Fort McCoy, Wis.
"We are committed to this highly important mission to bring American citizens, [special immigrant visa] applicants and at-risk Afghans who have worked alongside of us throughout our time in Afghanistan, and vulnerable Afghans, including women and children, safely out of Afghanistan," Maj. Gen. Hank Taylor, the deputy director of the Joint Staff for Regional Operations, said during a press briefing at the Pentagon on Saturday.
Biden on Sunday said his administration may extend the evacuation deadline past Aug. 31.
"Our hope is that we will not have to extend," he said during a press conference.