'They kind of need help everywhere': US troops put in long hours in Qatar to aid Afghanistan evacuation
by
Chad Garland
Stars and Stripes
August 19, 2021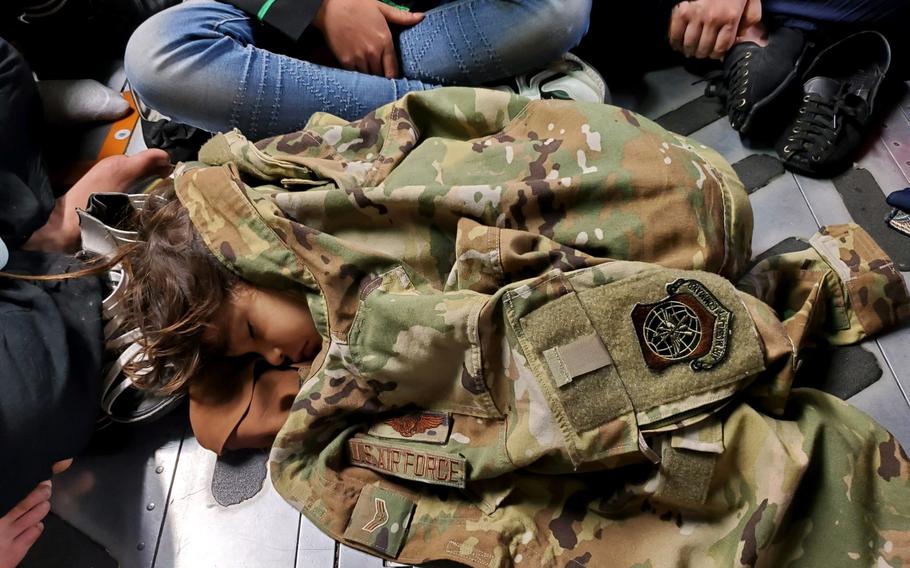 Military personnel are working around the clock at Al Udeid Air Base in Qatar to facilitate the U.S. airlift from Afghanistan this week, while others launched clothing drives and volunteer efforts, base residents said.
People dragged cots and mattresses into their offices in an operations center, said one resident Wednesday, who asked not to be named because he was not authorized to speak to the media.
Cargo plane and refueler activity in the air suggested crews were about on target for the Pentagon's one-flight-per-hour pace for the evacuation, said the resident, who wanted to highlight the "flex and give" the operation required, referring to added workloads and hardships.
"It's going to put strains everywhere," he said of the effect the mission would have on personnel, facilities and equipment.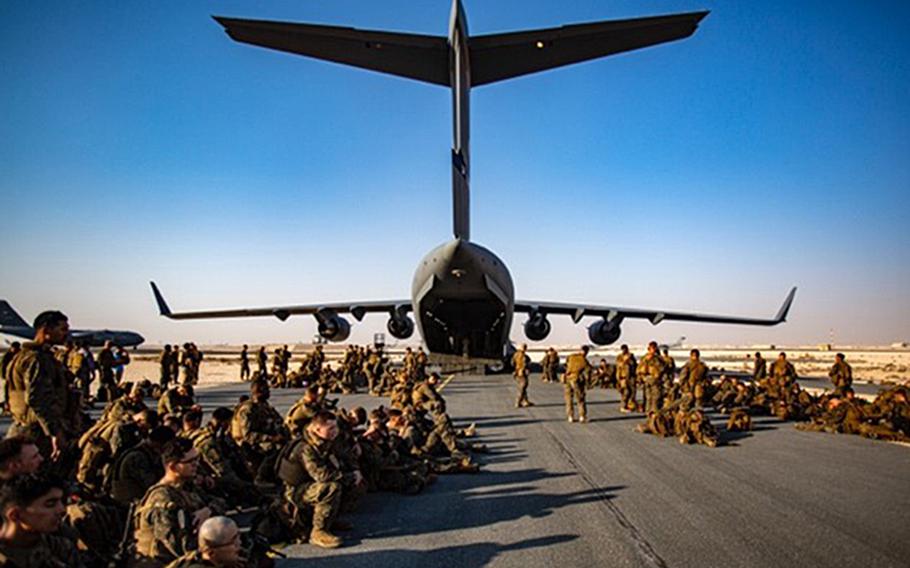 The rapid Taliban advance last week caught the Biden administration flat-footed, leaving tens of thousands of Americans, allies and desperate Afghans stuck in the country awaiting the possibility of evacuation — if they can get into the airport, which is surrounded by armed Taliban militants.
The U.S. could have the capacity to evacuate 5,000 to 9,000 people each day at "full throttle," Pentagon spokesman John Kirby told reporters Thursday.
But a day earlier at Al Udeid, people were already scrambling to prepare the base as the flights started arriving, the resident said.
Officials appeared not to have planned for security escorts from the flight line. Some airmen were surprised at the end of a normal shift to be suddenly assigned the extra duty earlier this week, the resident said.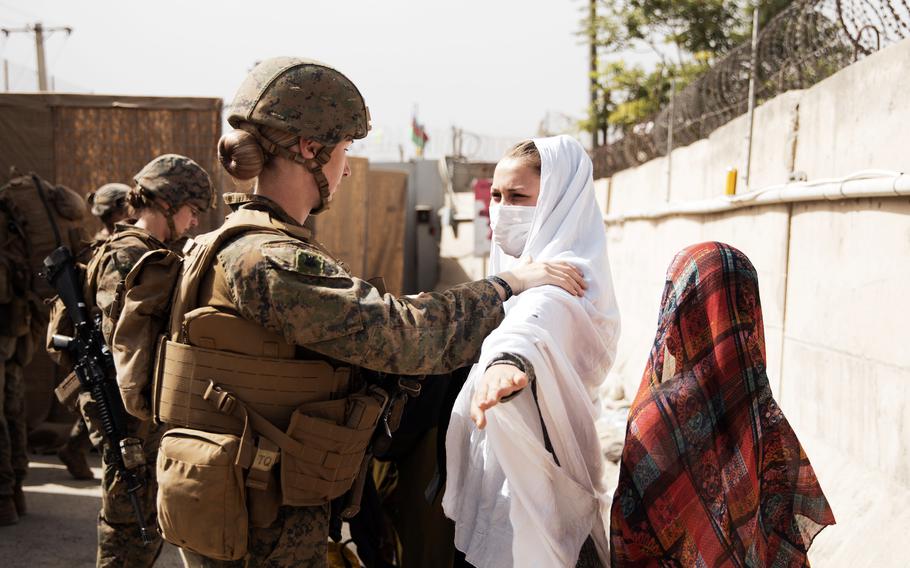 The influx has also put pressure on some base services, with dumpsters filling up so fast that an email went out telling all personnel to begin crushing their trash. The base's water supply, which is already limited in summer, may also be strained.
Still, some service members were looking to do whatever they could to help, a discussion on a Facebook group for base residents showed.
"The most important thing I do in my time here is not even going to be during work hours," one group member said on a personal page earlier this week.
People were volunteering at one of the hangars after work, that user said in response to a question about how to pitch in. A call went out for volunteers to assist with force protection, another user said.
"I volunteered today," another commenter said. "They kind of need help everywhere."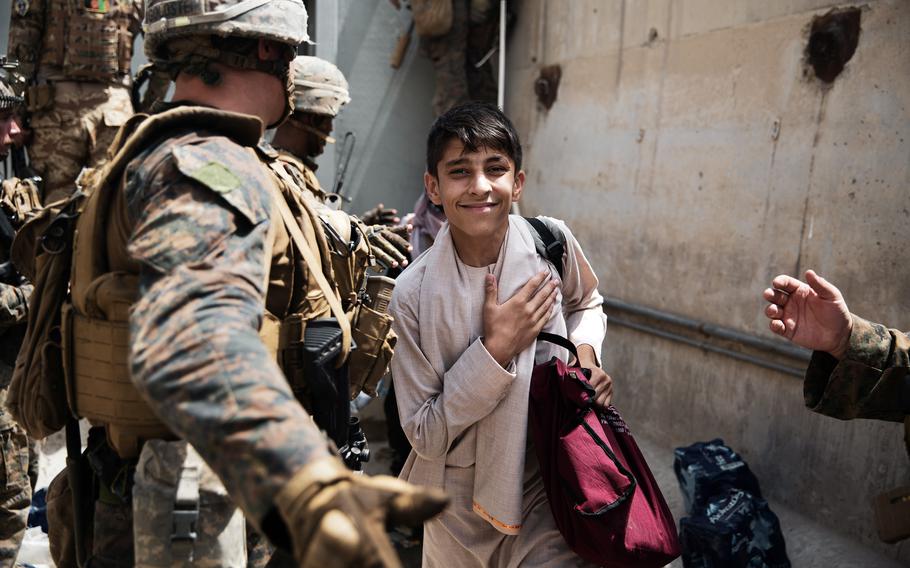 People were organizing a clothing and shoe drive. Hygiene supplies were also needed, one commenter said, though evacuees were being given shampoo, towels and bar soap.
U.S. Air Forces Central referred inquiries on the evacuations to the Pentagon, which did not respond to questions about Qatar or other sites.
An Afghan at the base was forced to leave behind almost all of his belongings, he told Stars and Stripes by phone, and the one bag he did bring with his wallet and other important documents was stolen as he pushed through the crowd outside the airport. He and four family members arrived in Qatar with little more than the clothes on their backs.
"I don't have anything," said the Afghan, a U.S. green card holder who declined to be named for fear the Taliban may target his family members left behind.
After arrival in Qatar, he and his wife and children were taken to a hangar where they stayed overnight. There were some free clothes and sandals, but he struggled to find something that fit him and was too exhausted after several sleepless days to keep looking, he said.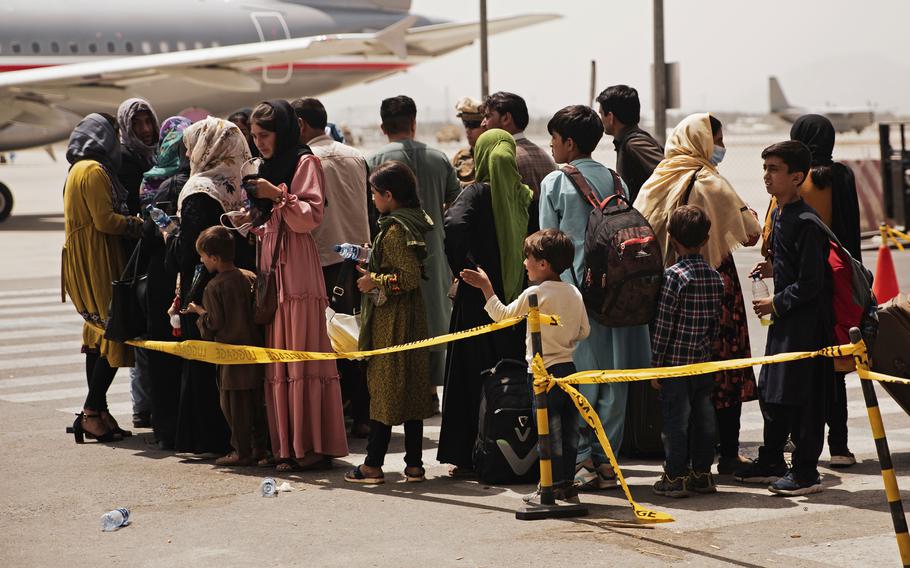 He and others underwent COVID-19 tests and were then moved to an area with its own dining facility and laundry, he said.
That's likely a quarantine area, dubbed "Q town," which the base resident described as a fenced compound with about 15 buildings and beds for about 1,000 people. It was full, he said. Beds were also set up in the gyms and two base theaters, while those and other morale facilities were closed, giving residents few options for taking a break to unwind.
In one good sign, the dining facility's warehouse seemed to have stocked up, he said, and so far the cafeterias on base were handling the added demand well.