Safety not guaranteed: Flights out of Kabul have resumed for Americans who can get to the airport
by
Staff and wire reports
August 18, 2021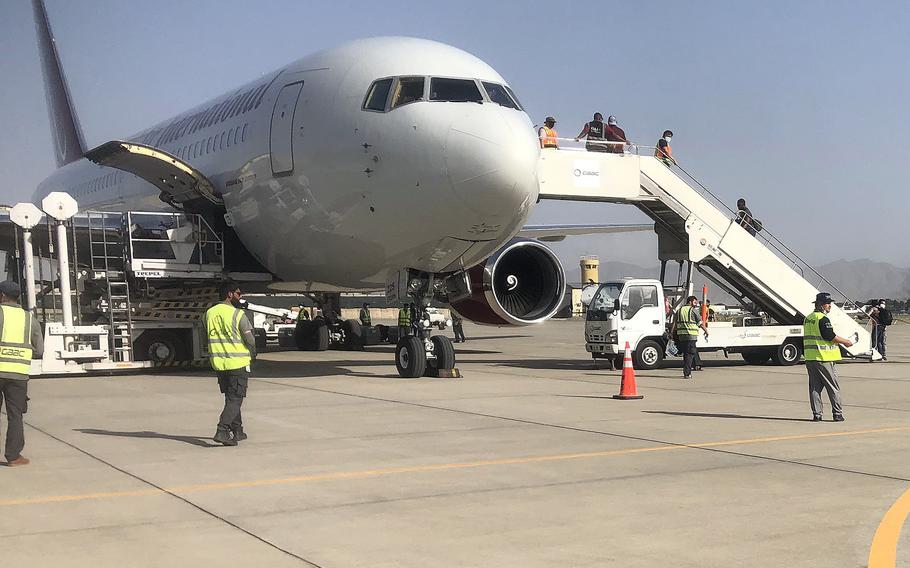 As the U.S. seeks to evacuate some 5,000 people a day from Kabul, the challenge of getting out of Afghanistan is getting into the airfield, which is secured separate areas by both U.S. and Taliban forces.
U.S. government-provided flights are departing, and American citizens and permanent residents "should consider traveling to Hamid Karzai International Airport," the State Department said in an alert Wednesday afternoon.
But the message carried a warning that the U.S. government cannot ensure safe passage to the airport.
The military side of the facility is being secured by thousands of Americans. Outside, Taliban militants had set up checkpoints and were demanding travel documents before letting anyone in, said a former airport worker who was waiting to be called back to his job and declined to be named for safety reasons.
The militants fired occasional warning shots to disperse crowds of people who sought to push through the gate into the airport each time it opened even an inch, The Associated Press reported.
But in meetings with the group's senior leadership in Qatar over the weekend, U.S. Central Command boss Gen. Frank McKenzie cautioned that any attack on the evacuation effort would be met with "overwhelming force," he said in a statement Tuesday after touring the airfield.
Since those meetings, U.S. commanders have had discussions with Taliban commanders on the ground outside the airport, Pentagon spokesman John Kirby said Tuesday.
"I would just let the results speak for themselves," Kirby said. "There are interactions multiple times a day and … there's been no hostile interactions from the Taliban to our operations at the airport."
Afghans swarmed the tarmac earlier in the week, and two were killed by American troops after showing hostile intent, officials said. Others desperate to escape fell from a C-17 military plane they'd clung to when it took off.
Many in the country fear brutal Taliban reprisals, though the militants have sought to assure Afghans that they will not face retribution for supporting the U.S. or the deposed government.
But some Kabul residents said groups of armed men have been going door to door asking about Afghans who worked with the Americans or the ousted Kabul administration, the AP reported, though it was unclear whether the gunmen were Taliban or criminals.
The Afghan Independent Journalists Association also voiced concerns about press freedoms Wednesday, saying in a statement that three journalists had been beaten by the Taliban, including one who was trying to talk to a militant about the situation outside Kabul's airport.
Many of the desperate Afghans who gathered outside the airport beginning Sunday had returned to their homes Tuesday, but the roads were still jammed, said Mohammad Nasim, 26, a Kabul resident who was in the crowd and spoke to Stars and Stripes by phone Wednesday.
Some were still getting onto the airport grounds by climbing over the walls, said Nasim, who said he had no documents, passport or electronic ID card, but heard three days ago that some Afghans were evacuated without any paperwork.
"I just want to get on a plane and don't care where they take me," he said. "It should just be outside of Afghanistan."
Stars and Stripes reporter Zubair Babakarkhail contributed to this report.