Hold heads high, top US military leaders tell veterans of Afghanistan
by
David Choi
Stars and Stripes
August 19, 2021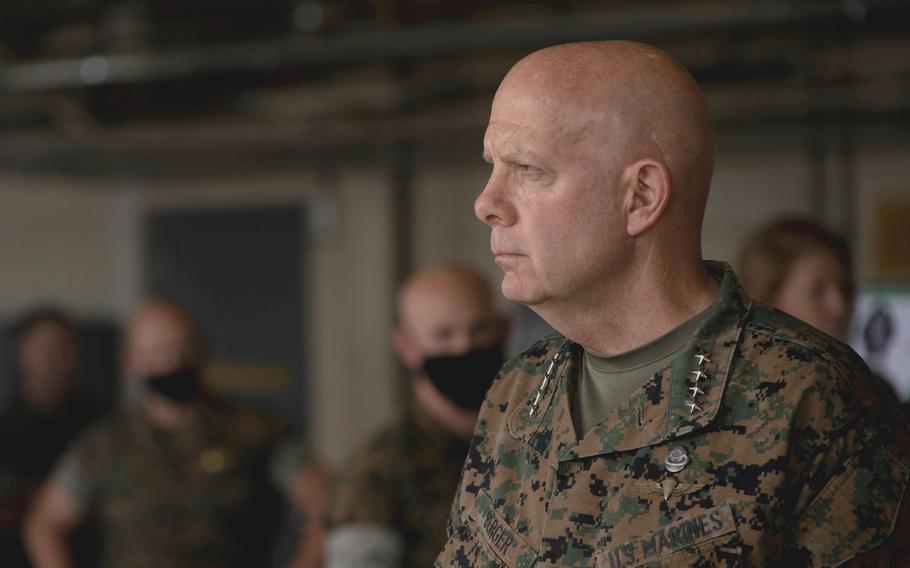 The highest-ranking leaders of the Army and Marine Corps told U.S. veterans of Afghanistan that their service mattered, even as the Taliban effectively controls the country and former Afghan allies flee for their lives.
Marines watching the chaotic events unfold in Kabul, the Afghan capital where the Taliban took control earlier this week, "may be struggling with a simple question: 'Was it all worth it?'" wrote Marine Corps Commandant Gen. David Berger in an open letter published on the service's social media accounts Wednesday.
"We see videos and photos, we read stories that bring back memories for some of us, and it becomes intensely personal," Berger wrote, along with Sgt. Maj. of the Marine Corps Troy Black.
Those Marines' service in Afghanistan was "meaningful, powerful, and important," the two men wrote.
"You put the good of others before yourself. You fought to defend your country, your family, your friends, and your neighbors. You fought to prevent terror from returning to our shores," they wrote. "You fought for the liberty of young Afghan girls, women, boys, and men who want the same individual freedoms we enjoy as Americans. You fought for the Marine to your left and the Marine to your right."
Berger previously commanded the 1st Marine Division-Forward during Operation Enduring Freedom in Afghanistan. Black also deployed to the country with 3rd Battalion, 7th Marines and with Combat Logistics Battalion 5.
"Was it worth it? Yes," the two Marines wrote. "Does it still hurt? Yes."
The Taliban's rapid advance across the country and its capture of Kabul without much resistance from the Afghan National Army prompted U.S. and coalition forces to speed up their timetable for evacuating citizens and Afghans with special immigrant visas.
Chairman of the Joint Chiefs of Staff Gen. Mark Milley in a press briefing Wednesday said, "I did not, nor did anyone else see a collapse of an army that size in 11 days."
Roughly 6,000 U.S. troops are expected to deploy to the Hamid Karzai International Airport to aid in the evacuation. President Joe Biden said Wednesday on ABC News that the Aug. 31 deadline to end U.S. operations could be extended to get all Americans out of Afghanistan.
Berger and Black encouraged the troops to "come together" and reach out to their fellow Marines, "particularly those you served with overseas."
Likewise, Army Chief of Staff Gen. James McConville, in a letter Tuesday asked soldiers to "check in on your teammates" who may be struggling with events unfolding in Kabul and elsewhere in Afghanistan.  
"The attacks on September 11, 2001, reminded us of the true strength of our nation and our military," McConville wrote in the letter published throughout the Army's social media accounts. "You are a reflection of what makes us the best Army in the world, and I ask that you remain committed as we work to get through this tough time."
The Army's top enlisted leader, Sgt. Maj. of the Army Michael Grinston, also said the troops' service in Afghanistan was not in vain. Both McConville and Grinston served tours in Afghanistan. McConville, as commander of the 101st Airborne Division, deployed there as head of Combined Joint Task Force 101.
"I'm proud of everyone that deployed in support of the Afghan mission and honor the sacrifice of those who did not return," Grinston said in a series of tweets Wednesday. "The events of the past week are in no way a reflection on that service and sacrifice."
Rep. Jason Crow of Colorado, an Afghanistan veteran who served with the 75th Ranger Regiment, said he empathized with "my fellow veterans" on Thursday.
"So many of us left a part of our heart in Afghanistan," Crow said on Twitter. "Now, more than ever, please take care of yourself. Asking for help is a sign of strength."