Austin promises ramped up evacuation efforts from Afghanistan for 'as long as we possibly can'
by
Corey Dickstein
Stars and Stripes
August 18, 2021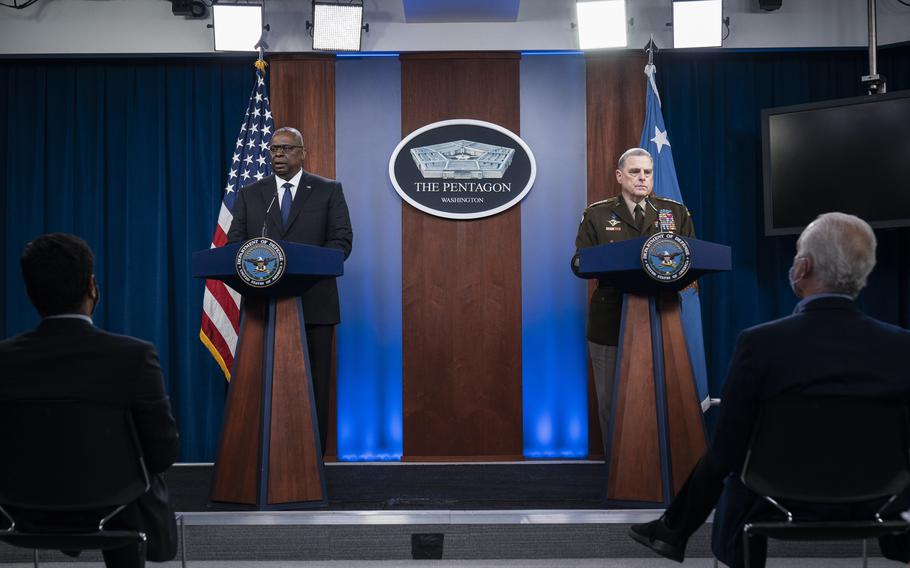 Defense Secretary Lloyd Austin promised Wednesday that U.S. troops would evacuate as many Americans and allied Afghans as possible from Taliban-controlled Afghanistan until "the clock runs out" on the mission, though troops would not enter Kabul to collect stranded people.
"We're going to work 24 hours per day, seven days a week, and we're going to get everyone that we can possibly evacuate evacuated," Austin told reporters at the Pentagon in his first public appearance since the Taliban's lightning offensive last week returned them to power in Afghanistan for the first time in 20 years. "I'll do that as long as we possibly can, until the clock runs out or we run out of capability."
Since the United States took control of Kabul's Hamid Karzai International Airport over the weekend as the Taliban closed in on the city, it has evacuated about 5,000 American citizens, NATO ally personnel and U.S.-allied or at-risk Afghans, Austin said. He said efforts so far have fallen well short of the Pentagon's goals, and he hoped in the coming days to ramp up efforts to evacuate those who want to leave Afghanistan.
The U.S. has deployed some 4,500 troops to the single-runway Kabul airport, known as HKIA, to secure and defend the airfield where they aim to remove 5,000 to 9,000 people per day on more than two dozen military flights. It is the only ground the U.S. military and its allies still control in Afghanistan.
As of now, the Pentagon has been ordered to complete its military operations by Aug. 31 by President Joe Biden, who in April announced the United States would end its involvement in its longest war in history.
The Taliban, which had been stalemated in its war with U.S.-backed Afghan forces for years, swiftly took control of large swaths of Afghanistan last week, often by striking deals with Afghan forces to surrender or flee. The hardline Islamist group, which was ousted from power by American forces just weeks after the 9/11 terrorist attacks in 2001, then quickly captured Afghanistan's largest cities over the weekend, as the U.S.-backed Afghan government crumbled. It took Kabul with nearly no violence.
Austin, a retired four-star Army general and veteran of the war in Afghanistan, and Army Gen. Mark Milley, the chairman of the Joint Chiefs of Staff who has also served there, were adamant Wednesday that now was not the time to second guess decisions that led to the Taliban taking power and the chaotic efforts to remove tens of thousands of Americans and Afghans that fear the group.
Despite acknowledging that a quick return to power for the Taliban after the U.S. withdrawal was considered highly possible by U.S. intelligence officials, Milley said no one predicted Afghanistan would fall so swiftly.
"There was nothing that I or anyone else saw that indicated a collapse of this [Afghan] army or this government in 11 days," Milley said.
"There is plenty of time to do [after-action reviews] and [look at] key lessons learned and delve into these questions with great detail," he added. "Right now is not that time. Right now we have to focus on the mission, because we have soldiers at risk and we are evacuating American citizens and Afghans who supported us for 20 years. This is personal. We are going to get them out."
U.S. military officials struck a deal with the Taliban after it entered Kabul on Sunday meant to allow safe passage through Kabul to the airport for Americans and Afghans with the proper paperwork for evacuation, Pentagon officials have said. But news reports have indicated at least some Taliban fighters have interfered with or harassed individuals attempting to get to the airport.
Austin said the U.S. military mission in Afghanistan is "laser-focused" on operations at HKIA — securing the airfield, protecting its perimeter and ensuring those who want to leave the country can do so on military and civilian aircraft. He said he had no ability to send American troops out into Kabul, or elsewhere in Afghanistan, to escort large numbers of people to the airport.
"We don't have that capability," he said.
Military leaders at HKIA are in regular contact with Taliban commanders in Kabul, the Pentagon has said. They have reminded the Taliban that those with credentials should be allowed through checkpoints to the airport, Austin said, adding the process was "working better" by Wednesday afternoon.
Austin and Milley reflected on their own service in Afghanistan and sought to reassure the hundreds of thousands of Americans who fought there and the families of the more than 2,400 who died there that their efforts were not in vain, even with the Taliban's return to power.
"Every soldier, sailor, airman, Marine and Coast Guardsman — almost 800,000 of you — who have fought in operations in Afghanistan should hold their head high," Milley said. "I want you to know, first of all, that your service mattered. As [Austin] said, for both he and I, this is personal. And I know it's personal to each and every one of you."
---
---
---