Pentagon says US military evacuated about 2,000 people from Afghanistan with C-17s
by
Corey Dickstein
Stars and Stripes
August 18, 2021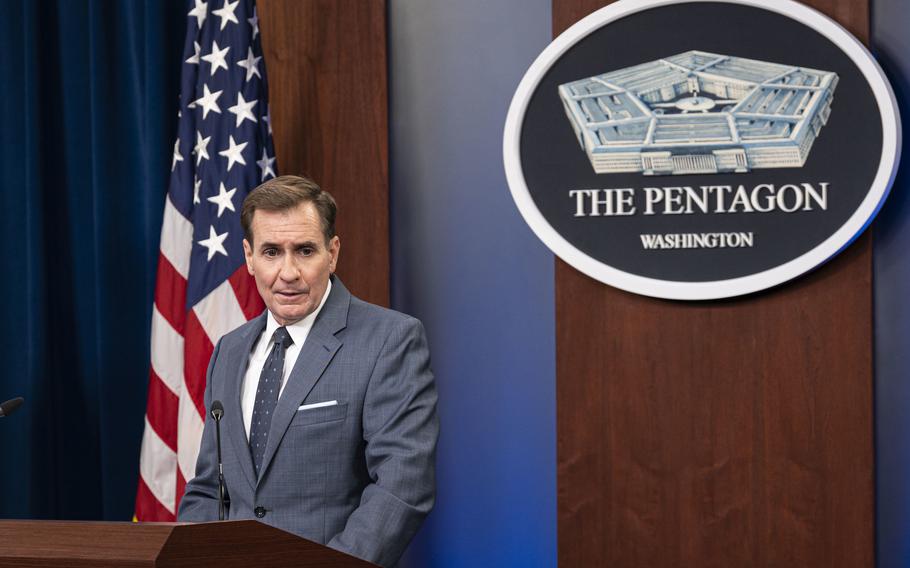 Eighteen American C-17 cargo jets removed some 2,000 people since Tuesday from Kabul's international airport, the last ground in Afghanistan controlled by U.S. and allied forces, the Pentagon's top spokesman said Wednesday.
The outgoing jets evacuated 325 American citizens and hundreds of Afghans and NATO ally personnel, said John Kirby, the Pentagon's chief spokesman. At the same time, some 700 U.S. troops and their gear arrived in Kabul on 18 C-17s and one smaller C-130 cargo plane. The latest increase of troops brings the total U.S. military presence at Hamid Karzai International Airport to about 4,500 service members, he said.
Kirby also said he expected a similar number of flights in and out from the Kabul airport during the next 24-hour period, but he declined to estimate how many people could be evacuated during that time. Kirby previously said the Pentagon was working to ramp up to moving some 5,000 to 9,000 evacuees from the airport per day on more than two dozen incoming and outgoing flights.
"We expect the same kind of air activity in terms … of the number of [flights], but I can't tell you exactly the numbers of people that we will have coming and going," Kirby told reporters in a news briefing from the Pentagon. "The goal is to get as many people out as quickly as we can."
He said in addition to the U.S. military flights, some NATO partner flights and commercial flights had also come and gone from the Kabul airport in recent hours.
Defense Secretary Lloyd Austin and Army Gen. Mark Milley, the chairman of the Joint Chiefs of Staff, met Wednesday morning with President Joe Biden at the White House to discuss operations at the Kabul airport and the situation in Afghanistan, where the Taliban now controls virtually the entire country. Those two top Pentagon officials were expected to brief reporters Wednesday afternoon, in their first public appearances since the Taliban's lightning offensive thrust them into control of Afghanistan for the first time since the U.S. ousted them in 2001, just weeks after the 9/11 terrorist attacks.
Kirby said operations at the Kabul airport had remained smooth since they restarted Monday after U.S. troops cleared the airfield of thousands of desperate Afghans who had flocked to the airport to flee the Taliban, who captured Kabul on Sunday. He said American troops had at times fired warning shots to control crowds outside the airport's perimeter, but he said he was not aware of any injuries or threats to Americans' safety.
The Defense Department was aware of news reports out of Kabul — including from CNN and The Washington Post — that Taliban fighters had blocked or harassed individuals attempting to reach the Kabul airport, Kirby said. The Taliban had agreed to ensure safe passage through Kabul for Americans and Afghans attempting to leave the country via the airport, he said.
"This is one of the reasons why communication with the Taliban is so important," Kirby said. "To make sure that that doesn't happen, and that those who we are trying to evacuate, especially [special immigrant] visa applicants and Afghans at risk who we're working very hard with to make sure that they can get through safely so that they can be properly processed and make that passage."
But Kirby would not say whether the Pentagon was considering making a physical effort to ensure safety to those outside of the Kabul airport grounds or whether it might expand the security perimeter around the airport. Kirby said he would not talk about any potential future plans.
Marine Gen. Kenneth McKenzie, the commander of U.S. Central Command, visited the Kabul airport Tuesday. He said he had delivered a stark warning to Taliban senior leaders during face-to-face meetings in Doha on Sunday not to interfere with U.S.-led evacuation operations or face "overwhelming force."
Kirby said a few hundred additional American troops, mostly Marines, were expected to arrive Wednesday at the Kabul airport. The force at the airport is expected to reach about 6,000 American troops at some point, but Kirby did not say when that entire force would be in place.
As of Wednesday, the mission was expected to end Aug. 31, he said, even as lawmakers and others have publicly called for the United States to stay longer to evacuate more people.
"The mandate by the president is to complete this mission by the 31st of August," Kirby said. "I won't speculate about any possible different decisions going forward. That would be a decision that would have to be made by the commander in chief."