How to help: Charitable efforts multiply in response to plight of Afghans
by
Chad Garland
Stars and Stripes
August 18, 2021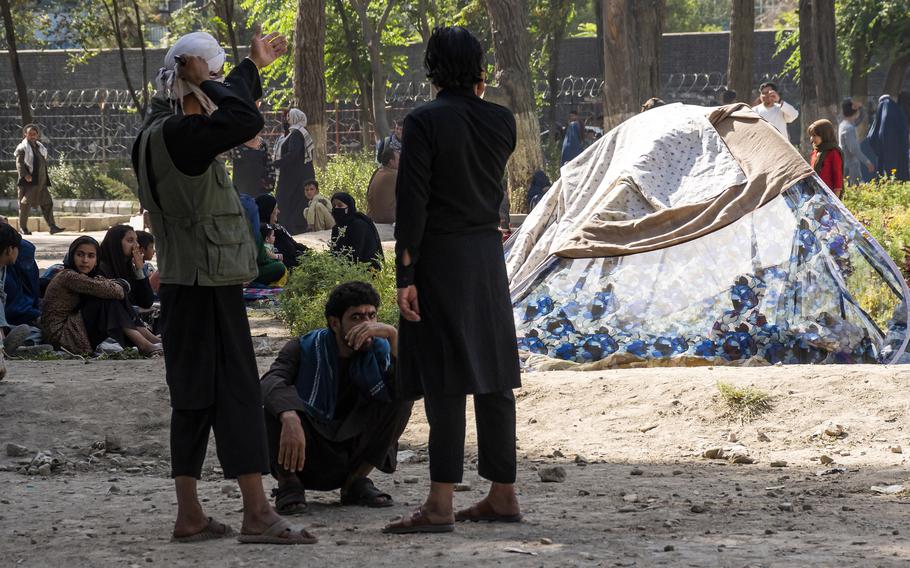 The Taliban takeover of Afghanistan is inspiring drives by veterans and others to ease suffering and aid Afghans who supported the U.S. war effort. 
Organizations in the U.S. are preparing for an influx of refugees, while groups that are continuing aid work in Afghanistan have seen increased bloodshed and other extreme hardships caused by the crisis.
Here are some ways to help.
Helping Afghan refugees
As he watched the unfolding crisis from St. Louis, Afghanistan veteran and law student Peter Lucier wanted to do something.
But not knowing what to do, he sought advice from people he knows on Twitter. 
"Ten years after getting out, I'm still a Marine," he said. "So if you tell me what to do, I'll do it."
Because news in such crises can be bewildering, Christopher Boian, a spokesman for the United Nations High Commissioner for Refugees, said people who want to help refugees should first seek deeper information about the challenges they face, such as with integration and resettlement.
With the help of his followers, Lucier chose to back the groups Keeping Our Promise, which helps resettle Afghans who supported the U.S. government, and Hearts and Homes for Refugees, which provides sponsors and other programs to aid with refugee integration.
Lucier then turned to the current and former military members dubbed "MilTwitter," hoping to "put a veteran face" on crowdfunding campaigns to support the groups. They've raised some $40,000 in a matter of days.
The first pledges last week addressed an immediate need, he said, allowing Keeping Our Promise to begin preparing for an Afghan family being whisked to the U.S.
Another group, Lutheran Social Services National Capital Area, is mobilizing to support the Afghans arriving at Fort Lee, Va., one of three places where the Pentagon said it will house up to 22,000 special immigrant visa applicants and refugees for processing.
New York-based HIAS is urging people to volunteer and donate to support resettlement efforts, and it has partnered with Airbnb, where people can offer to host refugee families and others in need of a place to stay.
Catholic Charities and Jewish Family Service are among four organizations in San Diego that told CBS8 they're receiving three to five Afghan refugee families a week and expect that number to increase as the crisis deepens.
The U.S. Department of Health and Human Services Office of Refugee Resettlement also provides a list of contacts for refugee resettlement programs in all 50 states. Boian also recommended visiting the UN refugee agency's U.S. website and Refugee Council USA. 
Helping groups still at work in Afghanistan
Despite the violence and uncertainty, many humanitarian aid groups and nonprofits say they are continuing their work in Afghanistan.
Doctors Without Borders said increased violence has put some of its facilities on the front lines of the conflict, but its staff is working to keep health care facilities open and ensure treatment not only of victims of war, but of pregnant mothers and others in need of care.
The nonprofit Emergency Surgical Center in Kabul was over capacity as it treated 115 patients Monday, including some injured at the airport, which was overrun with fleeing Afghans, said Alberto Zanin, the facility's medical coordinator, in a statement.
"There is a lot of chaos outside our hospital," he said.
The International Committee of the Red Cross, which operates over a dozen medical centers, has committed to continuing its work in the country, where it said it has treated over 4,000 patients wounded by weapons since Aug. 1.
The International Rescue Committee, which has been operating in the country since the 1980s and says its projects are 99% staffed by Afghans, warns that 2021 could be the deadliest year in the conflict in over a decade and is asking for $10 million to support its humanitarian efforts.
PARSA, a nonprofit that runs a Scouts program for Afghan boys and girls, is cautiously resuming work after its compound was initially overrun by the Taliban, but no one was hurt, the charity's executive director Marnie Gustavson said in an email Wednesday.
"PARSA staff is moving forward with grace, compassion and courage to keep PARSA open and operational," she said. "We will be focusing on providing humanitarian assistance now for the foreseeable future using our network of Afghan Scouts all over the country."