Biden: US troops may stay in Afghanistan to aid with evacuations
Stars and Stripes
August 19, 2021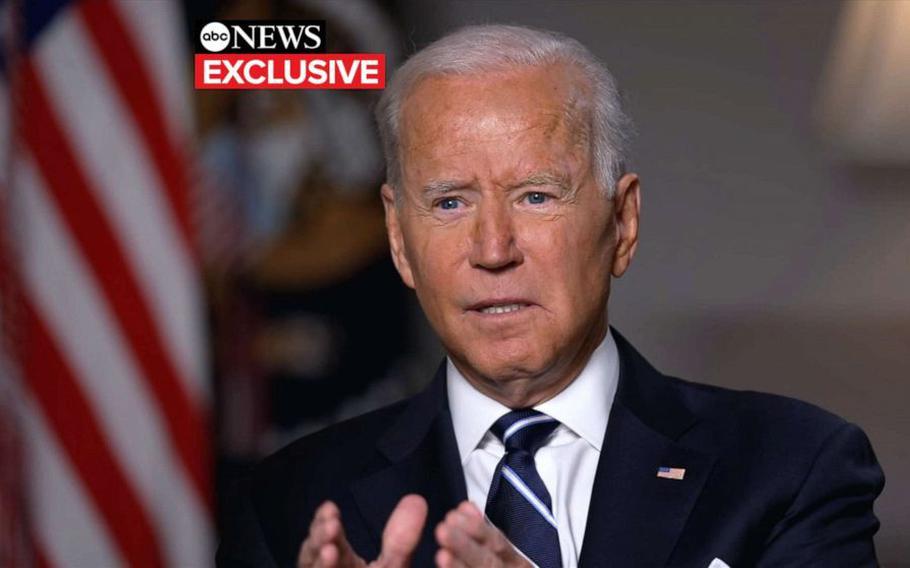 President Joe Biden on Wednesday said the U.S. military may stay in Afghanistan beyond the Aug. 31 withdrawal deadline to ensure every American citizen is able to leave the country.
In an interview with George Stephanopoulos of ABC News, Biden said he expected the mission to end by the original deadline. But, pressed by Stephanopoulos the president said, "If there's American citizens left, we're gonna stay to get them all out."
"Americans should understand that we're going to try to get it done before Aug. 31." he explained. "If we don't, we'll determine at the time who's left."
Approximately 10,000 to 15,000 Americans remain in Afghanistan, which is now under Taliban control. Biden told ABC News that the U.S. has identified another 50,000 to 65,000 Afghans and their families eligible for evacuation.
To accomplish that will require picking up the pace of the evacuation mission, Biden told ABC. That mission is based at Hamid Karzai International Airport, which is currently under U.S. military control.
"The commitment holds to get everyone out that, in fact, we can get out and everyone who should come out. And that's the objective," he said.
Since the Taliban took control of large sections of Afghanistan last week, U.S. officials have strongly defended the Biden administration's handling of the withdrawal — even after the Pentagon confirmed that several Afghans were killed Monday after attempting to flee by clinging to the side of departing U.S. military cargo planes at Kabul's airport.
"The idea that somehow, there's a way to have gotten out without chaos ensuing — I don't know how that happens," Biden told ABC.
When Stephanopoulos asked if the current situation in Afghanistan was the result of "failure of intelligence, planning, execution or judgment," the president defended the decision to proceed with the withdrawal, claiming extended operations in Afghanistan would require the deployment of more military personnel to the region.
"If I said, 'We're gonna stay,' then we'd better be prepared to put a whole lot hell of a lot more troops in," he said.