US reaches highest evacuation numbers for second day in a row
by
Caitlin Doornbos
Stars and Stripes
August 24, 2021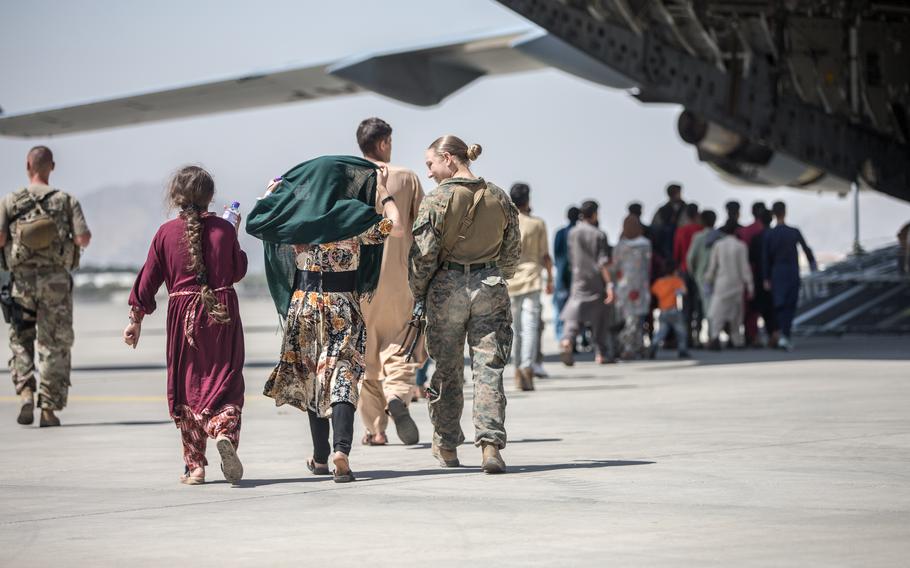 WASHINGTON — The U.S. military has reached its highest daily evacuation numbers for the second consecutive day, using 37 aircraft to evacuate 12,700 people from Afghanistan in a 24-hour period.
Between 3 a.m. Monday and 3 a.m. Tuesday, 32 C-17 Globemaster III and five C-130 Hercules transport aircraft carried the thousands of Americans and Afghans seeking special immigrant visas out of Kabul, said Army Maj. Gen. Hank Taylor, the Joint Staff's deputy director for regional operations.
On Monday, 11,000 evacuees were removed on 28 military flights, he said. Commercial aircraft evacuated an additional 5,000 passengers.
In addition, 57 coalition flights carried 8,900 evacuees out of Afghanistan on Tuesday, Taylor said.
"It has been challenging to keep up with the flow, but we've made progress in caring for and safeguarding these vulnerable individuals and getting them moving onward," Taylor told reporters at the Pentagon.
The evacuation numbers of the past two days have exceed the military's previously goal of evacuating 5,000-9,000 people per day, but chief Pentagon spokesman John Kirby said the Defense Department doesn't intend to adjust its expectations.
"We're trying to get as many out as we can, and so if we can exceed what our previous expectations were — and we have over the last couple of days — that's a good thing, and we're going to continue to drive at that," Kirby said.
Kirby and Taylor attributed the heightened evacuation numbers to an easing flow of operations on the ground. Since Aug. 14, swarms of crowds around the Kabul airport and on the airfield has been a key hindrance in the military's ability to evacuate more people.
"The processing flow itself has just gotten better, and the crowds around the airport are smaller than they were before," Kirby said. "The situation right now is just not the same, it's not as chaotic as it was in those first couple of days."
The majority of the evacuees are Afghans seeking special immigrant visas for their service to the U.S. in roles such as translators during the nearly two decades that American troops have been in Afghanistan.
Kirby said Tuesday that he could not specify how many of the evacuees were Americans but said they total "several thousand," which includes "several hundred just yesterday [that] were able to get onto the airport for follow-on transportation. Every day, we are moving Americans out of the country."
The U.S. will also evacuate Afghan Security Force members who want to leave Afghanistan, regardless of whether they have applied yet for a special immigrant visa, Kirby said. There are approximately 500-600 helping U.S. forces at the airport.
There are 5,800 U.S. troops at Kabul's Hamid Karzai International Airport to provide security support and ramped up its own airlift operations for evacuations.
Since Aug. 14, the U.S. and coalition forces have evacuated about 63,000 people from Kabul, Taylor said. Those evacuees have been taken to secondary locations outside of Afghanistan for processing. The U.S. bases include Al Udeid Air Base in Qatar, Naval Air Station Sigonella in Italy, Ramstein Air Base in Germany and Naval Station Rota in Spain.
Rhine Ordnance Barracks in Kaiserslautern, Germany, will begin accepting evacuees Tuesday, the Army said. The barracks can hold up to 2,000 people.
Opening additional secondary locations will help "ease the pressure" on the Qatar base, which was the first to begin taking evacuees, Kirby said. Conditions have been described as squalid as the base scrambles to support the thousands of incoming Americans and Afghans.
"We are aware of … some terrible sanitation conditions at Qatar that were facilitated by the sheer numbers and the speed with which those numbers got there," Kirby said. "We'll be the first to admit that the conditions could have been better, [but] they are improving."
Four bases in the United States — Fort McCoy in Wisconsin, Fort Lee in Virginia, Fort Bliss in Texas and Joint Base McGuire-Dix-Lakehurst in New Jersey — are accepting evacuees from those secondary locations.