'It was the coolest moment of my life': Army nurse describes delivering baby aboard military plane
by
Jennifer H. Svan
Stars and Stripes
August 23, 2021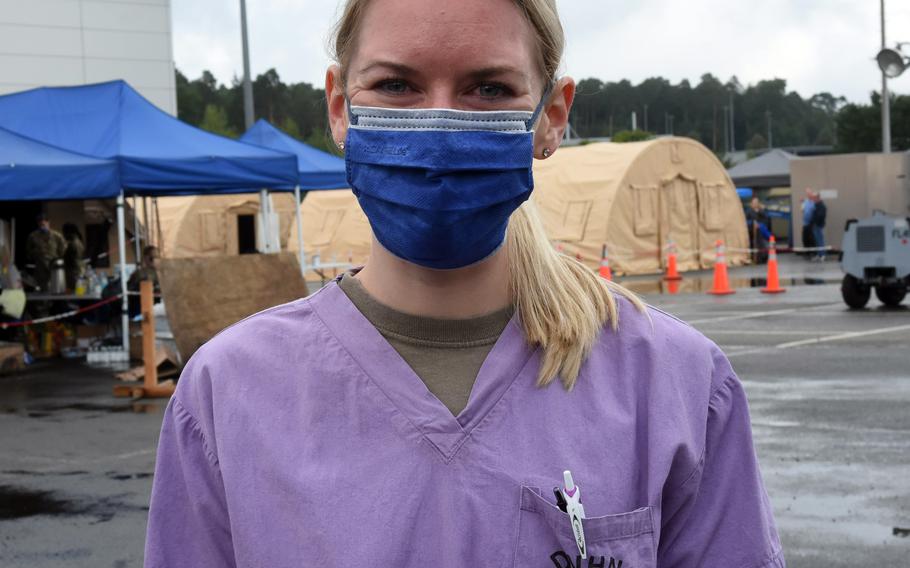 RAMSTEIN AIR BASE, Germany — Capt. Erin Brymer thought a pregnant Afghan woman aboard a U.S. Air Force C-17 on Saturday had given birth during the flight.
But 10 minutes before the plane landed, she was called to assist. The woman was in labor and the baby was coming fast.
"We were past the point of no return," she said.
Brymer was joined by two others on the 24/7 women's health team that is on standby at Ramstein to help Afghan evacuees. Together, they helped the woman deliver a girl at 3:19 p.m. local time.
The flight originated at Al Udeid Air Base in Qatar, where evacuees have been temporarily housed after fleeing Afghanistan following the Taliban's swift seizure of the country.
On Monday, Brymer described for reporters the intense moments on board the aircraft.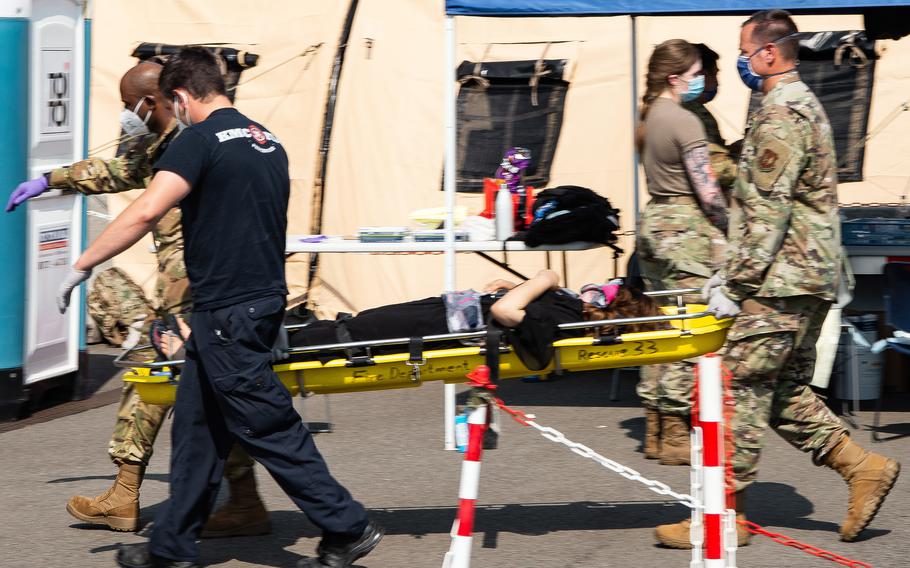 The woman was sitting on a shawl spread out on the cargo bay floor near the doors of the aircraft, said Brymer, an Army labor and delivery nurse assigned to Landstuhl Regional Medical Center.
Four Afghan women held up shawls to protect her privacy, she said.
"It looked just like the picture in the news," she said. "It was a plane full of 300 people sitting on the ground."
With assistance from Maj. Kristin Blouin, an Air Force neonatal nurse, and Staff Sgt. Lamaar Melvin, an aerospace medical technician, Brymer coached the mother through the last several minutes of labor.
Brymer did her best to communicate with the woman, who didn't understand English.
"I was just trying to make eye contact with her and let her know that everything was OK, that she can deliver this baby safely and that we were ready for her," she said.
The team had towels, a cord clamp, scissors and emergency resuscitation equipment for the baby, just in case.
But the delivery turned out to be "picture perfect," Brymer said.
The best moment was "when the baby came out screaming and we were able to put her directly on Mom's chest and get her breast feeding right away."
The pilot announced, "'It's a boy.' We were like, 'it's a girl,' and (he then repeated), 'it's a girl,'" Brymer said with a laugh.
The mother and the baby were transported to LRMC, where they are doing well, a hospital spokeswoman said.
Brymer said there's a lot of stress on pregnant evacuees because of their circumstances.
"A lot of these women have not eaten and are not well-hydrated," she said. "And that can definitely induce labor."
LRMC and Ramstein are caring for other pregnant evacuees, though officials said they could not disclose the number.
"I'm shocked about the sheer number of pregnant women that are here," Brymer said. "Thankfully, most are healthy."
Brymer, an Army nurse for six years, has delivered babies by herself but never outside a hospital, she said.
"I think all Army medical personnel are trained to work … in a field hospital setting," she said. "It was the coolest moment of my life."