Most South Korean troops already vaccinated against coronavirus, defense chief says
by
David Choi
Stars and Stripes
August 6, 2021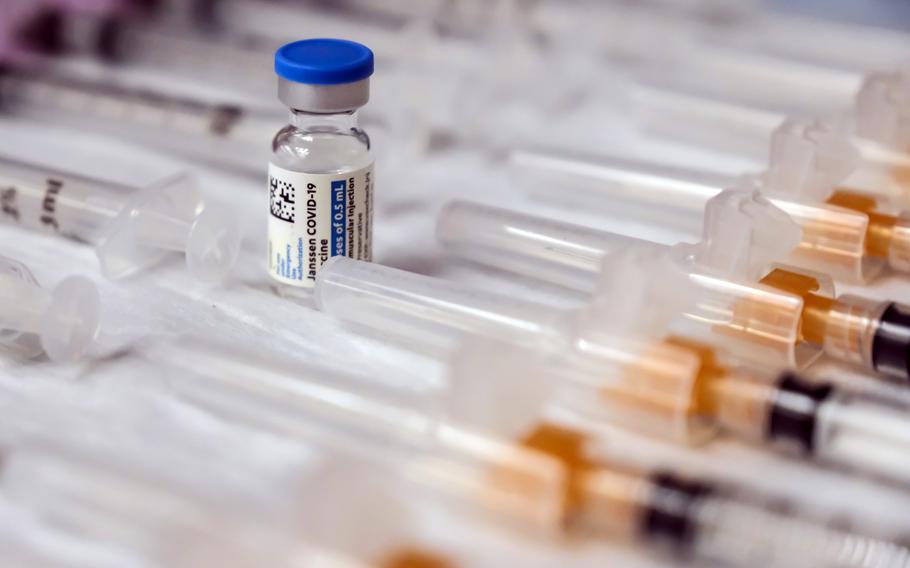 CAMP HUMPHREYS, South Korea — South Korea's military has vaccinated nearly all of its service members on a voluntary basis, according to the country's defense minister.
South Korea's Ministry of National Defense reported Wednesday that 93.6% of the country's 550,000 active-duty service members received at least one dose of a COVID-19 vaccine. The second round of vaccinations is expected to be completed by Aug. 13, according to a government spokesperson.
South Korean President Moon Jae-in applauded the development in a meeting with the country's Joint Chiefs of Staff.
"The military is the first to achieve mass COVID-19 immunization in our country, except care hospitals and so on," Moon said after the briefing, according to a spokeswoman from the presidential palace. "The public, in general, could refer to the case of the military when to accomplish mass immunization."
Over a million vaccines were donated to South Korea by the United States this year, much of which was intended for the military. The coronavirus vaccine is voluntary for South Korean troops and "it's up to them to get it or not," a defense ministry official told Stars and Stripes on a customary condition of anonymity Friday.
Despite having had broader access to the vaccine for a longer period of time, the inoculations appear to be less compelling for the 1.3 million troops serving in the U.S. military. In July, 70% of service members had received a first dose and 62% were fully vaccinated, Defense Secretary Lloyd Austin said at the time.
That percentage mirrors the vaccination rate of the civilian population, according to data from the Centers for Disease Control and Prevention on Monday. The CDC reported that 70% of U.S. adults received a first dose of the vaccine, a goal President Joe Biden aimed to accomplish by July 4.
Although South Korean troops may opt to remain unvaccinated, they are heavily pressured by their leaders to become vaccinated, said Lee Kwang Woo, a retired South Korean special forces soldier and a former commander in the Eighth Army's U.S.-South Korea joint support group.
"Once the vaccine gets to each unit, they don't have any choice to refuse that," he told Stars and Stripes in an interview Friday. "They have to get that vaccine."
Lee noted that cultural differences between the two militaries may have played a role in the discrepancy in vaccination rates.
"If I, as a soldier, refuse the vaccine and eventually get the virus, then what about my squad, platoon and company members," Lee said, referring to breakthrough infections among vaccinated individuals. "That's kind of a burden. So, everybody has to have that vaccine."
As the highly contagious delta variant of the coronavirus continues to spread, several news outlets reported this week that Austin was mulling whether to make the vaccines mandatory for U.S. troops.
A mandatory vaccine would require a presidential waiver, according to a Justice Department memo dated July 6. While it's unclear whether Biden would approve such a waiver for U.S. service members, the president announced last week that federal workers needed proof of their vaccinations, or else comply with extra social distancing measures, face mask policies and weekly COVID-19 tests.
Stars and Stripes reporter Yoo Kyong Chang contributed to this report.