Army's top surgeon in South Korea expects more COVID-19 in US ranks as nation's cases climb
by
David Choi
Stars and Stripes
July 21, 2021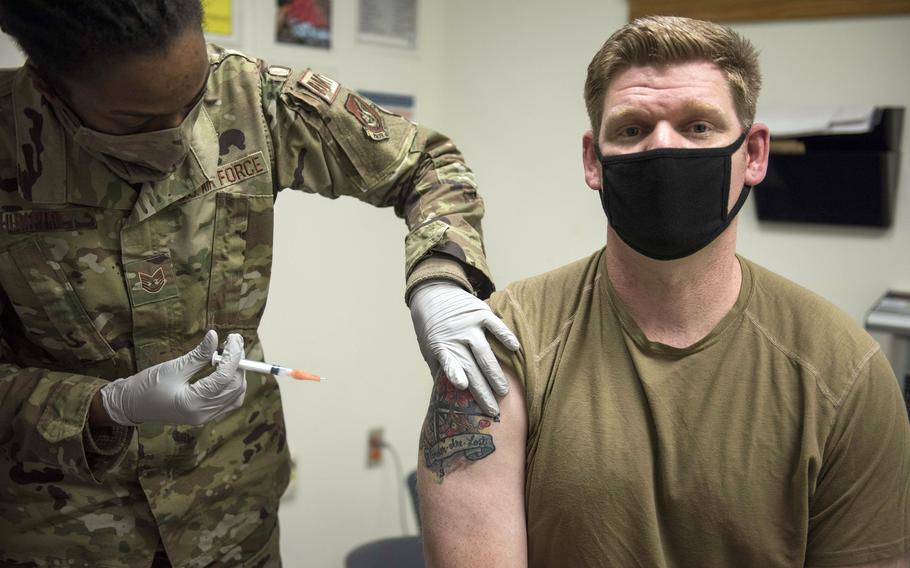 CAMP HUMPHREYS, South Korea — South Korea recorded its largest number of daily coronavirus patients Wednesday, prompting U.S. Forces Korea's top medical officer to anticipate a surge in cases among American troops.
The Korea Disease Control and Prevention Agency reported 1,784 new infections, the highest daily tally since the pandemic began. The country's caseload ranged from 595 to 826 infections daily between late June and early this month.
Meanwhile, USFK reported another 16 new cases of COVID-19 on Wednesday.
Six service members developed COVID-19 symptoms between July 15 and Sunday before testing positive: three at Camp Casey and one each at Kunsan Air Base, Osan Air Base and the Army's K-16 airfield, according to a Wednesday news release.
Ten people tested positive during contact tracing between July 15 and Monday: a Defense Department civilian and the civilian's family member at Camp Henry in Daegu City, three service members at Camp Casey and five at Osan. All 10 had contact with previously infected individuals, according to USFK.
Seoul continued to record higher numbers than any other city in South Korea with 604 new cases Wednesday, according to the KDCA. The capital city has imposed its most restrictive anti-coronavirus measures yet, banning gatherings of more than two people after 6 p.m. and shortening public transportation schedules.
Wednesday's caseload brought the nation's pandemic total to 182,265 coronavirus cases.
Vaccination rates in South Korea remained relatively stagnant for several weeks due to limited stocks. Roughly 32% of the country's 51 million residents have received the first dose of a vaccine, a 1.4% increase from the week prior.
A top USFK medical officer appeared to anticipate an increase in U.S. military cases, after the command reported its highest number of infections over a weeklong period earlier this month.
"If COVID starts circulating around the peninsula, it's going to affect us as well," Dr. Douglas Lougee, an Army colonel and the USFK command surgeon, said on American Forces Network Pacific radio Wednesday.
"Unfortunately, right now, they're having a large outbreak," he said. "And so, as we mingle around, we have a chance of becoming infected as well."
Eighteen service members stationed in South Korea tested positive for COVID-19 between July 9 and 17, according to the command. Over 80% of USFK service members and civilians are vaccinated.
Lougee urged people to get vaccinated and emphasized that vaccines were "doing their job."
COVID-19 vaccines have become widely available in the U.S. and to American service members stationed overseas. Despite that, less than half of the U.S. population has been inoculated and only 56.2% has received a first dose, according to the Centers for Disease Control and Prevention.
Nearly all coronavirus hospitalizations and deaths in the U.S. "are now occurring among unvaccinated individuals," White House coronavirus response coordinator Jeff Zients said to reporters earlier this month.
A small percentage of people who are inoculated may still be susceptible to "breakthrough" infections; however, preliminary studies show that vaccines will drastically lower the chance of severe illness, offer protection against most known COVID-19 variants and lower the transmissibility of the virus, according to the CDC.
"I want to reassure you and everyone else out there that this is very small numbers," Lougee said. "There's some people, unfortunately, that got the shot, but they still get infected. And that's just the nature of vaccines not being 100%."
"Overall, the vaccines are still very capable of protecting you, especially from severe COVID," he added.