DODEA to offer full fall sports slates in Japan, Korea, Guam
by
Dave Ornauer 
Stars and Stripes
July 16, 2021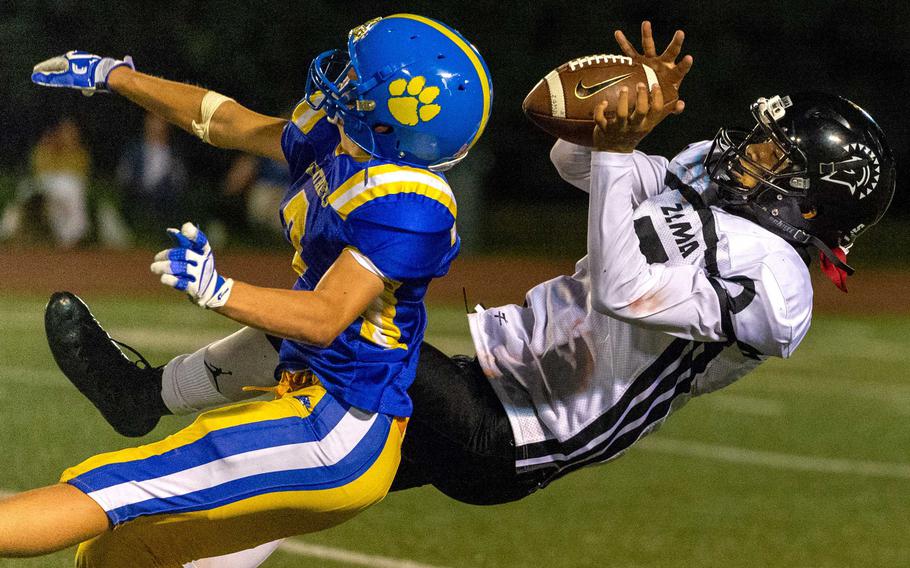 After a year on the sidelines due to the coronavirus pandemic, high school football will return to the field in Japan, Korea and Guam and volleyball to the courts in Japan, DODEA-Pacific officials said Friday.
DODEA's Pacific West (Korea, Guam) and Pacific East (Japan) districts "plan to offer a full fall athletics schedule, including football, cross country, cheer, tennis, golf, volleyball and drill," DODEA-Pacific spokeswoman Miranda Ferguson said in a statement Friday.
With travel between Japan, Korea and Guam still restricted because of COVID-19 concerns, only intra-district competition will be offered. No in-person Far East competitions will be held, as was the case last school year.
"Competition will be limited to intra-district play between installations and will be limited to locations that can be traveled using a DODEA bus," Ferguson said. But it's far more than what was offered a year ago, when schools in Japan were limited to in-school intramurals and Guam schools had no fall sports at all. DODEA schools in Korea played each other in volleyball, tennis, golf and cross country, but not in football.
Coaches and students reacted swiftly and positively to the news.
"Great!" said Frank Macias, the 10-year head football coach at Matthew C. Perry in southwestern Japan. "Having fall sports back will be great for student morale, for sure."
Football's importance extends beyond the school into the base community, said longtime Nile C. Kinnick coach Dan Joley. "I am happiest for the student athletes and their return to normalcy," he said.
While football teams must restart after having had last year off and many are rebuilding, coach Scott Bolin of defending Far East Division II champion Zama American said he's happy just to return to the field. "We're looking forward to rekindling the championship flame," he said.
DODEA-Pacific and district leaders have been coordinating with military installation commands and public health officials "to develop safe and healthy activities" for the coming school year, Ferguson said. "Safety and health is the top priority," she said, adding that while the intent is to offer a full slate of fall sports, "these plans may change at any time due to shifts in local conditions."
Schedules for the fall season have not been released yet. DODEA-Korea has three high schools, with Humphreys being the largest in terms of enrollment, more than twice that of Osan American and Daegu. It was not immediately known if Humphreys would field one team or play split squad as it did volleyball last fall and basketball in the spring.
"That's something we're tracking," Ferguson said.
Distance between DODEA-Japan schools means outlying football schools, Robert D. Edgren at Misawa Air Base and Perry at Marine Corps Air Station Iwakuni, may play at Tokyo-area neutral sites, either Yokota or Camp Zama, DODEA-Pacific athletics coordinator Tom McKinney said.
Guam High customarily competes in sports offered by the private-school Independent Interscholastic Athletic Association of Guam. Panthers football plays in the Interscholastic Sports Association, which includes the island's public schools.
Plans have yet to be announced for sports at Kubasaki and Kadena on Okinawa. "Coordination is ongoing" within the DODEA-Okinawa district and with local commands, Ferguson said. "Further information will be shared with stakeholders when available."