Five Naples Wildcats commit to college sports in fall
Stars and Stripes
May 27, 2021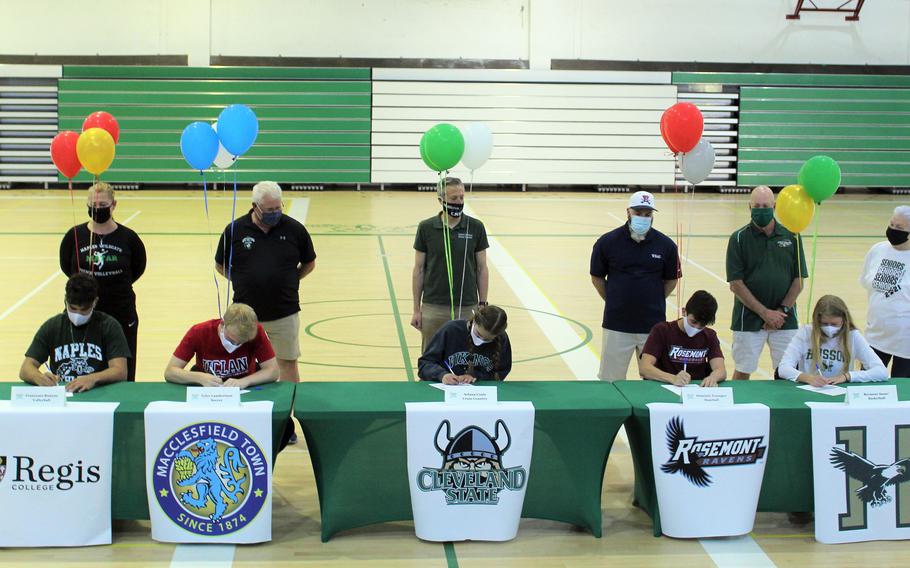 Five Naples High School seniors will still be playing the sports they love in the fall, though they'll have to leave their Wildcats green uniforms behind as they transition to college sports.
Ariana Coats, Roxanne Sasse, Dominic Younger, Tyler Lambertson and Francesco Buanne make up the largest contingent of Wildcats to commit to post-high school teams in recent memory, Athletic Director Amy Driscoll said.
Coats will become one of the rare DODEA-Europe athletes to attend an NCAA Division I university on an athletic scholarship, signing a National Letter of Intent to attend Cleveland State University. She was second in Europe in the virtual cross country championships this school year and will compete in that sport as a Viking in the Horizon League.
Sasse, who earned All-Europe status in basketball, volleyball and soccer during a four-year stint at Naples, will play basketball at Husson University in Bangor, Maine. The Division III Eagles are members of the North Atlantic Conference. Sasse didn't get to play any of her sports her senior year as all were cancelled due to the coronavirus pandemic.
Francesco Buanne will play volleyball at Regis College in Massachusetts. The Division III Pride are members of the Great Northeast Athletic Conference. Buanne played for the Wildcats his first three years, but boys' volleyball was among the sports cancelled this school year.
Dominic Younger will play baseball for Rosemont College in Rosemont, Pa. Younger transferred to Naples his junior year and never got to represent the Wildcats on the baseball diamond. The Division III Ravens are part of the Colonial States Athletic Conference. The school is just starting up its baseball program.
Tyler Lambertson, who led his boys soccer team to a European Division I title in 2019, will play soccer for Macclesfield Football Club and attend the University of Central Lancashire in England. Lambertson didn't get to play soccer at Naples the last two seasons.