Edgren coach Richardson bids farewell to Misawa after 33 years
by
Dave Ornauer
Stars and Stripes
June 11, 2021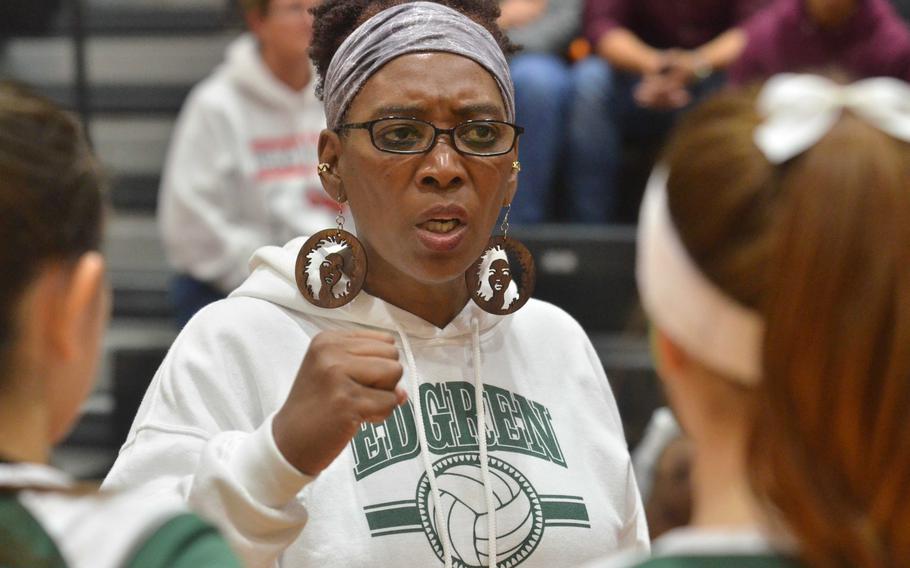 As the sun sets on DODEA-Pacific school year 2020-21, twilight has also arrived on the career of a teacher-coach who has been an institution at Japan's Robert D. Edgren High School for more than three decades. Sarah Richardson, a middle-high school health, language arts and physical education teacher and Far East softball tournament champion coach, is retiring to her home state of North Carolina after teaching and coaching at Edgren since winter 1988.
Richardson's departure leaves Edgren without one of its most active coaches of the last 33 years; she was a fixture on the basketball and volleyball sidelines, and coached softball and even a couple of girls soccer teams after each became Far East tournament sports in 2010.
But more than that, her former student-athletes say the school will be losing a person who's more of a teacher first before being a coach, one who prepares her students for life, be it at university, in the military or in the work force.
"She is a very driven individual with an amazing work ethic," said Kalean Salcedo, Edgren Class of 2016, captain of Richardson's Eagles volleyball team in the 2015 season who played four years for her.
"Not only is she a great coach, but a mentor outside of sports," said Xala Sledge, Edgren Class of 2012 who played for the Eagles' basketball team as a defensive specialist.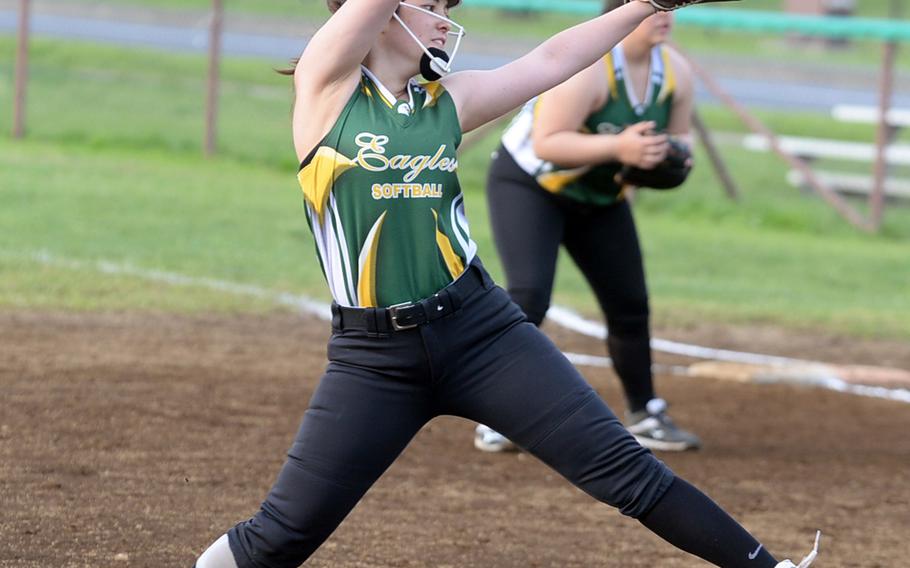 Whether during a practice or a classroom session, Sledge said that Richardson would check on her players and students "as if they were her own children."
"She doesn't judge. She allows you to be yourself, but if actions need to be corrected, she tells you out of love, only for you to grow into the best 'you.'"
It might have been easy, Richardson said, to celebrate her successes and dwell on failures as a coach; her teams reached eight Far East tournament finals, winning only one, Division II softball in 2018.
But while those moments were important, Richardson said she felt it more important to impart tools for her students to use as they moved into adulthood.
"It's what you can give to help them mature," Richardson said. "Teaching them how to take constructive criticism, how to be sportsmanlike, how to be a strong individual and contribute to the world. Learning to work as a team. And that carries into adulthood."
Originally from Mount Olive, N.C., Richardson played volleyball and basketball at her hometown university. She then began her teaching and coaching career at Father James B. Hay Catholic High School in Alamogordo, N.M., before taking her job of 33 years at Edgren.
Throughout her years at Edgren, her former players say she was as tough to stop as a coach as she may have been as a player at Mount Olive.
"To this day, I remember not being able to stop Coach Richardson on the court," said Jen Black, Class of 2012, a point guard who stands about half-a-foot shorter than Richardson. "I loved it when Coach got on the court to show the forwards and centers how it's done."
To not let down at any moment, be it on the court or otherwise, was an important lesson Black said Richardson imparted on her.
"'Stop sashaying down the court,' she would say during a game," Black said. "To this day … that phrase will pop up subconsciously when I know I'm slacking off or not giving it my all."
Throughout her years at Edgren, Richardson would refer to one player or another as a coach on the court or the field. That role fell to Brittany Crown, a softball pitcher who paced the Eagles to DODEA-Japan and Far East Division II tournament titles in 2018.
"The epitome of a great player, a great coach, a great friend," Richardson said of Crown, who transferred from Ramstein and played three seasons for Edgren. "She knew how to talk to them, motivate them, get the best out of them. She was most definitely a coach on the field."
Richardson and her husband, Joseph, also an Edgren teacher, left Misawa for good on Saturday to be with family back east. Her daughter, Desirae Riddick, lives in Philadelphia and son Shamar lives in Charlotte, N.C., and works at Johnson C. Smith University there.
Having been either in New Mexico or Misawa all these years, "it's going to be like getting to know family again. I'm looking forward to that," Richardson said.
What she leaves behind at Misawa, her former athletes said, are a pair of shoes that will be hard to fill.
"She brought joy to many who walked through the halls of Edgren," Salcedo said of her former mentor. "They were lucky to have her as both a teacher and coach."