Border-area Army base accounts for most US military COVID-19 cases in South Korea
by
David Choi
Stars and Stripes
July 14, 2021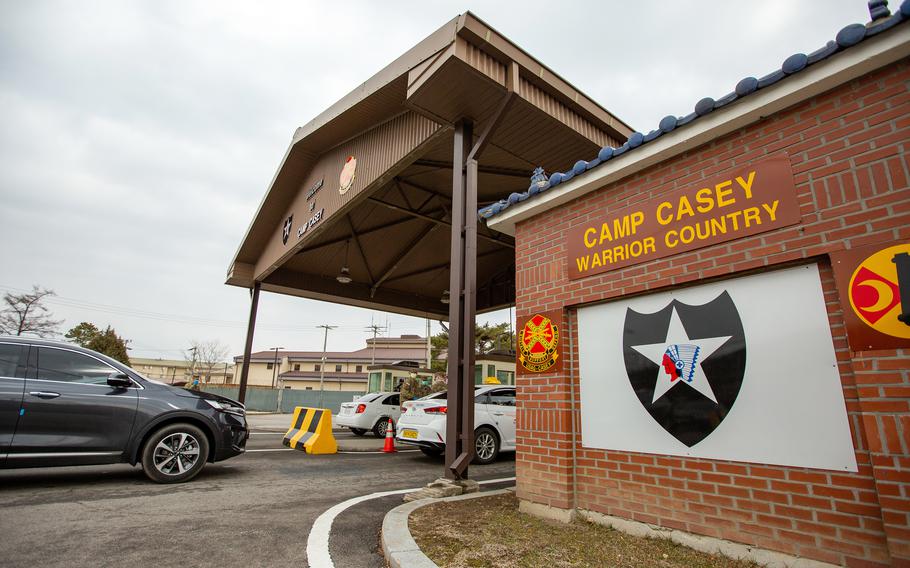 CAMP HUMPHREYS, South Korea — Thirty-one U.S. service members from a single Army base in South Korea tested positive for the coronavirus last week as the country reached a new record for daily infections.
The 31 new patients, who tested positive between July 5 and 11, are from Camp Casey, a military outpost near the Demilitarized Zone on the border with North Korea.
They are among 58 people from U.S. Forces Korea who tested positive last week, marking the most infections reported by the command during the pandemic. The previous record from early this year was 42 cases recorded over a 12-day span.
Roughly 10,000 people, including retirees and South Korean employees, work at Camp Casey, over 90% of which have been vaccinated against the coronavirus, according to Denver Beaulieu-Hains, a spokeswoman for U.S. Army Garrison Yongsan-Casey.
In contrast, Camp Humphreys, which has over 32,000 people accessing the base daily, had one service member test positive last week. The base, 40 miles south of Seoul, the capital city, is the largest U.S. military installation overseas.
Camp Casey has not announced the vaccination statuses of those who recently tested positive.
Base leaders did not attribute the recent rise of service member cases to a singular incident, Beaulieu-Hains told Stars and Stripes on Wednesday.
"We are taking an active approach to living our best lives, while we mitigate the spread of COVID," she said in a statement.
"Our emphasis is to educate personnel that vaccination is only part of the solution, but discipline and social responsibility is key to our mitigation strategy," she added. "The idea is to treat everyone as if they have COVID and to protect yourself, which in turn protects others."
South Korea's recent COVID-19 surge has continued to break records for more than a week. The Korea Disease Control and Prevention Agency reported 1,615 new patients Wednesday, the highest number of daily cases yet, bringing the nation's total number of infections to 171,911.
Seoul, which recorded 638 new patients Wednesday, accounts for the majority of locally transmitted cases. The metropolitan area has imposed its highest level of social-distancing restrictions, clamping down on gatherings and tightening public transportation schedules.
South Korean health officials have also expressed concern over the virus' highly transmissible delta variant, which accounted for 374 cases last week and surpassed the 162 cases of the alpha variant within the same period.
USFK has not publicly identified which variants its patients have become infected with.
Over 30% of South Korea's population has received the first dose of the vaccine and nearly 12% have been fully inoculated, according to KDCA data published Wednesday.
Since the uptick of cases on the peninsula, USFK has reimplemented its policy of limiting nonessential travel.
Service members are banned from visiting Areas I and II, which includes the greater Seoul area, unless they are on official business. Masks are also required indoors on military installations, regardless of whether a person is vaccinated.