US military's coronavirus count hits record high on Korean Peninsula
by
David Choi
Stars and Stripes
July 12, 2021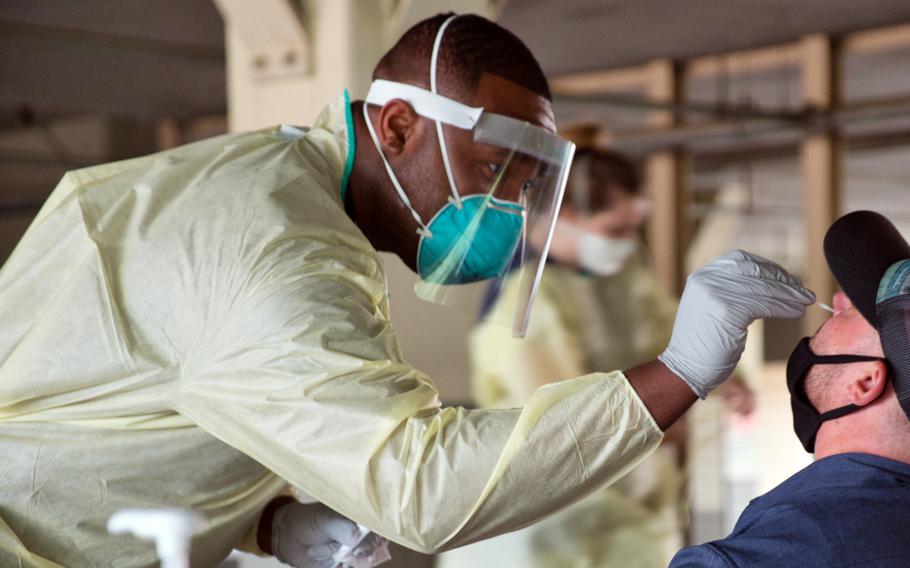 CAMP HUMPHREYS, South Korea — At least 48 people with U.S. Forces Korea tested positive for the coronavirus last week, marking the most infections reported by the command since the start of the pandemic.
Twenty-four of the new patients are U.S. service members stationed at Camp Casey, the military outpost near the Demilitarized Zone on the border with North Korea, USFK announced in two separate statements on Saturday and Monday. Also testing positive were five service members from Osan Air Base, three from the K-16 Army airfield, one from Kunsan Air Base, and one each from Camps Humphreys, Hovey and Carroll.
The tally, which covers cases confirmed between July 5 and 9, includes service members' dependents, South Korean base workers and Korean Augmentation to the U.S. Army soldiers.
The record previously stood at 42 cases recorded over a much longer period, Dec. 28 and Jan. 8.
All who tested positive last week were quarantined in medical facilities, USFK said in a statement. Despite the uptick in cases, the command said it "remains at a high level of readiness" due to its mitigation efforts and having 80% of its personnel vaccinated.
The surge of new infections comes as South Korea grapples with its highest daily caseload of the pandemic. The country recorded over 1,300 new patients for three days in a row last week, surpassing the previous one-day record of 1,240 cases on Dec. 25, according to the Korea Disease Control and Prevention Agency.
The KDCA reported 1,100 new cases Monday, down from 1,324 the previous day.
South Korea has reported 169,146 infections during the pandemic. More than 10% of South Koreans were fully inoculated and at least 30% of the population has received a first dose, according to the KDCA.
South Korean government officials last week imposed the highest level of social-distancing restrictions in Seoul, the capital city, where most locally transmitted cases had originated. The new regulations, which will remain in effect for at least two weeks, include a ban on gatherings of more than two people after 6 p.m., evening gym closures and the shutdown of bars and clubs.
Prior to last week's record numbers, South Korean health officials began implementing additional measures that included inspections on businesses considered a high risk for transmissibility. Seoul officials also announced that the city would limit evening subway schedules by 20%.