US Forces Korea mandates 'immediate, aggressive' restrictions amid record-breaking coronavirus surge
by
David Choi
Stars and Stripes
July 9, 2021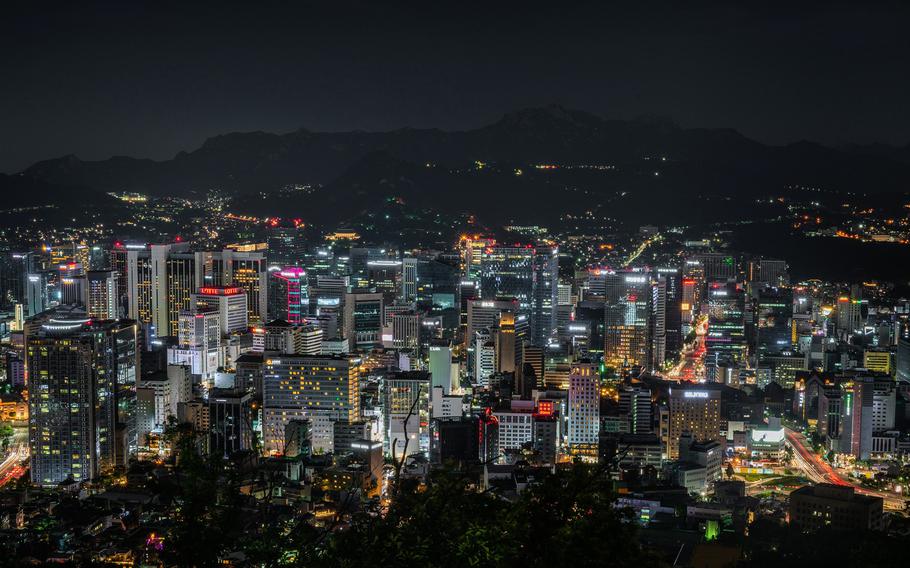 CAMP HUMPHREYS, South Korea – The U.S. military in South Korea reimposed a mandatory mask policy and restricted travel to Seoul as the nation recorded another record-breaking number of coronavirus cases Friday.
The U.S. Forces Korea directive, which lasts through July 23, came as the South Korean government announced 1,316 new patients Friday, bringing the country's number of known infections to 165,344.
"To protect our communities and our mission, we are implementing an immediate, aggressive approach to prevent the virus' spread any further," USFK commander Gen. Paul LaCamera said in a statement.
Seoul reported 583 cases Wednesday, the highest number of daily transmissions there since the pandemic began. There were 503 new patients on Friday.
Travel to Areas I and II, which includes the Seoul metropolitan area, is limited to mission-essential and official duties for USFK personnel until the directive expires. The command also reimposed a requirement that everyone wear masks while indoors on military installations, regardless of whether they are fully vaccinated.
Those who have been vaccinated will be allowed to remove their masks while "actively" exercising in on-post gyms, as long as they observe social distancing measures, according to the USFK statement.
Bars and clubs across the peninsula remain off-limits to anyone associated with USFK. Military police stepped up their patrols near a popular beach in Busan recently to ensure service members complied with local and USFK regulations against drinking and large groups.
USFK announced Wednesday and Friday that 25 people, six of them new arrivals to the peninsula, had tested positive for COVID-19 between June 10 and July 3.
The surge of new cases prompted Seoul officials to extend their mitigation efforts by deploying inspectors to businesses considered to be a high risk for transmissibility and shortening public transportation schedules in the evenings.
More than 100 police officers and 200 public employees will be cracking down on safety violations and nighttime drinking at the Han River bordering Seoul for the next 17 days, the Seoul government announced Friday.
Seoul had also mandated an indoor and outdoor mask policy, regardless of a person's vaccination status. Violators are subject to a fine of about $87 for individuals and up to $261 for a building's manager.
Health officials reported this week that over 10% of South Koreans were fully inoculated and 30% of the population had received the first dose of a vaccine.
Surge stops Olympic torch relay
Those taking part in the final segment of the Olympic torch relay, which was supposed to kick off Friday in Tokyo, aren't allowed to run on public roads due to an increasing number of COVID-19 cases, according to the Tokyo Metropolitan Government website.
Instead, the flame is being moved around the city in a series of nonpublic ceremonies before it arrives to a relatively empty stadium on July 23 in central Tokyo.
Olympic organizers announced late Thursday that most events will take place without spectators after Prime Minister Yoshihide Suga declared a fourth state of emergency for Tokyo and some surrounding prefectures that will last throughout the games.
Japan had reported 2,153 new coronavirus infections as of 5:30 p.m. Friday, 822 of which were from Tokyo, according to public broadcaster NHK.
The country had administered 57.4 million vaccination doses as of Thursday, according to the Prime Minister's Office. It said 16.8 percent of Japan's population is fully vaccinated, and 28 percent have received one dose.
The U.S. military in Japan had reported two new patients as of 6 p.m. Friday. One is from Marine Corps Air Station Iwakuni near Hiroshima and the other is at Naval Air Facility Atsugi, 27 miles southwest of Tokyo.
Stars and Stripes reporter Hana Kusumoto contributed to this report.