Olympics bans spectators after Japan declares another coronavirus emergency for Tokyo 
by
Hana Kusumoto
Stars and Stripes
July 8, 2021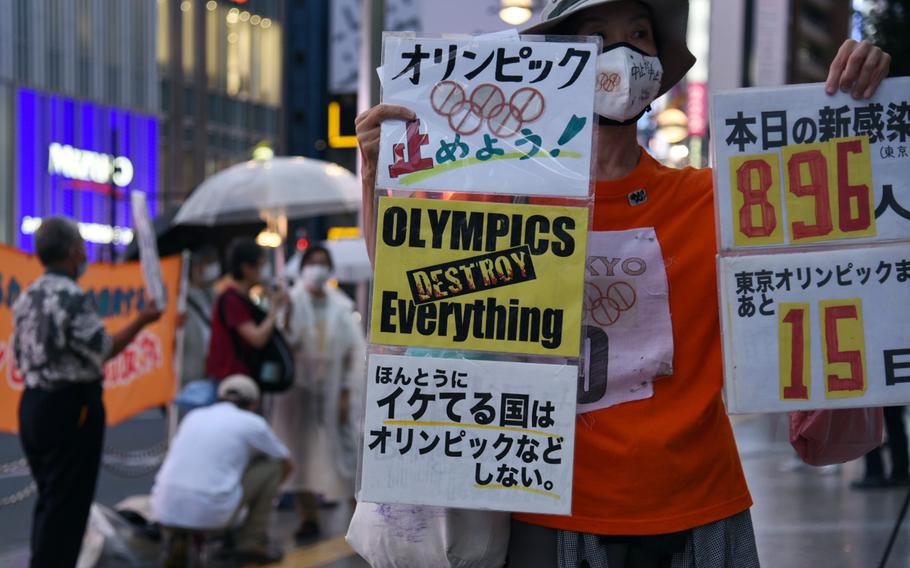 TOKYO — Olympic events in and around Japan's capital will take place without fans in the stands, after the prime minister announced a state of emergency in Tokyo on Thursday to combat the surging number of coronavirus cases.
The local organizing committee met that night with the International Olympic Committee and made the no-spectators decision for venues in Tokyo and the nearby prefectures of Chiba, Saitama and Kanagawa, according to the Reuters news agency.
Hours earlier, Prime Minister Yoshihide Suga announced the fourth emergency during a Novel Coronavirus Response Headquarters meeting. It takes effect Monday and lasts until Aug. 22, he said. The Olympics open July 23 and conclude Aug. 8.
"Although the number of new cases is declining in many areas in Japan, the number of infected cases is on the rise in metropolitan areas centering around Tokyo since the end of last month," he said.
"There is a need to strengthen measures in order to prevent the infection from spreading nationally again while considering the effects of the variant strain, although the number of those in serious condition and occupancy rate of beds in hospitals are low," Suga added.
The Japanese government will also extend focused, anti-infection measures for Osaka, Chiba, Saitama and Kanagawa prefectures until Aug. 22 but will lift those restrictions in Hokkaido, Aichi, Kyoto, Hyogo and Fukuoka prefectures on Sunday as originally planned.
Kanagawa is home to several U.S. military installations, including Yokosuka Naval Base and the Army's Camp Zama.
Alcohol will be banned at areas under the state of emergency, Suga said, and in those areas under the focused anti-infection measures, depending on the situation.
Tokyo had implemented shortened hours for bars and restaurants that failed to slow the virus' spread, according to AP. A ban on alcohol sales would dampen festivities associated with the games in Tokyo's central wards, long a pandemic hotspot.
The capital reported 896 new cases on Thursday. That figure is in line with experts' earlier estimate that daily cases in Tokyo could hit 1,000 before the games, AP reported. Also Thursday, two U.S. military bases in Japan had reported new coronavirus patients as of 6 p.m.
One person at Marine Corps Air Station Iwakuni contracted the virus sometimes since Wednesday, according to a post on the base Facebook page.
Kadena Air Base on Okinawa had six people test positive since July 2, according to its Facebook page. One person tested positive after falling ill; two more tested positive during their 14-day restriction after travel outside Japan; and three quarantined as close contacts also contracted the virus, according to Kadena.
Stars and Stripes reporter Joseph Ditzler contributed to this report.