US military's South Korean workers happy to receive COVID-19 vaccines amid off-base shortages
by
David Choi
Stars and Stripes
August 4, 2021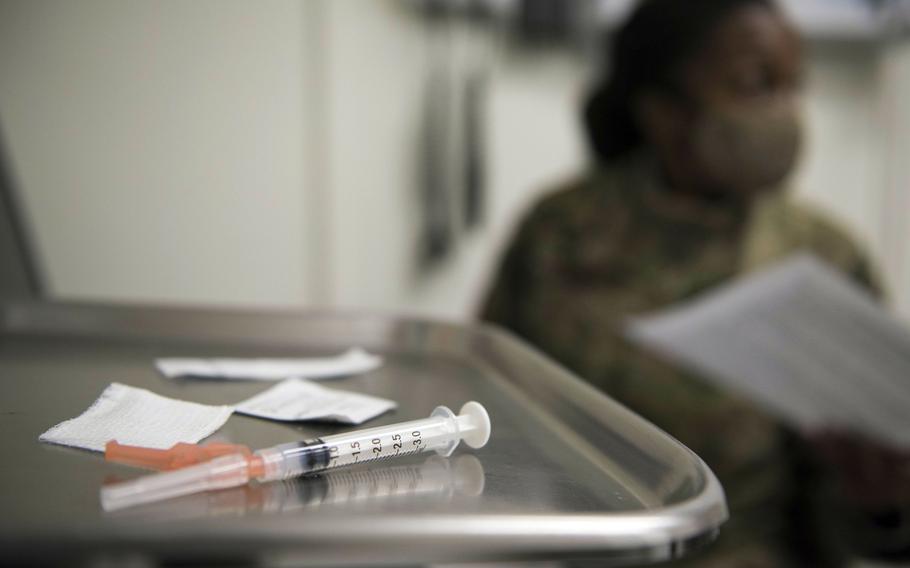 CAMP HUMPHREYS, South Korea — South Koreans working for the U.S. military have widely accepted coronavirus vaccines offered by the American government, months before they were able to sign up for shots in their country.
South Korea was heralded for its initial handling of the COVID-19 pandemic, but 18 months later has been unable to quickly make vaccines widely available. The government announced last week its intent to begin scheduling citizens ages 18 to 49 for inoculations later in August.
Over 20 million people, or 39% of the country's population, have received the first dose of a vaccine, as of Tuesday, according to the Korea Disease Control and Prevention Agency. About 14% of the population has been fully vaccinated.
The U.S. donated nearly 112 million doses to 65 countries, including South Korea, according to a White House statement Tuesday. Over a million vaccines were sent to South Korea, some of which were administered to the military and South Koreans employed by the U.S. government.
The U.S. military employs around 12,500 South Koreans, according to the Korean Employees Union. Those workers were initially offered a vaccine on a priority basis in late December, depending on their duties and their level of interaction with U.S. troops.
But, as of this month, nearly all the U.S. military's local employees have been offered a vaccine, with shot drives still underway. USFK does not track local workers' vaccinations but said in a statement Tuesday that over 80% of its service members and civilians are inoculated.
A 60-year-old South Korean business owner at Camp Humphreys, the largest overseas U.S. military base, told Stars and Stripes that she "immediately signed up" for the vaccine once it was offered by USFK in April.
"Obviously, it feels good, and I'm thankful," she said Friday, adding that "most of the Korean nationals who work here wanted to get vaccinated."
The business owner and other South Korean base workers interviewed for this story insisted on anonymity because they wished to keep their vaccination status private.
An administrative office worker at Camp Humphreys also explained that she and her coworkers were anxious as U.S. troops on the base were receiving their vaccinations.
"We really wanted to be vaccinated on base," the office worker said. "The office people were asking each other, 'Hey, when are we going to get the vaccine?'"
The South Korean government as early as April was already behind its vaccination schedule, the office worker said.
"When we heard that we were going to get the vaccine soon, we were so happy," she said.
The office worker noted that there were "a few holdouts" among local employees, but the vast majority were vaccinated.
According to a Gallup Korea poll conducted in February, 71% of South Korean respondents said they were willing to get vaccinated, 14% said they were "probably not" and 5% said they would "never" get vaccinated.
A 27-year-old driver who delivers supplies across the Korean peninsula said he had "no hesitation" when signing up for the vaccine and that he will take a booster shot if it becomes available.
"Many young Koreans can't take the vaccine right now, so I think it's a good chance for me," he said. "It's a good chance for Korean people."
Union members are widely appreciative that the vaccine was offered by the U.S. military, said Son Gio, the secretary general of the Korean Employees Union.
"We have employees who are thankful that they were able to be vaccinated ahead of time," Gio said Tuesday. "We have been going through a tough time together like this … I wish we could get through this hard time well by working shoulder to shoulder."
Stars and Stripes reporter Yoo Kyong Chang contributed to this report.