Coronavirus remains a contender in Tokyo as US military reports 28 cases in Japan, South Korea
by
Joseph Ditzler
Stars and Stripes
August 3, 2021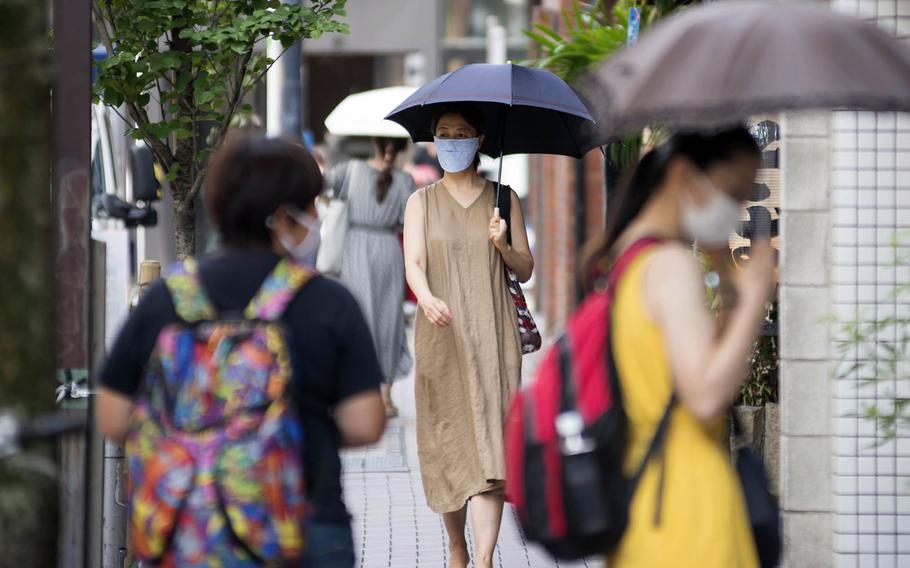 TOKYO – The coronavirus' fifth wave continued to shadow the Olympic Games in Japan's capital city, which reported another 3,709 people infected with COVID-19 on Tuesday, according to public broadcaster NHK.
For eight consecutive days, Tokyo has reported one-day totals exceeding 2,000 cases, according to metropolitan government data. Five of those days exceeded 3,000, and on Saturday the city reached a pandemic record, 4,058 newly infected individuals.
Japan has reported about 946,000 people infected with the coronavirus during the pandemic and 15,222 deaths, according to the Johns Hopkins Coronavirus Resource Center. Just under 30% of the nation's population is fully vaccinated.
More than 3,230 people were hospitalized in Tokyo on Monday, with 114 in serious condition, according to metro data.
At the Olympics, now in its second week, another 18 people tested positive for the coronavirus: 10 contractors, five games personnel, one volunteer, one media person and one athlete, according to the Tokyo 2020 update Tuesday. A total of 294 people connected with the games have tested positive since July 1, including 25 athletes, one of whom is a U.S. soldier.
The U.S. military in Japan reported another 25 infections on Tuesday. The U.S. command in South Korea reported three.
Camp Zama, the headquarters of U.S. Army Japan southwest of Tokyo, on Tuesday reported "several COVID-19 cases … in the past 48 hours," according to a Facebook post by U.S. Army Garrison Japan.
Those cases closed the Child Development Center at Sagamihara Family Housing Area and the Yano Fitness Center at Zama for contact tracing. The fitness center has reopened. All contact tracing for the child care center is concluded, base commander Col. Christopher Tomlinson wrote in the post.
Yokosuka Naval Base, 38 miles south of Tokyo and homeport of the 7th Fleet, had 13 people test positive for the coronavirus since Friday, according to a base news release.
Eight of those individuals, one of whom was not immunized, are affiliated with the Navy: four fell ill with symptoms of COVID-19, the coronavirus respiratory disease; one person was discovered by contract tracing; and two turned up in a medical screening, according to the base. The unimmunized person turned up during contact tracing.
The remaining five are unimmunized base employees. Three were discovered during contact tracing and two fell ill with COVID-19 symptoms, according to the base.
Yokosuka said it has 30 people under observation.
Naval Air Facility Atsugi, 26 miles southwest of Tokyo, on Tuesday reported six people had contracted the virus, according to a news release.
Two people displayed COVID-19 symptoms and four were identified as close contacts of previously infected individuals, according to NAF Atsugi. The base has 13 people under observation.
On Okinawa, the Marine Corps on Tuesday reported six people had contracted the virus at its bases there, according to a Facebook post by Marine Corps Installations Pacific.
South Korea infections
U.S. Forces Korea announced Tuesday that three people had tested positive for COVID-19 on July 27 and Monday, according to a command news release.
A service member at Osan Air Base developed COVID-19 symptoms. A Defense Department civilian employee and a family member at Camp Walker tested positive during contact tracing by a local public health department, according to USFK. All three are isolated on a U.S. installation.
South Korea reported another 1,202 people had contracted the virus as of Monday, 307 in Seoul, the capital city, and 344 in Gyeonggi province, where Camp Humphreys, the U.S. Army headquarters, is located, according to the Korea Disease Control and Prevention Agency.
Fourteen percent of South Korea's population is fully vaccinated, and 38% have received the first of two doses, according to KDCA.