Guam takes step toward normalcy after vaccinating 80% of its people against COVID-19
by
Matthew M. Burke
Stars and Stripes
July 30, 2021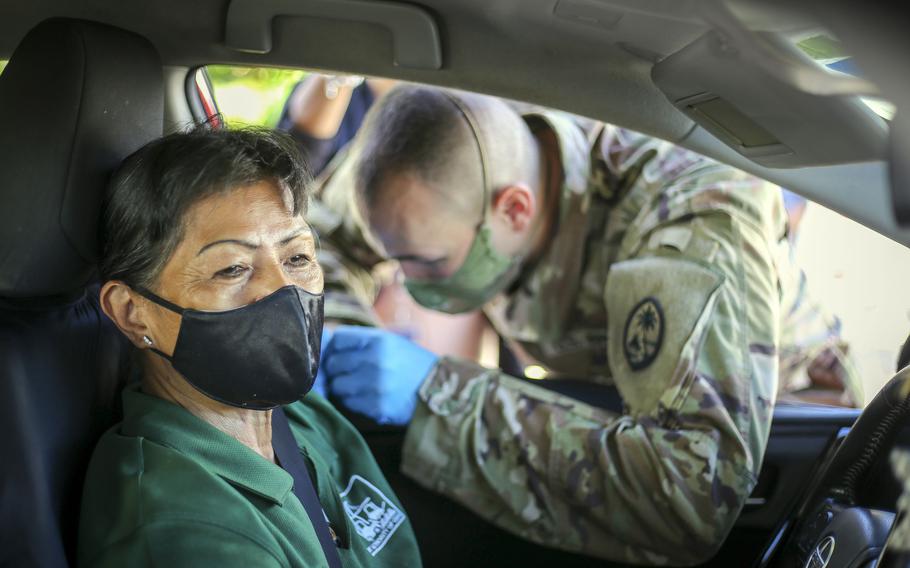 Guam lifted many of its COVID-19 restrictions Friday after passing a key vaccination milestone in the fight against the coronavirus pandemic.
Under an initiative dubbed Operation Liberate Guam, the U.S. island territory reached its goal of vaccinating 80% of its adult population, according to a statement Thursday from Gov. Lou Leon Guerrero's office.
By executive order, Guerrero's office rescinded limitations on social gatherings, canceled social distancing guidelines and allowed local businesses to reopen at full capacity.
The order applies to dine-in restaurants, bars, gyms and fitness centers, places of worship and nonorganized contact sports, Guam's Joint Information Center said. The restrictions were lifted at 12:01 a.m. Friday.
"I would like to thank our hard-working men and women behind the scenes at our vaccination clinics and private medical clinics, our entire medical community … and especially all those who have been fully vaccinated for contributing to this great success," acting Gov. Josh Tenorio said in the statement. Tenorio was standing in for Guerrero who was traveling off-island, a spokesman in her office said Friday.
Tenorio urged the remainder of the island's eligible population to get vaccinated.
Mask policies on Guam, however, remain in place, according to Guerrero's statement and another from Joint Region Marianas. Fully vaccinated individuals are not required to wear masks indoors or outdoors while on base, according the joint region's policy.
The Defense Department on Wednesday mandated the wearing of masks in high-risk areas to combat the highly transmissible delta variant of COVID-19, the coronavirus respiratory disease.
"The recently signed DoD policy does not require any change to our mask policies at this time, unless a command implements more restrictive guidance," a post on the Joint Region Marianas Facebook page said Thursday. "JRM will continue to take prudent measures to limit the spread of COVID-19 and will vigorously assess our COVID-19 policies to ensure we are protecting our personnel and the local community while maintaining mission readiness."
Joint Region Marianas, Andersen Air Force Base and the Guam National Guard did not respond to email requests seeking further information Friday.
Approximately 96,000 adults on Guam have received either both doses of the Pfizer or Moderna vaccines or the Johnson & Johnson single-dose vaccine, according to Guerrero's office, which cited data from the Department of Public Health and Social Services.
As of Friday, Guam had recorded 8,541 coronavirus cases and 143 deaths, according to the Joint Information Center.