DODEA to offer full fall sports schedules for Okinawa district
by
Dave Ornauer
Stars and Stripes
July 23, 2021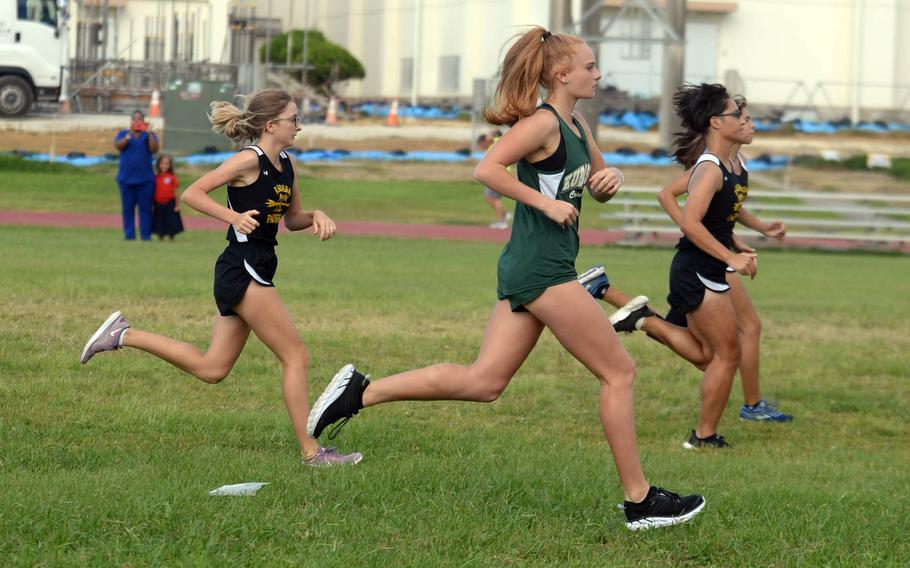 A full slate of in-district fall high school sports will be offered to DODEA students on Okinawa, DODEA-Pacific announced Friday, a week after the same was decided for DODEA schools in Japan, Korea and Guam.
"The Pacific South District (Okinawa) plans to offer a full fall athletics schedule, including football, cross-country, cheer, tennis, golf, volleyball and drill," DODEA-Pacific spokeswoman Miranda Ferguson said in a statement released Friday.
No Far East tournaments are being offered for the fall season, save for a virtual Far East cross country meet, as was the case a year ago, Ferguson said.
"Please understand while our intent is to offer a full schedule, these plans may change at any time due to local conditions" regarding the coronavirus, Ferguson said.
A veteran of Kubasaki's girls volleyball team expressed joy at the news.
"This is exciting. We are grateful to have our school seasons back," said Alyssa Alvarado, a senior setter for the Dragons.
Though girls volleyball wasn't played last fall, Alvarado said the team's players continued to work hard and "never saw it as a time to stop playing."
"We always hoped to get our season and now, we can't wait to finally play again," she said.
Alvarado's father and Kubasaki's new head football coach, Tony Alvarado Jr., said his players have been working out on the field and in the weight room during the offseason and are "champing at the bit" to get back on the field and play.
"It will be rough getting back in the normal swing of things, since it has been so long," the elder Alvarado said. Kubasaki has not played a down since November 2019.
Academic and arts events such as the Far East modern music and jazz festive will transition to what Ferguson described as a "virtual-hybrid model," with students gathering in person within each district and to participate with students in the other DODEA-Pacific districts.
At least one coach, while happy that fall sports will happen on Okinawa, expressed disappointment that a true Far East cross country meet won't happen for the second straight school year.
"I think there are ways to do Far East safely. I think for the students' sake, we should try to make that happen," said Abe Summers, coach of Okinawa district and Far East virtual meet team champion Kadena. "(But) I'm happy that we do have sports."
Season schedules have yet to be released for any of the DODEA-Pacific districts. The 2021-22 school year begins on Aug. 23.