Coronavirus numbers dip in South Korea as its military imposes strict guidelines for troops
by
David Choi and Yoo Kyong Chang
Stars and Stripes
July 29, 2021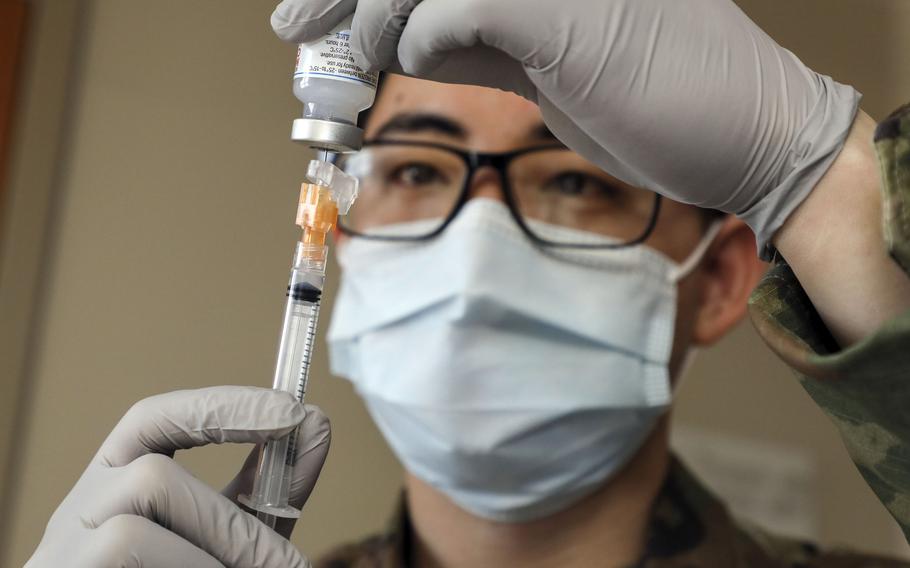 CAMP HUMPHREYS, South Korea – The Korea Disease Control and Prevention Agency reported 1,674 new COVID-19 patients on Thursday, hundreds less than the pandemic-record 1,896 cases announced the previous day.
The U.S. military, meanwhile, had five people test positive for the coronavirus respiratory disease after arriving on the peninsula between July 20 and Sunday, U.S. Forces Korea announced Thursday.
One of the new patients is a service member who landed at Osan Air Base aboard the Patriot Express military charter flight from the United States on July 20, a news release said. The others – three service members and a family member of a USFK contractor – arrived at Incheon International Airport on July 21, 22 and Sunday.
Four of those individuals tested positive before entering quarantine, while the other infection was discovered during in isolation, USFK said.
Meanwhile, South Korea's Ministry of National Defense has tightened its social distancing measures, which have been particularly restrictive when compared to regulations governing the roughly 28,500 U.S. troops stationed in the country.
According to the defense ministry's regulations, only 10% of troops from a military unit will be allowed to take leave, and only within the country. An additional 5% of troops may also be allowed to take leave at the commander's discretion.
All private gatherings have been suspended or canceled for two weeks, and service members are banned from attending in-person religious gatherings outside of their military base.
Troops stationed in a South Korean base are also prohibited from meeting outside visitors and having overnight stays outside the base's gates. A defense ministry official told Stars and Stripes on Thursday that there may be some exceptions, such as attending a funeral.
South Korean service members stationed in metropolitan areas are also restricted from leaving the barracks-area with a few exceptions, while those in less-populated regions where there have been no infections for the past seven days may leave with a commander's approval.
Nearly 1,500 of South Korea's 550,000 active-duty troops have tested positive for COVID-19, according to the defense ministry.
USFK similarly extended its own "enhanced" COVID-19 mitigation measures until Aug. 27. Unit-level commanders are generally able to implement their own rules in addition to USFK policies, and all service members are instructed to follow local guidelines.
U.S. troops are allowed to leave their bases, but regardless of their vaccination status are banned from visiting bars and clubs and are prohibited from visiting the greater Seoul-area except for mission-essential duties.
Seoul continues to report a higher number of infections than any other area in the country. The capital city recorded 515 new cases Thursday, down from its record high of 638 daily cases earlier this month.
Over 80% of USFK troops and civilian employees have been inoculated and less than 1% of its active-duty service members tested positive for COVID-19. The command has maintained that it "remains at a high level of readiness," despite the recent surge of infections in the surrounding communities.