At 3,865 new cases, Tokyo breaks another coronavirus record with Olympians in town
by
Joseph Ditzler
Stars and Stripes
July 29, 2021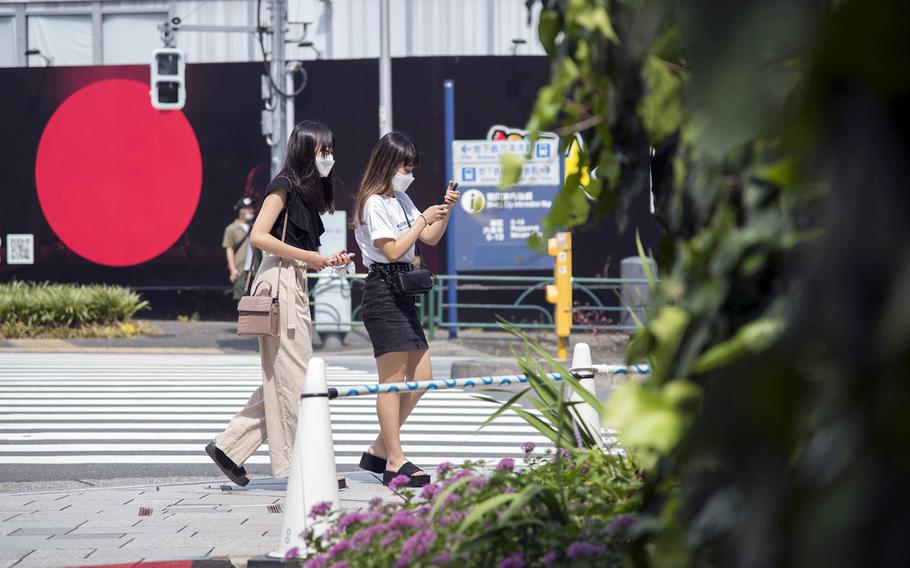 TOKYO — The coronavirus wave in Japan's capital city broke its one-day record for new infections again Thursday, one week into the city's pandemic-delayed Olympic Games.
Another 3,865 people tested positive in Tokyo, the most ever on one day, and a day after reaching the previous peak of 3,177, according to public broadcaster NHK and metro government data. Three people died of COVID-19 in the city, NHK reported.
The fifth wave of the coronavirus in the city has set a caseload record three days in a row.
The Tokyo Olympics on Thursday reported 24 new COVID-19 patients, including three foreign athletes, the highest daily total since the organizing committee started keeping track July 1, according to The Mainchi newspaper. That brought the total Olympic cases to 193.
The surge is also growing in the city's three neighboring prefectures, where new infections also broke pandemic records Wednesday, NHK reported Thursday. The national government may declare an emergency in those prefectures as soon as Friday.
Kanagawa prefecture, home to the headquarters for the U.S. Army and Navy in Japan and homeport of the 7th Fleet, reported 1,051 new COVID-19 patients Wednesday. North of Tokyo, Saitama prefecture announced 1,870, and Chiba, to the east, reported 577.
The U.S. military in Japan on Thursday and late Wednesday announced 11 new COVID-19 patients, including four on Okinawa and seven in Kanagawa.
Naval Air Facility Atsugi, 26 miles south of Tokyo, had six people test positive: four after close contact with other individuals and two after falling ill with COVID-19 symptoms, according to a base news release. The base has nine people under medical supervision.
On Wednesday evening, Yokosuka Naval Base, 38 miles south of Tokyo, reported that an unvaccinated child care provider at the Duncan Street Child Development Center had tested positive earlier in the day. An infant room at the center was closed Thursday, according to a Facebook post by the base.
On Okinawa, the Marine Corps had four people test positive for COVID-19 on Thursday, according to a Facebook post by Marine Corps Installations Pacific.
Okinawa prefecture on Thursday also reported its highest one-day caseload, thus far, 392 newly infected people, surpassing 347 new cases Wednesday and the previous peak, 354 cases Tuesday, according to NHK and prefectural Gov. Denny Tamaki. A total of 23,940 people on Okinawa have been infected since March 2020 and 235 have died, including two Thursday, according to NHK and prefectural data online.
"It is not an exaggeration to say that we are experiencing the worst situation," Tamaki said at a news conference Wednesday.
The coronavirus surge on Okinawa, home to the largest concentration of U.S. troops in Japan, is particularly strong among teens, Tamaki said. In central Okinawa, employees of bars and restaurants are most affected, followed by construction workers.
Tamaki, who received the first shot of the two-shot Moderna vaccine Tuesday, urged his constituency to get vaccinated. Vaccines are in short supply on the island, and Tamaki said he has asked Tokyo for enough to inoculate the island's population.
Stars and Stripes reporter Mari Higa contributed to this report.