House panel aims to save five ships from retirement, rejecting Navy's plan to decommission them
By
Stars and Stripes
June 7, 2022
---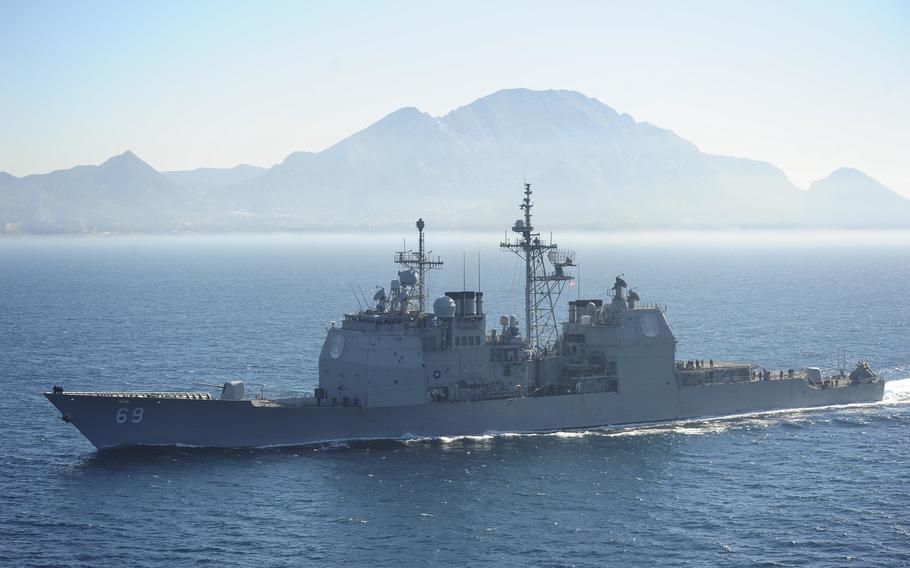 WASHINGTON — House lawmakers will push to save five ships that the Navy is slating for retirement, rejecting the service branch's proposal to decommission 24 ships in its fiscal 2023 budget.
The House Armed Services Committee's subpanel on seapower and projection forces plans to prohibit the Navy from cutting the cruiser USS Vicksburg as well as four landing dock ships from its fleet, according to committee aides. Lawmakers will recommend the changes to the full House committee this week as it drafts the National Defense Authorization Act, an annual sweeping military policy and funding bill.
"There's consensus that USS Vicksburg should be retained," an aide said, speaking on condition of anonymity. "With respect to [landing dock ships], there's strong support for the commandant of the Marine Corps' assessment that he needs no fewer than 31 amphibious ships so prohibiting the retirement of the [landing dock ships] certainly gets after that."
The USS Vicksburg, a Ticonderoga-class guided missile cruiser that launched in 1991, is nearing the end of a nearly $500 million modernization overhaul in Virginia that began in 2020. Rep. Kay Granger, the ranking Republican of the House Appropriations Committee, admonished Navy officials at a hearing last month for seeking to decommission the cruiser.
"At a time when the ship is still in its maintenance period, the Navy is proposing to scrap it," the Texas congresswoman said. "If the Navy experts expect Congress to support its vision for this fleet, it must do a much better job of managing the inventory it has. We will not stand idly by as valuable taxpayer funds are wasted."
Other cruisers on the Navy's chopping block include USS Bunker Hill, USS Mobile Bay, USS San Jacinto and USS Lake Champlain.
Retirements are also planned for two Los Angeles-class submarines, two oilers, two expeditionary transfer docks and all nine of the Navy's Freedom-class littoral combat ships, some of which have been in service less than five years. One of the four landing dock ships that lawmakers are hoping to keep — the Whidbey Island-class USS Tortuga — is undergoing the same service-life extension repairs as the USS Vicksburg.
Navy officials said decommissioning will save about $3.6 billion in the next five years, allowing the Navy to get rid of aging ships and systems that are expensive to maintain and instead invest in unmanned platforms and other technology. The "divest to invest" strategy has repeatedly frustrated lawmakers who are warily eyeing China's rapidly growing fleet.
Congress last year reversed the Navy's plan to retire seven cruisers, forcing the service to hang on to two, and ordered the Navy to build 13 ships instead of a requested eight. Next year's proposed $180 billion Navy budget also calls for building eight ships — a plan that Rep. Elaine Luria, a retired Navy commander, described as "anemic."
"The Navy has no strategy," Luria, D-Va., tweeted in March. "Stop saying you do, because if you did you would be able to explain how this fleet size will allow us to defend Taiwan."
Rep. Rob Wittman, the ranking Republican on the seapower subcommittee, noted last month that the Navy is congressionally mandated to have 355 ships. The Navy's proposed cuts would immediately shrink the current 298-ship fleet to 285 ships, he said.
"We don't expand our naval capacity and capabilities by subtracting more than we add," the Virginia congressman said. "The budget request definitely does not support [Defense] Secretary [Lloyd] Austin's stated intent of pacing the Chinese naval capabilities whose force is expected to exceed 460 ships by the turn of this decade, at which point our fleet will be only two-thirds the size of the People's Liberation Army Navy."
Despite the criticism, the subcommittee will recommend sticking to the Navy's shipbuilding plan, committee aides said. The Navy is aiming to acquire two Virginia-class attack submarines, two Arleigh Burke-class destroyers, one frigate, one amphibious transport dock, one oiler and one towing, salvage and rescue ship.
House lawmakers will also seek to set a statutory floor of 31 amphibious ships and require the Navy secretary to consult with the Marine Corps commandant on all major decisions concerning amphibious force structure and capability, committee aides said.
Other recommendations by the subcommittee include allowing the Air Force to retire eight of its C-130 transport aircraft and 13 of its air-refueling tanker aircraft and authorizing the Navy secretary to enter into procurement contracts for up to 15 guided-missile destroyers and up to 25 Ship-to-Shore connector crafts, according to aides.
The House Armed Services Committee will announce parts of its legislative agenda for the 2023 NDAA during six subcommittee markups this week, with a full committee markup scheduled for June 22. The Senate Armed Services Committee will begin unveiling its version of the bill next week.
---
---
---
---