Ship slated for decommissioning deployed to provide Navy versatility in Europe, Africa
By
Stars and Stripes
May 6, 2022
---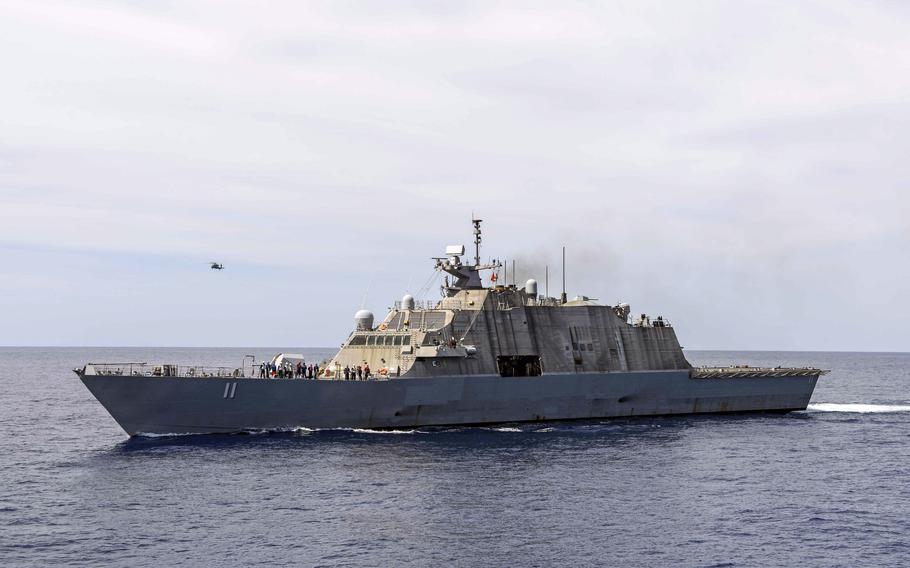 NAPLES, Italy — A Freedom-class littoral combat ship that was put on the chopping block in the Navy's most recent budget proposal has deployed to the U.S. 6th Fleet area of operations, a theater where the vessels never have operated before.
USS Sioux City, one of nine such ships targeted for decommissioning in the Navy's 2023 budget, will support U.S. and NATO interests, 6th Fleet said Thursday in a statement.
The Sioux City's deployment is an opportunity to highlight the "relevance of these ships, particularly their ability to relieve larger surface combatants" in key areas, said Cmdr. Scott Whitworth, Sioux City's commanding officer.
The fleet didn't say when the Sioux City, commissioned in 2018, arrived in its area of responsibility, which includes Europe and Africa.
"The agility of littoral combat ships allows them to operate in both near-shore and open-ocean environments, enhancing our ability to provide security and stability across the European theater," Vice Adm. Gene Black, 6th Fleet commander, said in the statement.
A detachment of two MH-60S Seahawk helicopters from Helicopter Sea Combat Squadron 22 supports the ship's deployment, the Navy said.
In proposing to decommission the Sioux City and eight similar vessels, the Navy said it was seeking to discontinue legacy programs and fund its highest priorities, according to the 2023 Budget Highlights Book.
The Navy also has proposed decommissioning 6th Fleet flagship USS Mount Whitney in 2026.
Three Freedom-class ships already were slated to be decommissioned in 2023, but the Navy proposed decommissioning six more, including the Sioux City.
Decommissioning the ships would save more than $1.4 billion, according to Navy budget documents. The ships would be replaced with Constellation-class guided missile frigates, the Navy said.
The Navy also announced Thursday that USS Arlington, a San Antonio-class dock landing ship, is in Volos, Greece, for the Alexander the Great training exercise.
The bilateral amphibious event will include elements of the Kearsarge Amphibious Readiness Group and the 22nd Marines Expeditionary Unit, both under the command of Task Force 61/2. It ends May 31, the Navy said.
---
---
---
---