Fort Riley, JBLM brigades tapped for fall Europe, Korea deployments
By
Stars and Stripes
September 2, 2022
---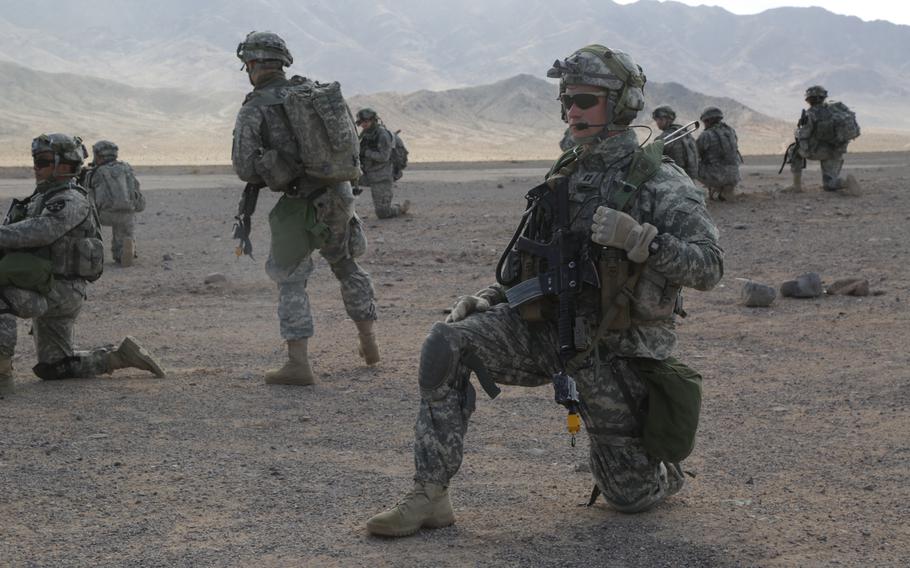 Brigade combat teams from Fort Riley, Kan., and Joint Base Lewis-McChord, Wash., will deploy this fall to Europe and South Korea in regular unit rotations, the Army announced Friday.
The Pentagon will send Fort Riley's 2nd Armored Brigade Combat Team, 1st Infantry Division to Europe and JBLM's 2nd Stryker Brigade Combat Team, 2nd Infantry Division to South Korea in the coming months, according to the Army announcements.
The Fort Riley troops will replace the 3rd Armored Brigade Combat Team, 4th Infantry Division against the backdrop of the war in Ukraine, where fighting has lasted more than six months since Russia invaded its neighbor in late February.
The 4th Infantry Division troops, who have spent the rotation training alongside NATO and partner forces across eastern Europe, will return home to Fort Carson in Colorado, according to the Army.
While the Pentagon rushed tens of thousands of American troops into Europe in the weeks after Russia's unprovoked invasion, the 3rd Armored Brigade Combat Team had already been scheduled to deploy to the Continent in support of Operation Atlantic Resolve. That mission was first launched in 2014 after Russia's initial invasion of Ukraine and has included a rotational Army tank brigade since its inception. Those deployments have typically spanned about nine months.
2nd Brigade, 1st Infantry Division commander Col. Bryan M. Harris said his troops were "excited to train and build interoperability with our NATO allies and partners" during the deployment.
2nd Stryker Brigade Combat Team, 2nd Infantry Division will replace Fort Bliss' 1st Armored Brigade Combat Team, 1st Armored Division, who will return to their Texas post, according to the Army. The Stryker brigade will be the first of its kind to deploy to Korea, after the Army this summer announced it would shift is rotational presence on the peninsula from tank-heavy brigades to the more infantry-centric Stryker units.
The Pentagon had been sending heavily armored brigades on nine-month rotations to train alongside Korean forces since 2015 when the Army deactivated the permanently stationed unit that had served near the border with North Korea for five decades.
Army Col. Chad M. Roehrman, 2-2 SBCT commander, said his brigade has long been preparing to take over the deployment, which will see it train alongside South Korean troops.
"The Lancer Brigade is proud to be selected as the first Stryker Brigade Combat Team to deploy to the Republic of Korea as a Korea Rotational Force," Roehrman said in a statement. "By design, we are equipped to rapidly deploy around the globe to fight and win in key or restrictive terrain — hills, mountains, valleys and urban environments alongside our partner nations."
---
---
---
---