The 101st's 'Screaming Eagles' take on new Romania mission 
By
Stars and Stripes
July 30, 2022
---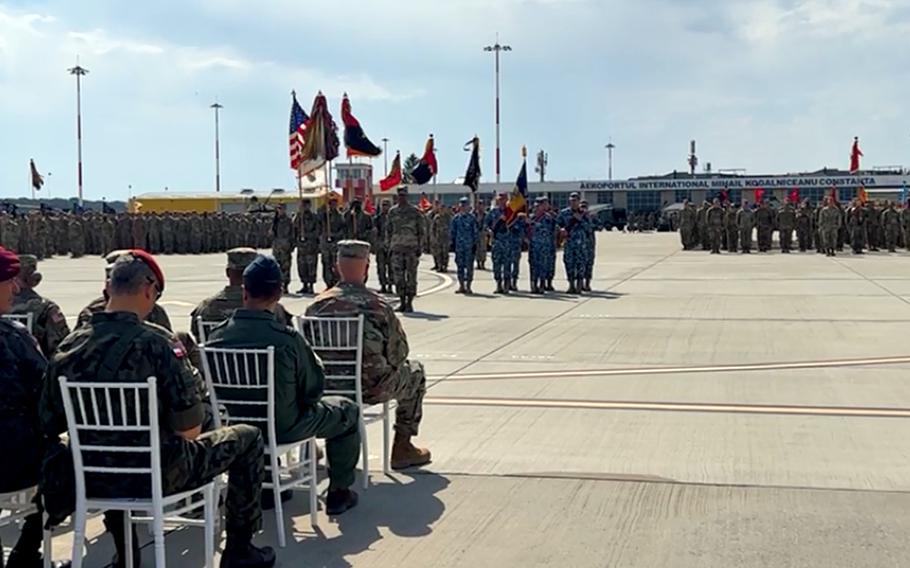 The 101st Airborne Division marked its official arrival in Europe during a ceremony Saturday at a strategic base in Romania, where soldiers were dispatched on a mission aimed at deterring potential aggression on NATO's southeastern flank.
The division's headquarters and its 2nd Brigade Combat Team unfurled colors at Mihail Kogalniceanu Air Base, which will serve as an operational hub for the unit in the months ahead. The positioning of an Army combat brigade in Romania is part of an enhanced military presence along NATO's eastern flank that has taken root in the aftermath of Russia's war on Ukraine.
"Being here, so close to that fight (in Ukraine), is exactly where the 101st Airborne Division is destined to be," said Maj. Gen. JP McGee, 101st commander, during the livestreamed ceremony.
Following the ceremony, U.S. and Romanian soldiers launched a combined demonstration to showcase their firepower, with attack helicopters, artillery, machine guns and tanks.
In a related move Saturday, the U.S. Army in Poland formally renamed a base hosting the first permanent U.S. troop presence along NATO's eastern flank in Poznan. Camp Kosciuszko, as it is now known, is home to the Army's V Corps, which is in charge of managing soldier maneuvers in Europe.
The increased number of troops in Romania in the form of a rotational brigade and the establishment of a permanent garrison in Poland were announced by President Joe Biden during NATO's June summit in Madrid.
In all, about 4,700 soldiers from the 101st Airborne will carry out missions in Europe during their deployment. The "Screaming Eagles'" arrival in Romania is perhaps the unit's most significant deployment to the Continent since World War II, when the division became part of military lore for its role on D-Day during the invasion of Normandy.
"The return of the 101st Airborne Division represents something significant for us," said McGee, who added the unit's commitment to fellow NATO allies was "ironclad."
---
---
---
---