Army switching to Stryker team as rotational force in South Korea
By
Stars and Stripes
July 1, 2022
---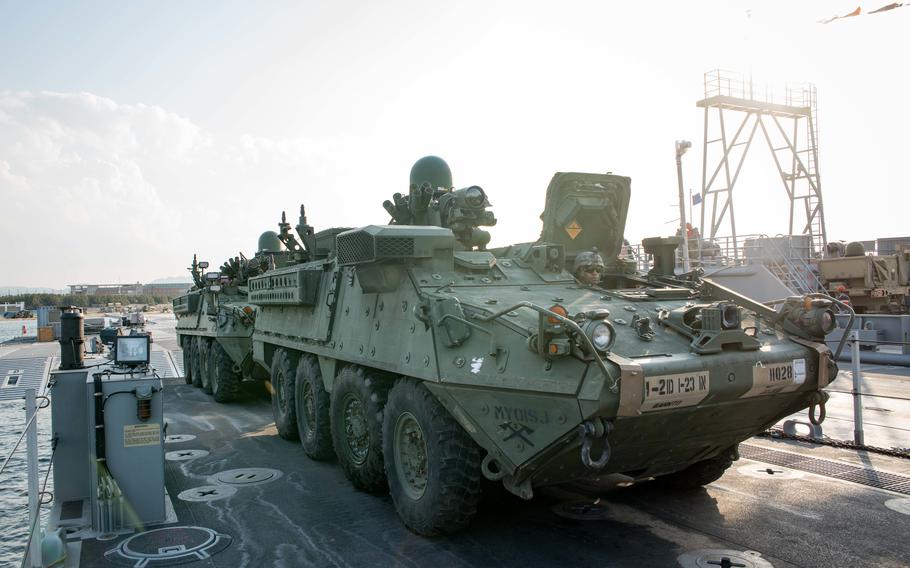 CAMP HUMPHREYS, South Korea — The Army is transitioning to a Stryker brigade combat team this fall as its rotational force in South Korea in place of its armored brigade combat team.
The change will "enable the U.S. to maintain capabilities on the Korean Peninsula to respond to any acts of aggression," according to an Army news release Friday.
Armored brigade combat teams have traditionally served in South Korea in nine-month increments. The 1st Armored Brigade Combat Team, 1st Armored Division, out of Fort Bliss, Texas, is currently mobilized to South Korea.
Stryker brigade combat teams consist of roughly 4,000 soldiers and typically operate with less resources and in more adverse terrain and weather than armored teams. They are structured around the eight-wheeled Stryker vehicles that range in configuration based on their mission, such as fire support or reconnaissance.
The existing equipment from the armored brigade combat teams will be maintained and put "in a ready state" as part of the Army's defense posture in South Korea, the news release said.
Eighth Army, the U.S. field army in South Korea, did not immediately comment on which Stryker team would deploy to South Korea and for how long. The change follows the Army decision in June to designate 1st Stryker Brigade Combat Team in Alaska as the 1st Infantry Brigade Combat Team.
Army Secretary Christine Wormuth in May said the Army may "potentially" move its existing Strykers from Alaska.
"We have not made a final decision about that," Wormuth told Sen. Lisa Murkowski, R-Alaska, during a Senate Appropriations Committee hearing. "But if we do that, we will basically take them and look at the ones we can re-use elsewhere or use for parts."
Roughly 28,500 U.S. troops are stationed in South Korea, most of them in Camp Humphreys, about 40 miles south of Seoul.
---
---
---
---