Senate confirms new leaders of SOCOM and AFRICOM, including Marine Corps' first Black four-star general
By
Stars and Stripes
August 2, 2022
---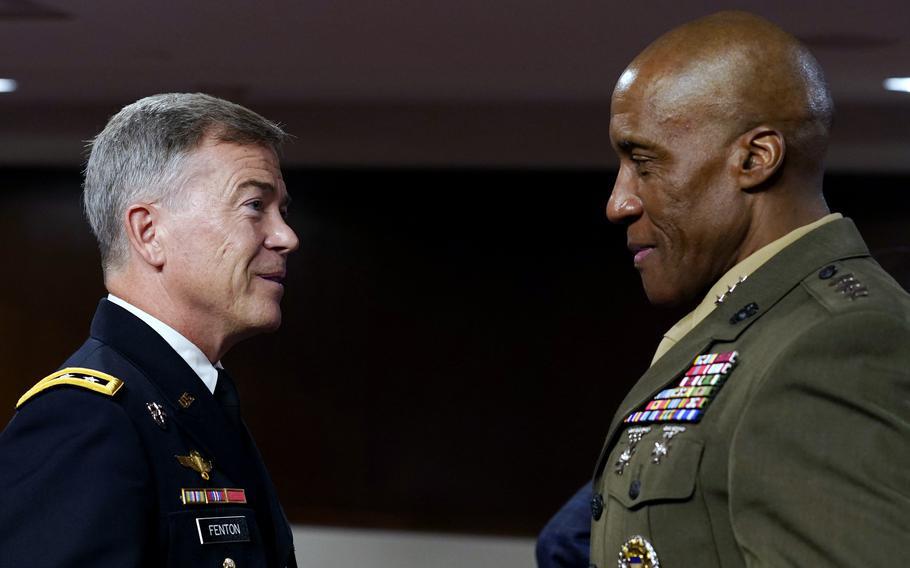 WASHINGTON — The Senate has confirmed Army Lt. Gen. Bryan Fenton to lead Special Operations Command and Lt. Gen. Michael Langley to lead U.S. military forces in Africa as the first Black four-star general in Marine Corps history.
Senators unanimously voted for the promotions on Monday night after the upper chamber's Armed Services Committee praised the men for their "exceptional" qualifications at a confirmation hearing last month.
Fenton will be the first Green Beret in nearly 20 years to lead Special Operations Command, and Langley will break a racial barrier that stood in the Marine Corps for 246 years. More than 70 white men rose to the Marine Corps' top ranks in that time.
Fenton and Langley told senators that they were prepared to counter new terrorist threats posed by the expanding reach of violent extremist organizations as well as counter the rising influence of China and Russia in the developing world.
Fenton, a career Special Forces officer, has served as commander of Joint Special Operations Command since 2021 and previously worked as a senior adviser to the defense secretary, deputy commander of U.S. Indo-Pacific Command and deputy commanding general for the 25th Infantry Division.
He joined the Army in 1987 as an infantry officer and has deployed to Bosnia, Afghanistan, Africa, Iraq and Libya.
During his confirmation hearing, Fenton committed to supporting the Pentagon's efforts to better mitigate, investigate and report civilian casualties resulting from U.S. military operations. A January report commissioned by Congress found "considerable weaknesses" in how the military assessed and responded to civilian deaths.
The issue is particularly relevant for special operations because they are often tasked with making instantaneous decisions with limited information, said Sen. Jack Reed, D-R.I., chairman of the Senate Armed Services Committee.
"We take it as a moral and strategic obligation, senator, to avoid casualties and do all that we can, even in the friction and fog of war," Fenton said in response.
He also told senators that he remained confident in the ability of the U.S. to employ an "over-the-horizon" strategy consisting of drone strikes, special operations force raids and other remote operations to contain terrorism in Afghanistan after the withdrawal of American troops last year.
"[It is] a challenge, and it is harder, but it is absolutely doable there," Fenton said.
Two Hellfire missiles fired by a U.S. drone killed Ayman al-Zawahri, the leader of al-Qaida and key plotter of the Sept. 11, 2001, attacks, in Kabul this weekend. No U.S. troops were on the ground, and no one else was killed or injured in the strike, the White House announced Monday.
Langley said during his confirmation hearing in late July that the global security environment was "the most challenging I've seen throughout my 37 years [of service]."
He did not mention that he was on the cusp of making Marine Corps history.
The son of an Air Force noncommissioned officer, Langley grew up on racially diverse bases. He said last year that he did not experience discrimination until his father retired in the early 1970s and moved the family to "cowboy country" in Texas.
"Yes, we had challenges at an early age, and I think that prepared me for leadership of all Marines, regardless of color, regardless of creed, religion, orientation," Langley said. "That experience at a young age prepared me to be a platoon commander years after that."
Langley was commissioned as a second lieutenant in 1985. He has commanded at every level, from platoon to regiment, and served overseas in Afghanistan, Japan and Somalia.
He now leads Marine Forces Command and Marine Forces Northern Command and is the commander of Fleet Marine Force Atlantic in Norfolk, Va. Prior to that posting, Langley led U.S. Marine Corps Forces Europe and Africa from Germany. He stepped into the role after his predecessor was removed for allegedly using a racial slur for Black Americans in front of troops.
Langley has outlined several priorities for the roughly 6,000 U.S. troops that he will lead in Africa, including fostering military and diplomatic ties with countries coming under Russia's and China's influence and tackling insurgencies in West Africa's Sahel region. He warned senators last month that population growth is fueling new ideologies on the continent, and militant groups are metastasizing.
"It is more of a problem today," Langley said of the terrorist threat.
The mounting power of al-Shabab, a militant group aligned with al-Qaida, prompted President Joe Biden to reverse President Donald Trump's decision last year to withdraw all U.S. service members in Somalia. Biden announced in May that he will send 500 special operations troops to the country for a permanent presence.
Langley called the move a "positive step" in a written response to a set of questions from the Senate Armed Services Committee.
"A stable and prosperous African continent is increasingly important to the United States — politically, economically, and militarily — and will become even more so in the future," he wrote.
---
---
---
---