Generals nominated to lead Special Operations and Africa commands promised quick confirmations by Senate panel
By
Stars and Stripes
July 21, 2022
---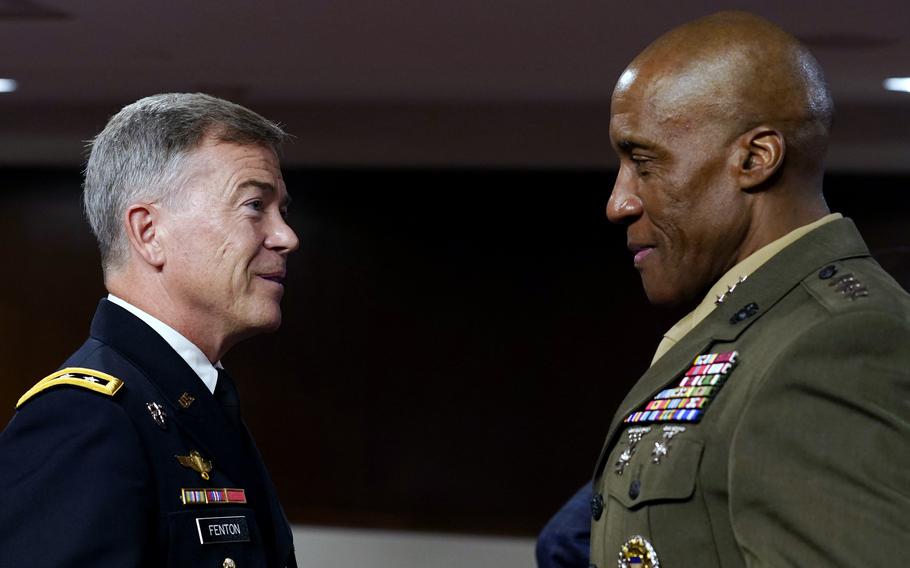 WASHINGTON — Army Lt. Gen. Bryan Fenton and Marine Corps Lt. Gen. Michael Langley told senators Thursday that they are prepared to counter terrorism threats and Chinese and Russian influence and prioritize troop well-being if confirmed to lead Special Operations Command and Africa Command respectively.
Sen. Jack Reed, D-R.I., chairman of the Senate Armed Services Committee, promised a speedy confirmation process for Fenton and Langley as Congress prepared to depart for a lengthy recess in August. Other members of the committee — Democrats and Republicans — openly voiced their strong support.
"[President Joe Biden] and his team have consistently put forward exceptional officers to serve at the highest levels of our combatant commands, and you two gentlemen are a continuation of that," said Sen. Dan Sullivan, R-Alaska.
Fenton, the current commander of Joint Special Operations Command, would become the first Green Beret in nearly 20 years to lead SOCOM if confirmed. Langley is set to make history as the first Black four-star general in the Marine Corps if the Senate approves his nomination as leader of all U.S. military forces in Africa.
Fenton told senators that he remained committed to the training work special operations troops perform around the world, particularly with Ukrainian forces who continue to study unconventional warfare, resistance and other "hallmark" special operations tactics in training sessions outside Ukraine.
"The investment in 2014 in Ukraine … is I think being seen in the asymmetrical way the Ukrainians are blunting the Russian invasion," he said.
Fenton said he also would put training at the forefront of special operations efforts to counter China. He said he would work with Indo-Pacific Command, where he previously served as deputy commander, to place small teams in countries throughout the region who speak the local language, know the local culture and can train, assist and advise militaries.
Fenton added the U.S. remains in position to keep an eye on violent extremist groups such as the Islamic State and al-Qaida despite the withdrawal of troops from Afghanistan last year. The Pentagon's "over-the-horizon" strategy, which relies on using drone surveillance and conducting other counterterrorism operations from afar, is challenging, he said, but "absolutely doable."
Langley cautioned Thursday that militants such as al-Shabaab, a Somalia-based Islamic insurgence group, are gaining ground in Africa and showing aspirations for external, transnational operations. Population growth is also fueling the spread of new ideologies, he said.
Sen. Angus King, I-Maine, expressed concern the U.S. had dropped the threat of terrorism from its national security priorities.
"It's so easy in the time of Ukraine and the China challenge to sort of move the focus away from terrorism, but those people are still there and they're still hostile to this country and I think they're still a threat to this country," he said.
Langley "wholly concurred" with King's threat assessment and said he would put the issue at the forefront of his work as commander. Biden announced in May that he would send 500 troops to Somalia for a permanent presence, reversing former President Donald Trump's decision in January 2021 to remove the 750 U.S. troops who were stationed in the country.
Langley welcomed senators' suggestions that he embrace the unique diplomatic role that leading AFRICOM entails. He said he would partner with other government agencies, such as the U.S. Agency for International Development, to offer humanitarian relief and provide support for countries who might be tempted by China's mammoth local investment initiatives and Russia's weapons sales and security assurances. 
China is plundering Africa's seas and mineral resources while Russian mercenaries are stoking conflict and instability across the continent, Langley said. The U.S. needs to make clear to African countries that they are being exploited, he said, and continue to nurture relationships with nations even if they are under China's and Russia's spell.
"We are still the partner of choice," Langley said. "If I am confirmed, we will reengage, we will reset."
Fenton and Langley said they would begin their potential new jobs by assessing the readiness of the troops under their command and making certain they are fit to meet a global security environment that Langley described as "the most challenging I've seen throughout my 37 years" of service.
"People are more important than hardware," Fenton said. "They would be my first priority."
---
---
---
---