Senators call for US military to shift focus to resounding Russian defeat in Ukraine
By
Stars and Stripes
April 7, 2022
---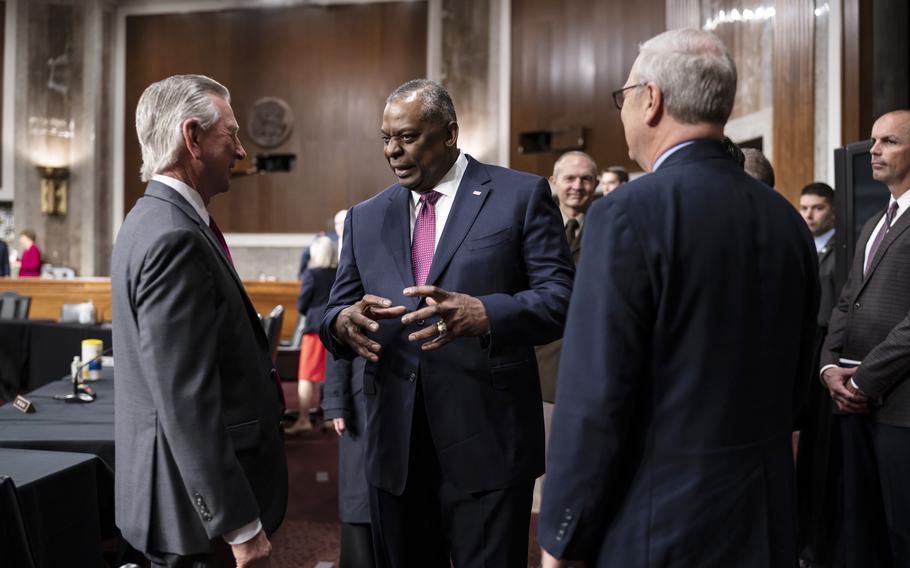 WASHINGTON – The military's top brass said Thursday that an ideal outcome of Russia's invasion of Ukraine would be maintaining Ukraine's sovereignty and weakening Russia, frustrating some senators who want Russia's resounding defeat to be at the forefront of U.S. strategy.
Defense Secretary Lloyd Austin and Army Gen. Mark Milley, chairman of the Joint Chiefs of Staff, told the Senate Armed Services Committee that they are focused on supplying weaponry and intelligence to Ukraine, supporting NATO and avoiding an armed conflict with Russia.
But their refusal to use the words "win" and "victory" riled some lawmakers who see the withdrawal of Russian troops from the suburbs of Ukraine's capital Kyiv as an opportunity for Ukraine to not just hold off Russia's mightier forces but decisively win the war.
"The shift that we need to do now is to strategically think about victory," said Sen. Dan Sullivan, R-Alaska, a former Marine. "Doesn't it make sense to have as our No. 1 objective imposing a strategic defeat on [Russian President Vladimir] Putin? I think that's the source of frustration for a lot of senators – we're not hearing that language."
Milley countered that he has heard that language many times and he said President Joe Biden has instructed his national security team to impose severe costs on Russia and not let Putin win. In a separate exchange, Milley said a Ukrainian victory means freedom and independence for the nation but achieving it is going to be a very difficult and long slog.
"I think it's an open question right now how this ends," he said. "Ideally, Putin decides to cease fire, to stop his aggression and there is some sort of diplomatic intervention but right now that doesn't appear to be on the immediate horizon."
Sen. Richard Blumenthal, D-Conn., said he was troubled by that answer because it did not state the ultimate U.S. objective: enabling the Ukrainians to win.
"It seems to me that often our strategy seems to be somewhat schizophrenic – we want the Ukrainians to defeat Russia but we're afraid that pushing Putin into defeat may provoke escalation," he said.
Austin said his "desired result" for the war's outcome includes Ukraine retaining its sovereignty and its ability to defend itself and for Russia to become a global pariah with a weakened military.
"We can see those kinds of things beginning to happen," Austin said.
Sen. Tom Cotton, R-Ark., asked Austin whether the words "win" and "victory" had been purged from his vocabulary.
"Certainly not," the defense secretary replied.
It would be beneficial for Americans to hear stronger and more optimistic language from their military leaders, argued Sen. Joni Ernst, R-Iowa. She said many Americans see themselves reflected in Ukrainians and their fight for democracy.
"Whatever the hesitancy to say 'win' for Ukraine, 'victory' for Ukraine, I will say it and I know a number of my colleagues will say it," said Ernst, an Army veteran. "I feel very firmly about victory for Ukraine."
The Pentagon's chief spokesman, John Kirby, said Wednesday that Ukraine can defeat Russia, pointing to Putin's failures to capture Kyiv and install a pro-Kremlin government.
"I think the proof [that Ukraine can win] is literally in the outcomes that you're seeing every day the Ukrainians are bravely fighting for their country," he said.
Austin and Milley predicted a fierce battle over Ukraine's southern and eastern regions in the coming weeks as Russia seeks to seize control of the contested Donbas territory and build a land bridge to the annexed Crimea peninsula. They cautioned the rest of Ukraine remains a battlefield.
"There's no telling what Putin will decide to do going forward," Austin said. "Certainly we expect that he'll continue to conduct strikes throughout that landscape."
Top U.S. defense and military officials have frequently tried to speak with their Russian counterparts since Russia launched its onslaught on Feb. 24, but those efforts have been rebuffed, he said.
"I'm disappointed for sure but based upon what they've done, nothing surprises me," Austin said. "But it doesn't mean we'll stop reaching out to engage them. I think we have to have the ability to talk to the leadership."
---
---
---
---