Biden defends US exit from Afghanistan
by
Nikki Wentling 
Stars and Stripes
August 31, 2021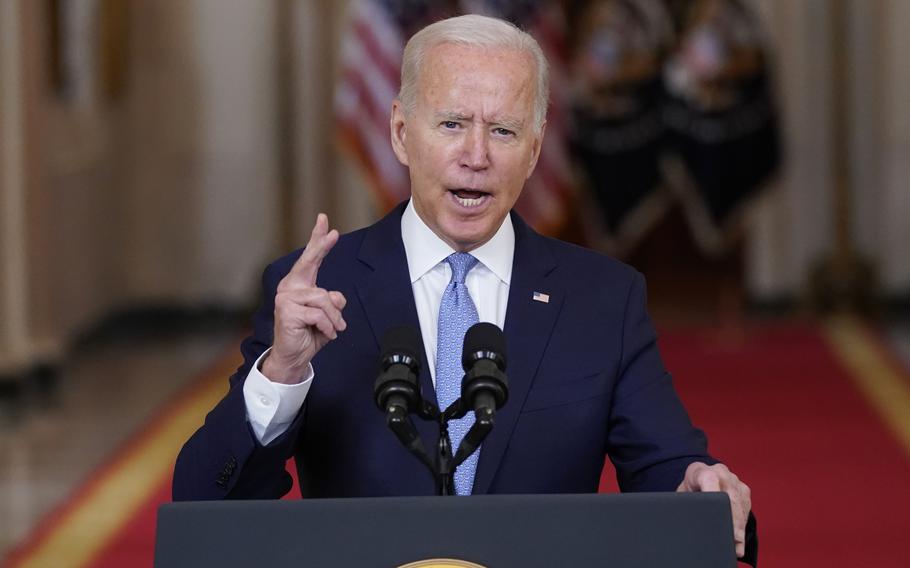 WASHINGTON — A defiant President Joe Biden on Tuesday defended his decision to leave Afghanistan and bring a nearly 20-year war to an end.
Biden pushed back against critics who have scrutinized his judgment and argued he took missteps that created the chaotic situation in Afghanistan during the past few weeks.
Aiming to silence those critics, Biden contended his choices regarding Afghanistan had been limited by former President Donald Trump's agreement with the Taliban to withdraw U.S. troops. He said he faced two choices: follow the agreement of the previous administration or send in more U.S. troops to escalate the war.
"That was the choice, the real choice, between leaving or escalating," Biden said. "I was not going to extend this forever war, and I was not extending a forever exit."
U.S. withdrawal efforts began May 1 and accelerated Aug. 15, when the Taliban overthrew the Afghanistan government and took control of Kabul, its capital city.
About 160 Afghans and 13 U.S. service members, including 11 Marines, a sailor and soldier, were killed in an attack Thursday at the Hamid Karzai International Airport in Kabul as evacuations were ongoing. The attack, a suicide bombing, was conducted by the Afghanistan branch of the Islamic State terrorist group. In response, the U.S. killed two terrorists and injured a third in a drone strike.
Biden, arguing against his skeptics, said there would've been a panicked rush to the airport regardless of whether the evacuations started sooner.
"There is no evacuation from an end of the war that you can run without the kinds of complexities, challenges and threats we've faced," he said.
The military completed its withdrawal from the country Monday, one day ahead of the deadline set by Biden and enforced by the Taliban. The moment marked the first time in 20 years that America didn't have troops in Afghanistan.
In total, the U.S. evacuated more than 120,000 people in the past 18 days, including 5,500 Americans, Biden said.
House Republicans have criticized Biden's handling of the withdrawal, accusing him of leaving Americans behind. Rep. Kevin McCarthy, R-Calif., the House minority leader, attempted Tuesday to pass legislation that aimed to prohibit Biden from withdrawing all troops from Afghanistan until all Americans were evacuated.
An estimated 100 to 200 U.S. passport holders remain in Afghanistan, according to the State Department. Most of the Americans remaining are dual citizens who at first wanted to stay in Afghanistan because of family roots, Biden said. He said the State Department would continue to try to extricate Americans and Afghan allies out of the country and work with Afghanistan's neighbors to secure their departure.
"The bottom line is 90% of Americans in Afghanistan who wanted to leave were able to leave," Biden said. "For those remaining Americans, there is no deadline. We remain committed to get them out if they want to get out."
Going forward, Biden vowed to support the Afghan people through diplomacy and humanitarian aid.
Biden explained his decision to withdraw from Afghanistan as critical for emerging threats. He referenced America's competition and tensions with China and the ongoing challenges with Russia.
"There's nothing China or Russia would rather have than the U.S. to be bogged down in another decade in Afghanistan," Biden said. "The fundamental obligation of the president is to defend and protect America, not against the threats of 2001, but against the threats of 2021 and tomorrow."
Biden also said America's withdrawal from Afghanistan marked an end to the era of the United States engaging in major military operations to remake other countries.
He thanked the service members who carried out the evacuation mission, as well as the nearly 800,000 veterans of the war in Afghanistan. He acknowledged the cost of the war to veterans and their families, from traumatic brain injuries to mental health issues, divorces and missed milestones.
Biden said he "refused to send another generation" to fight a war that had no clear purpose and should've ended a decade ago.
"My fellow Americans, the war in Afghanistan is now over," he said. "I believe this is the right decision, the wise decision, and the best decision for America."