Biden vows revenge on terrorists for Kabul airport attack
by
Nikki Wentling 
Stars and Stripes
August 26, 2021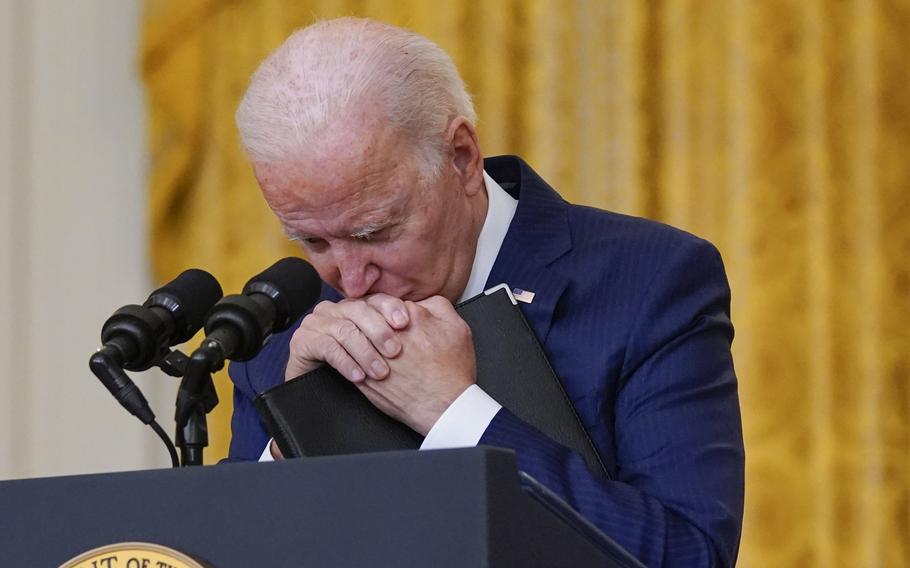 WASHINGTON — President Joe Biden vowed Thursday to hunt down leaders of the terrorist group that carried out attacks in Kabul, which killed 13 U.S. service members and wounded dozens of other troops and Afghan civilians.
Biden expressed outrage and heartbreak at the deaths, and he promised a response. He confirmed the group ISIS-K — an Afghan-based branch of the Islamic State terrorist group — was responsible for the attack. Pentagon officials warned this week of potential threats from the group.
"To those who carried out this attack, as well as anyone who wishes America harm, know this: We will not forgive, we will not forget," said Biden, who spoke from the East Room of the White House. "We will hunt you down and make you pay. I will defend our interests and our people with every measure at my command."
Biden said he ordered his commanders to develop plans for a return strike against the terrorist group's assets, facilities and leadership. Further, he said his administration "has reason to believe" that they know the individuals who ordered the attack and would "get them, wherever they are."
"We will respond with force and precision at our time, at the place we choose and the moment of our choosing," the president said. "Here's what you need to know: these ISIS terrorists will not win. We will rescue the Americans. We will get our Afghan allies out. America will not be intimidated."
One explosion Thursday occurred near Abbey Gate, one of three entrances to the Kabul airport, where U.S. and coalition forces have evacuated tens of thousands of Americans and at-risk Afghans from Afghanistan since the Taliban took control of the country nearly two weeks ago. Afghans had gathered at the gate to vie for evacuation flights.
The Pentagon said 13 U.S. service members were killed and 18 others were wounded in the attack. The number of Afghan casualties remained uncertain Thursday afternoon.
Marine Gen. Frank McKenzie, the commander of U.S. Central Command, told reporters the "working assumption" is a suicide bomber detonated while being checked by U.S. troops at the gate, but that is not confirmed.
A second explosion happened shortly after the first one "at or near the Baron Hotel, a short distance from Abbey Gate," said chief Pentagon spokesman John Kirby. Pentagon officials expect more attacks to follow.
"We can and we must complete this mission, and we will," Biden said. "And that's what I've ordered them to do. We will not be deterred by terrorists. We will not let them stop our mission."
Evacuation efforts continued Thursday as the U.S. raced to meet an Aug. 31 deadline to withdraw troops.
The State Department said the U.S. has evacuated about 5,000 American passport holders so far. On Thursday, about 1,000 remained in Afghanistan, some of whom were at the airport or waiting for guidance on safe routes to get there.
Since Aug. 14, the U.S. has evacuated approximately 95,700 Americans and Afghan allies.
Even after the troops withdraw from the country, the U.S. will work to find and evacuate Americans who remain in the country, Biden said.
The president held a moment of silence for the service members and Afghans who were killed in the attack. He described the troops as heroes who died while carrying out a dangerous, selfless mission "to save the lives of others."
"They were part of an airlift evacuation effort unlike any seen in history," Biden said. "They were part of the bravest, most capable, most selfless military on the face of the Earth, and they were part of the backbone of America — the best the country has to offer."