1,500 Americans remain in Afghanistan, Blinken vows to get them out even after Aug. 31 deadline
by
Nikki Wentling 
Stars and Stripes
August 25, 2021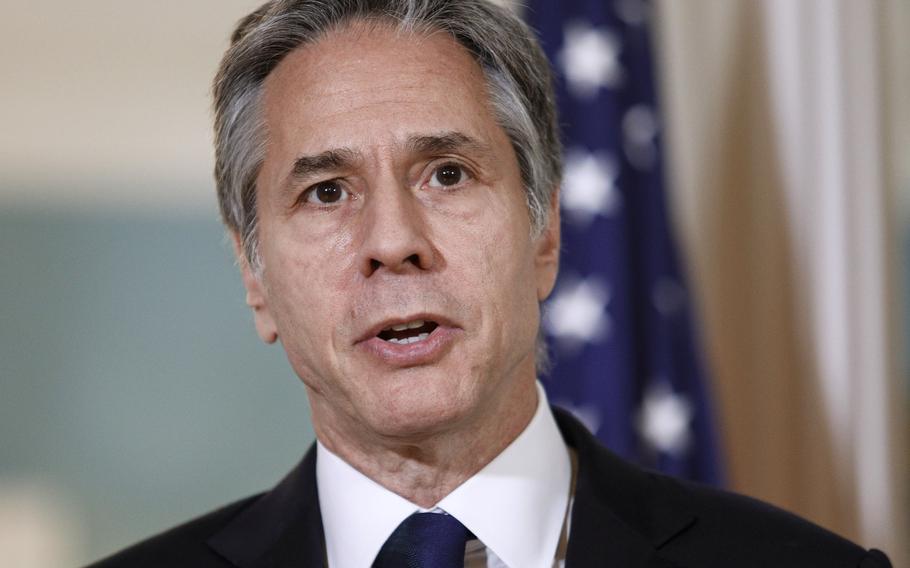 WASHINGTON — About 1,500 American passport holders remain in Afghanistan, and the State Department will continue working past Aug. 31, if necessary, to get them out of the country, Secretary of State Antony Blinken said Wednesday.
In total, 6,000 Americans were in Afghanistan on Aug. 14, when the Taliban overthrew the Afghan government and took control of Kabul, its capital. As of Wednesday, 4,500 Americans have been evacuated from the country.
The State Department has been in contact with 500 Americans who remain in Afghanistan and who are seeking to leave the country. They're receiving specific instructions about how to reach the Kabul airport safely, Blinken said.
The department is trying to ascertain the status of the other 1,000 Americans.
"We're aggressively reaching out to them multiple times a day through multiple channels to determine whether they want to leave and to get them the most up-to-date information about how to do so," Blinken said. "We're trying to identify the status and plans of these people in the coming days."
The exact number of Americans still in Afghanistan is difficult to determine, and it's likely lower than the 1,500 the State Department is estimating now, Blinken said. Some of those Americans might not be in Afghanistan at this point, he said. The department has also experienced cases of people who identified as American citizens who turned out not to be.
"These are hour-by-hour calculations that we're working to refine for accuracy," he said.
Blinken also said the State Department was "relentlessly focused" on evacuating American citizens before Aug. 31 — the deadline established by President Joe Biden to withdraw U.S. forces from the country. However, if all Americans are not out of the country by that date, the department will continue working, Blinken vowed.
Biden asked Blinken to work on contingency plans in case evacuations aren't completed by next week.
"Let me be crystal clear about this: There is no deadline on our work to help any remaining American citizens who decide they want to leave," Blinken said. "That effort will continue every day past Aug. 31. … People who want to leave Afghanistan after the U.S. military departs should be able to do so."
The Taliban is holding firm to the Aug. 31 deadline and has warned of consequences if the U.S. were to extend its evacuation mission. In addition, U.S. leaders are concerned about attacks from the terrorist group aligned with the Islamic State known as ISIS-K.
In total, the U.S. has evacuated 88,000 people since Aug. 14, including 19,000 people Tuesday.
In addition to promising to get Americans out of Afghanistan, Blinken vowed the State Department would continue working to evacuate Afghans who are at-risk under Taliban rule, including America's wartime allies.
"We've talked a lot about numbers," Blinken said Wednesday. "We know that this is about real people — many scared, many desperate. We know that lives and futures hang in the balance during these critical days."