Biden won't extend Aug. 31 deadline to withdraw from Afghanistan for now, orders Pentagon to make contingency plans
by
Corey Dickstein
Stars and Stripes
August 24, 2021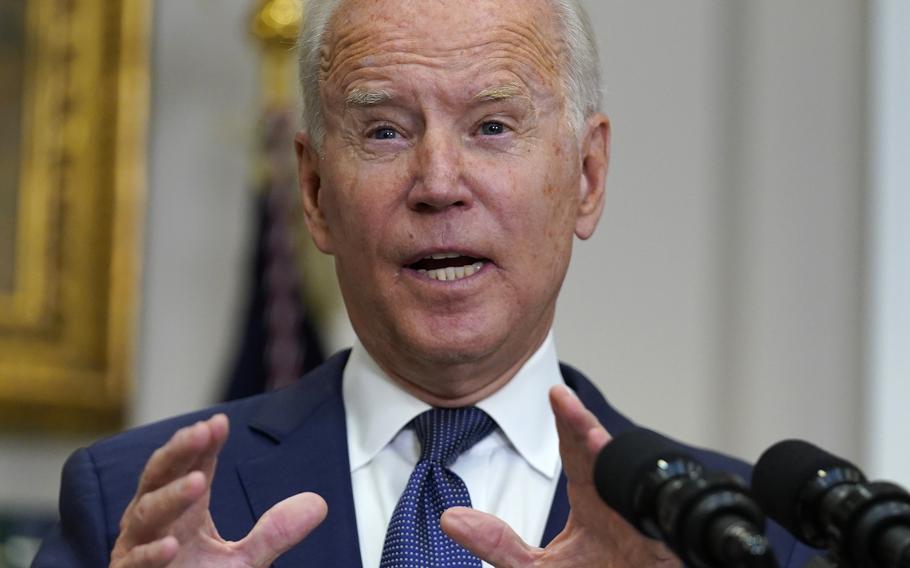 President Joe Biden will not extend the Aug. 31 deadline to remove all American troops from Afghanistan, at least for now, he said Tuesday after meeting with world leaders amid concerns the U.S.-led evacuation mission cannot be completed in one week.
"We are currently on a pace to finish [evacuation operations] by Aug. 31. The sooner we can finish, the better," Biden said Tuesday in a White House address. "Each day of operations brings added risk for our troops."
The president spoke hours after he met virtually with G7 leaders, some of whom were reported to have pressured him to keep U.S. troops at Kabul's Hamid Karzai International Airport beyond the end date that Biden set long before the Taliban overran Afghanistan two weeks ago. Some Democratic and Republican lawmakers also urged Biden to extend the mission.
But the president stuck to his deadline on Tuesday, citing among other concerns the growing fears of the potential for a terrorist attack on the Kabul airport, primarily from the Islamic State's Afghan affiliate, known as ISIS-K.
"I'm determined to ensure that we complete our mission — this mission, and I'm also mindful of the increasing risks that I've been briefed on, the need to factor those risks in," Biden said. "They're real and significant challenges that we have to take into consideration.
"Every day we're on the ground is it another day we know that ISIS-K is seeking to target the airport and attack both U.S. and allied forces and innocent civilians."
His decision also came as the Taliban warned it would not accept a deadline extension and would begin blocking Afghans from evacuation paths in Kabul.
Biden said he had directed the Pentagon and the State Department to develop contingency plans to adjust the withdrawal timetable quickly, "should that become necessary."
The Pentagon's evacuation mission from Kabul's airport, the only ground the United States and its allies retain in all of Afghanistan, has ramped up in recent days, defense officials have said. The U.S. military on Tuesday reported its largest evacuation total for a 24-hour period to date, announcing 37 U.S. Air Force planes had removed 12,700 Americans and Afghans from Kabul.
In total, some 21,600 people were evacuated from the airport, known as HKIA, during the previous 24 hours via U.S. and partner nation military aircraft and charter flights, Army Maj. Gen. Hank Taylor, the Joint Staff's deputy director for regional operations, said Tuesday morning. Biden said Tuesday evening that another roughly 12,000 people had been evacuated Tuesday, including about 6,400 evacuees on 19 U.S. military flights.
News and social media reports showed Tuesday that massive crowds of desperate Afghans remained outside HKIA, where U.S. military officials reported a firefight on Monday had killed an Afghan soldier helping secure the airport. Several other Afghans have been killed in the chaos on the airfield in the hours after the Taliban entered Kabul, and in the crush of evacuation hopefuls outside HKIA's walls in the days since, U.S. officials have said.
Despite the troubles, which at least twice have forced hourslong pauses to flights in and out of Kabul, some 70,700 people had been evacuated from Kabul since Aug. 14, one day before the Taliban took control of the Afghan capital, Biden said. Among them, were some 4,000 American "passport holders" and their families, John Kirby, the Pentagon's top spokesman, said Tuesday.
Pentagon officials said the evacuation efforts in recent days, which have exceeded Defense Department goals for the numbers of people removed, should continue at pace during the coming days. The U.S. military is evacuating people from Kabul to 14 temporary holding locations in the Middle East and Europe, Kirby said.
Kirby and other Defense Department officials have said they believe they can get all Americans who want to leave Afghanistan out of the country by Aug. 31.
But it was unclear precisely how long the evacuation efforts can continue or how many American citizens and U.S.-allied or at-risk Afghans remain to be pulled out of the country. Kirby acknowledged the military would need to at least scale back civilian evacuation efforts at some point before Aug. 31 to remove the roughly 5,800 U.S. troops at the airport and their equipment, which includes armored vehicles and helicopters.
He said "several hundred" troops have already left Afghanistan as part of the continuing military drawdown efforts.
"These troops represent a mix of headquarters staff, maintenance and other enabling functions that were scheduled to leave and whose mission at the airport was complete," Kirby wrote in an email to Pentagon reporters.
He said the departure members "represents prudent and efficient force management" and "will have no impact on the mission at hand."
Kirby also said the military will also attempt to remove or destroy remaining equipment in the Afghanistan as part of the ongoing withdrawal process before time runs out.
"There's a strong bias to be able to get our material out with our people," he said. "If there needs to be destruction or other disposition of equipment there at Hamid Karzai International Airport, then we'll do that."
"We want to preserve as much capability as long as we can to continue to conduct evacuations while safely removing our people and our equipment, all at the same time," Kirby said.
Biden on Tuesday did not rule out extending the Aug. 31 deadline.
But Taliban spokesmen in recent days have said they consider that date a redline, and warned any violation would be met with consequences, which they have not described.
Taliban spokesman Zabihullah Mujahid said Tuesday that the group would no longer allow Afghans to reach HKIA in a bid to keep them in the country, and he encouraged the U.S. government to stop encouraging Afghans to leave, according to The Washington Post. He said the Taliban especially wanted educated people, including doctors and engineers, to remain in Kabul, and might block their passage to the airport.
"We need those people in the country," Mujahid said in a news conference from Kabul.
U.S. military leaders at HKIA have been regular contact with Taliban commanders in Kabul, Kirby said. The hardline Islamist group has "been very clear about what their expectations are" regarding Aug 31.
"The public and private statements [from the Taliban] are the same," Kirby said, decline to provide more detail about those communications. "[We are] not seeing much dissonance."
Biden's announcement that he would not extend the deadline was swiftly met with bipartisan anger and promises to push back on the White House decision.
Some Democrats opposing the Aug. 31 withdrawal included Rep. Jason Crow of Colorado, who served in Afghanistan as an Army Ranger, and Rep. Elissa Slotkin of Michigan, a former CIA officer and senior Pentagon official, CNN reported.
"The deadline is when the mission is accomplished and we bring our people home," Crow told CNN after a classified briefing for House lawmakers on the Afghanistan mission.
Sen. Ben Sasse, R-Neb., demanded Biden dismiss the Taliban's threats over remaining past Aug. 31. If necessary, he said, U.S. troops should "spill Taliban, al-Qaida, and ISIS blood" to continue the mission to remove Americans from Afghanistan.
"Damn the deadline," Sasse said in a statement. "The American people are not going to surrender our fellow citizens to the Taliban. Americans want us to stay until we get our people out, and so do our allies. … If President Biden accepts the Taliban's terms, he'll be the one holding the shovel in Afghanistan's 'graveyard of empires.' "
Stars and Stripes reporter Caitlin Doornbos contributed to this report.