House lawmakers call on Biden to extend deadline to withdraw US forces from Afghanistan
by
Nikki Wentling 
Stars and Stripes
August 24, 2021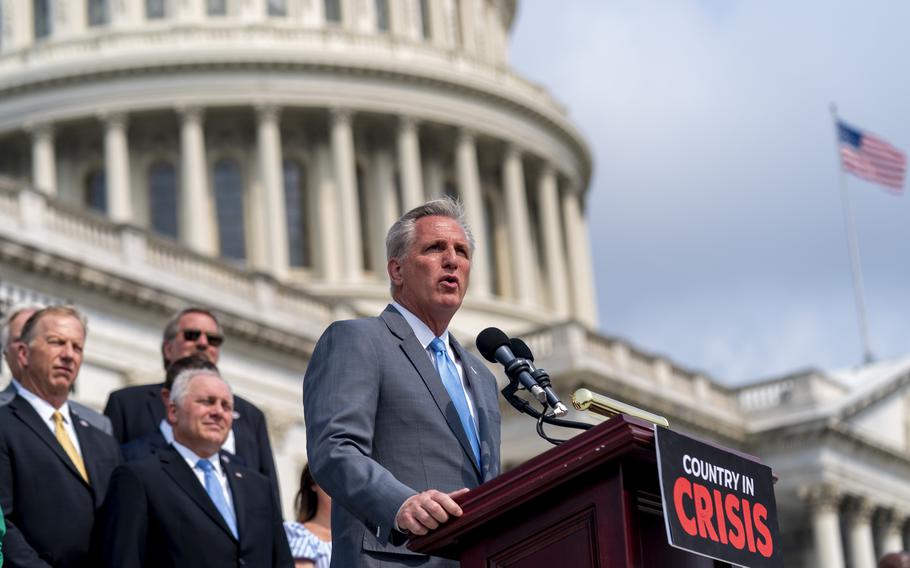 WASHINGTON — House Republicans and Democrats urged President Joe Biden on Tuesday to extend the deadline to withdraw U.S. troops from Afghanistan in order to evacuate all Americans and Afghan allies.
Biden decided Tuesday to stick with the Aug. 31 deadline to withdraw U.S. military forces from the country, citing the increasing rate of evacuations and the security risks, now that Afghanistan is under Taliban control. Biden relayed his decision Tuesday morning to the Group of Seven, an intergovernmental forum that includes Canada, France, Germany, Italy, the United Kingdom and Japan.
House Republicans blasted the decision in a news conference Tuesday and argued it wasn't possible to evacuate all Americans and Afghan allies in the next week. They warned people would be left behind.
"There's no possible way that we can get every American still in Afghanistan out in the next seven days," said Rep. Kevin McCarthy, R-Calif. "I want to be very clear with him: Don't pick the date, solve the problem. Make sure every American is out, then that will be the day we depart."
McCarthy, the House minority leader, attended a classified briefing about Afghanistan on Tuesday. McCarthy said the information relayed in the briefing made him less confident about America's effort to evacuate U.S. citizens and allies.
Some Democrats agreed. Rep. Adam Schiff, D-Calif., chairman of the House Intelligence Committee, said after a classified briefing Monday that it was "very unlikely" the United States could evacuate all Americans and allies by Aug. 31.
Rep. Mark Takano, D-Calif., chairman of the House Committee on Veterans' Affairs, issued a statement Tuesday, encouraging Biden to extend the deadline to allow more time to help America's wartime partners to leave Afghanistan. Some Afghanistan War veterans are trying to assist their Afghan friends obtain special immigrant visas in order to get out of the country, Takano said.
"Despite great risks to themselves, our Afghan allies stepped up to help us," he said. "For those veterans who want to help the allies who supported them, we must ensure they have time to do so."
The White House said Tuesday, however, that evacuation rates were surpassing their daily goals. In the past 24 hours, about 21,600 people were evacuated from the country. The Department of Defense said the pace of military flights out of Kabul is one departure every 45 minutes.
In total, 76,000 people have been evacuated since the end of July, the White House said.
Some of Biden's advisers also want to withdraw by Aug. 31 out of concern for the safety of American troops who might be in danger if the United States stays in the country past the deadline that was agreed upon with the Taliban. White House officials said they speak with Taliban representatives on a daily basis, and they have said the deadline is firm.
McCarthy balked Tuesday at Biden's negotiations with the Taliban.
"At no time should America ever bend," he said. "We should stay until every single American can get out. We shouldn't negotiate it. We should explain it."
---
---
---