US drone strike kills two ISIS terrorists, wounds a third less than two days after Kabul airport attack
by
Caitlin Doornbos
Stars and Stripes
August 28, 2021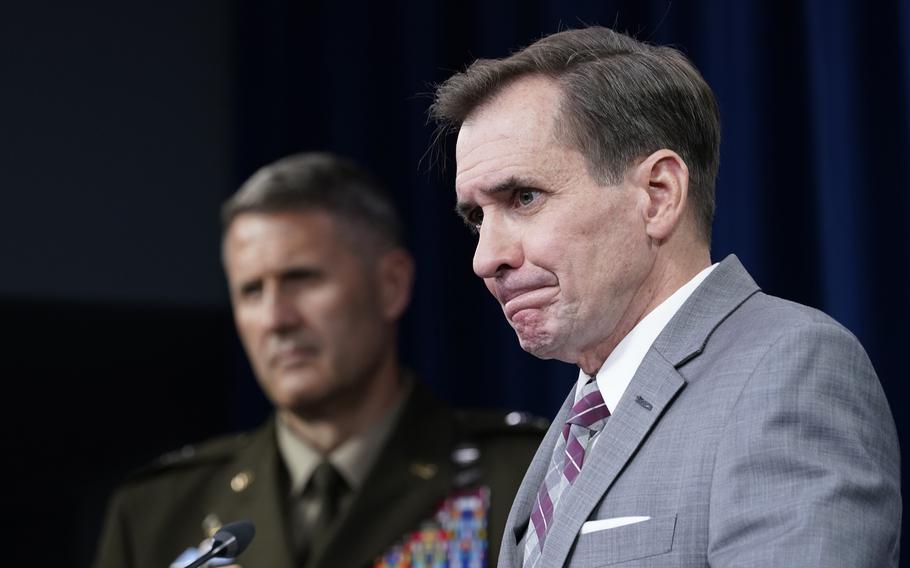 WASHINGTON — A U.S. drone killed two Islamic State terrorists and injured a third in an airstrike less than two days after an attack at the Kabul airport killed 13 American troops, Army Maj. Gen. Hank Taylor, the Joint Staff's deputy director for regional operations, said Saturday.
The drone strike in the Nangarhar province hit "high-profile ISIS targets" that worked as "planners and facilitators" for the terrorist group's Afghanistan branch known as ISIS-Khorasan, or ISIS-K, Taylor said. A sole suicide bomber and an unknown number of gunmen on Thursday attacked a gate at the Hamid Karzai International Airport killing the U.S. troops and wounding 20 other service members.
The ISIS-K attack killed 11 Marines, a sailor, a soldier and a large number of Afghan civilians when a terrorist detonated an explosive vest near the airport's Abbey Gate "followed by direct [gun]fire from an enemy position," Taylor had said. The gate is one of three entrances to the airport where large crowds of people had been gathered to vie for evacuation flights.
The strike was an example of "over-the-horizon counterterrorism capabilities" that Pentagon officials for months have said the U.S. will maintain in the region after the military drawdown from Afghanistan ends Tuesday, according to Capt. Bill Urban, a spokesman for U.S. Central Command.
The airstrike was conducted in response to the airport attack, chief Pentagon spokesman John Kirby confirmed Saturday.
"We have the ability to conduct over-the-horizon counterterrorism capabilities — we've talked about that — this certainly fits in that mold," he said. "But it's not a coincidence that it happened just a couple of days after we lost 13 brave service members."
In the hours after the bombing Thursday, President Joe Biden pledged vengeance against the perpetrators of the attack.
"To those who carried out this attack, as well as anyone who wishes America harm, know this: We will not forgive. We will not forget. We will hunt you down and make you pay," he said. "I will defend our interests and our people with every measure at my command."
The troops killed and injured were conducting security checks on Afghan evacuees attempting to enter the airport when the attack happened. U.S. and coalition forces have been evacuating tens of thousands of Americans and Afghans since the Taliban took control of the country two weeks ago.
Those evacuations continued despite the deadly attack, with the U.S. evacuating about 4,000 people on 27 C-17 and five C-130 transport aircraft on Friday, Taylor said. Additionally, 34 coalition aircraft carried 2,800 evacuees out of Kabul.
In total, U.S. and coalition forces as of Saturday had evacuated more than 117,000 people, about 5,400 of whom are Americans, Taylor said.
Though the U.S. military's withdrawal from the airport has begun, Taylor said the evacuations will carry on until Tuesday.
"We continue to evacuate American citizens and vulnerable Afghans out of Kabul," he said. "In fact, there are approximately 1,400 individuals at the Kabul airport who have been screened and [readied] for flights (Saturday)."
Taylor also said the U.S. could conduct more airstrikes as the threat in the region remains in the final days of the withdrawal and evacuation missions there. U.S. forces began moving out more equipment Saturday, Kirby said.
"Without specifying any future plans, I will say that we will continue to have the ability to defend ourselves and to leverage over-the-horizon capability to conduct counterterrorism operations as needed," Taylor said.