20-year mission in Afghanistan is over, last US military flights leave Kabul
by
Caitlin Doornbos
Stars and Stripes
August 30, 2021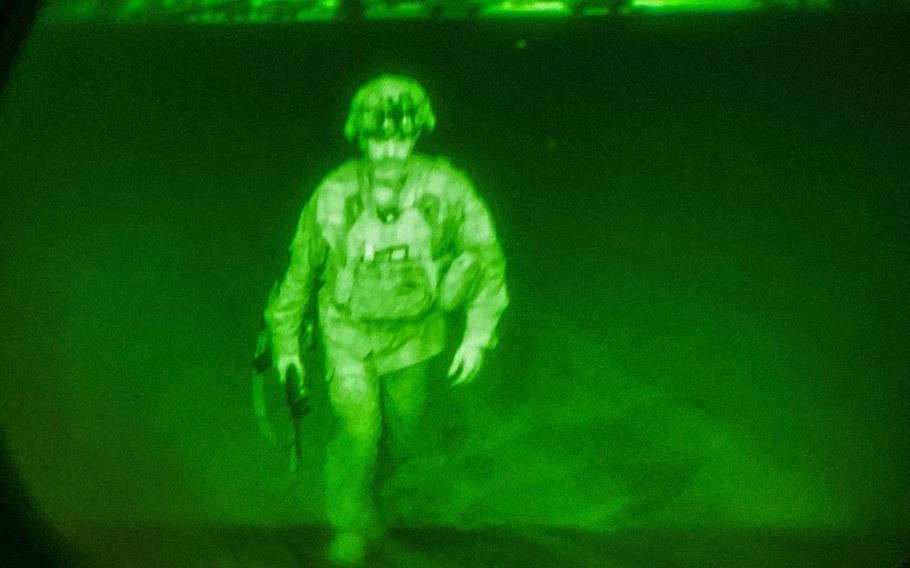 WASHINGTON — American forces have flown their final flight out of Kabul, marking the end of nearly 20 years in Afghanistan, the top U.S. commander in the region said Monday.
The last American troops left the Hamid Karzai International Airport in Kabul shortly before midnight Tuesday local time, meeting their Aug. 31 withdrawal deadline that President Joe Biden set and Taliban leaders threatened to enforce, said Marine Gen. Frank McKenzie, commander of U.S. Central Command.
"I'm here to announce the completion of our withdrawal from Afghanistan and the end of the military mission to evacuate American citizens, third-country nationals and vulnerable Afghans. The final U.S. C-17 transport aircraft left Kabul at 11:59 p.m. local time," McKenzie said, noting the flight was "now clearing the airspace above Afghanistan" as he spoke to reporters at the Pentagon.
"This withdrawal signifies both the end of the military component of the evacuation, but also the end of the nearly 20-year mission that began in Afghanistan shortly after Sept. 11, 2001," he said.
Shortly after McKenzie's announcement, Taliban spokesman Zabihullah Mujahid said on Twitter that celebratory gunfire erupted in the streets after Afghanistan "gained full independence" when "the last American soldier left Kabul airport."
"The sounds of gunfire in Kabul are shots of joy at the withdrawal of U.S. troops, and citizens are not worried," he said.
That last soldier was Maj. Gen. Chris Donahue, commander of the 82nd Airborne Division and XVIII Airborne Corps, according to a tweet from the Pentagon. A night-vision photo accompanying the message shows Donahue boarding a C-17 cargo plane. 
Though all U.S. troops have withdrawn from Afghanistan, Secretary of State Antony Blinken said fewer than 200 and "likely closer to 100" Americans who wanted to leave the country were left behind.
"We did not get everybody out that we wanted to get out, but I think if we'd stayed another 10 days, we [still] wouldn't have gotten everybody out that we wanted to get out and there still would have been people who would have been disappointed with that," McKenzie said. "It's a tough situation."
There were no American evacuees on the final flights leaving Kabul during the last 12 hours of operations because none of them could get to the airport, the general said.
"[We] would have been prepared to bring them on until the very last minute, but none of them made it to the airport and were unable to be accommodated," he said.
The State Department will continue trying to extract those Americans and "negotiate very hard and aggressively" to help Afghans to come to the United States, McKenzie said.
U.S. withdrawal efforts began May 1 when about 2,500 troops were deployed in the country, the Pentagon said at the time. That number was increased to about 5,800 in the drawdown's final two weeks as the U.S. ramped up its evacuation efforts to remove Americans, Afghans seeking special immigrant visas and others from the country once the Taliban took control Aug. 15.
"On average, we have evacuated more than 7,500 civilians per day over the 18 days of the [evacuation] mission, which includes 16 full days of evacuations [and] more than 19,000 on a single day," McKenzie said.
U.S. and coalition forces ultimately evacuated more than 123,000 people from Afghanistan since late July, about 116,700 of whom were evacuated since Aug. 14, said Army Maj. Gen. Hank Taylor, the Joint Staff's deputy director for regional operations. Most evacuees were Afghans, though about 5,400 were Americans, he said earlier Monday.
The final days of the withdrawal were marked by the deaths of 11 Marines, a sailor and a soldier and dozens of Afghans when an Islamic State terrorist wearing an explosive vest detonated it near the airport's Abbey Gate and ISIS gunmen fired on the crowds, the Pentagon has said. The gate was one of three entrances to the airport where large crowds of people had been gathering to vie for evacuation flights.
In response, the U.S. on Friday killed two ISIS-Khorasan, or ISIS-K, terrorists and injured a third in a drone strike, defense officials reported Saturday. ISIS-K is the Afghanistan branch of the terrorist group.
Though the Taliban celebrated the U.S. withdrawal from the country as a win, according to Mujahid's tweet, McKenzie said America's nearly 20 years in Afghanistan held meaning.
"It's a mission that brought [9/11 planner] Osama Bin Ladin to a just end, along with many of his al-Qaida co-conspirators. It was not a cheap mission," McKenzie said. "The cost was 2,461 U.S. service members and civilians killed and more than 20,000 who were injured."
McKenzie also said veterans of the war made a difference.
"To the 800,000 service members and 25,000 civilians who have served in Afghanistan —and particularly to the families of those whose loved ones have been lost or wounded — your service, as well as that of your comrades and family members, will never be forgotten," he said.