Analysis
Will Afghanistan crisis define Biden's presidency?
by
Dan Balz
The Washington Post
August 28, 2021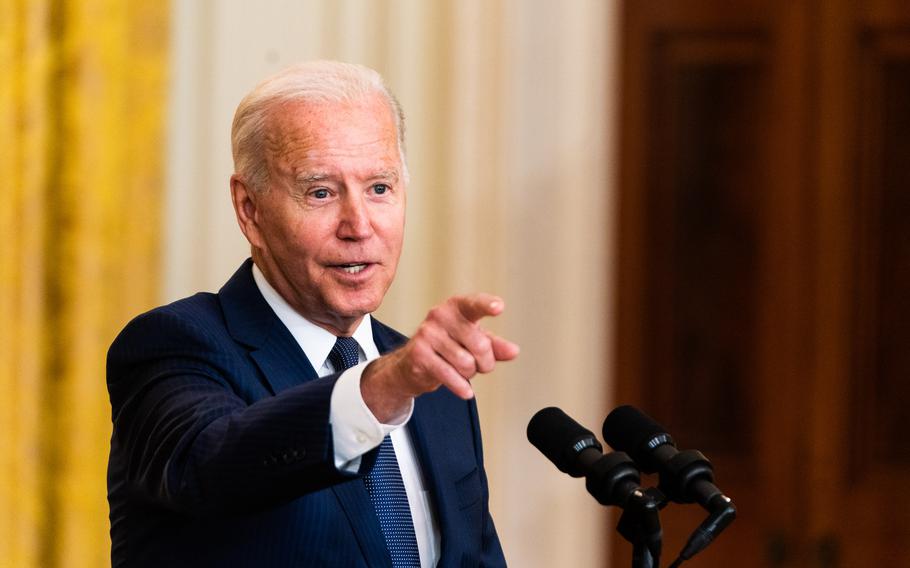 WASHINGTON — President Joe Biden could not - and did not try to - hide the sorrow he felt on the worst day of his presidency; his opening words - "Been a tough day" - and his body language conveyed everything. As commander in chief he will live with what happened Thursday outside the airport in Kabul for the rest of his presidency. But will the deadly attack and the chaotic withdrawal that surrounded it be the defining moment of his time in office?
The withdrawal has been marked by heroism and tragedy. The airlift, which officials say has evacuated more than 117,000 people since Aug. 14, stands as one of the most impressive humanitarian and logistical such undertakings in the history of the country, a mobilization that hardly seemed possible during the first stumbling days after the Taliban completed their takeover of Afghanistan by overrunning Kabul.
However, the chaos that has accompanied the withdrawal - especially now with the deaths of at least 13 U.S. military service members, along with scores of civilians - tells a different story. The experience has scarred Biden and his national security team, affected America's standing in the world, handed a short-term propaganda victory to America's adversaries, and probably emboldened those - such as the Islamic State suicide bomber who struck Thursday - who would do this country harm.
America's exit from Afghanistan has been emblematic of the 20-year history of the war that was launched after the terrorist attacks on Sept. 11, 2001. Nothing has gone as planned. Mistakes have been made by each of the four presidents involved. Every administration has been guilty of misjudgments.
Biden's decision to withdraw the remaining troops by Tuesday will be viewed partly through that historical lens, but only partly. Though it was President Donald Trump who entered an agreement with the Taliban last year for the U.S. withdrawal, it was Biden's decision to complete it by Aug. 31 and in this way, so the consequences are his.
Biden made the judgment that the war should be brought to a close long before he became president.
In 2009, as vice president to President Barack Obama, Biden stood virtually alone among senior officials as the new administration debated whether to send in more forces to Afghanistan. He was against a sizable troop surge and had little confidence in the Afghan government. He was also skeptical of the advice and recommendations from the military, wary that they would try to box in the president.
He saw the conditions in, and the challenges of, Afghanistan as different from those in Iraq. He thought a troop surge, such as the one that had shown success in Iraq, would not work in Afghanistan. He advocated for a policy of counterterrorism, not one of counterinsurgency that military advisers were recommending. He favored continued efforts to take down al-Qaida and the threats posed to U.S. national security. He was against anything that looked like nation building.
He also feared that the policy that had been pursued by the George W. Bush administration, and that Obama ultimately embraced, would put the United States on one side of a civil war. He saw corruption in the Afghan government as endemic and believed that, in what historically had been a tribal nation, trying to wipe out that corruption - and in turn build up a stable, centralized government - would be fruitless.
Retired Adm. Mike Mullen, a former chairman of the Joint Chiefs of Staff, said last weekend on ABC's "This Week" that Biden was correct in his judgments: "I thought we could turn it around," he said. "Obviously, I was wrong."
Biden, Mullen said, "had it right, back then."
Some see the decision to withdraw as a sign of Biden's conviction and confidence in his judgments; others see it as stubbornness in the president, an unwillingness to be dissuaded by those with other views.
Leon Panetta, who served as CIA director and secretary of defense in the Obama administration, said: "I think he's been holding this decision in his gut for a long time. In some ways, as president, he really wanted to make the decision he had hoped would have been made a long time ago. In many ways, I think he was so intent on fulfilling that decision that he probably did not listen to all of the guidance and advice to the contrary."
The debate now, however, should not be over whether Biden was correct back in 2009. It should be whether the decision to complete the withdraw now was the right one and, if so, was it inevitable that the final days would be so chaotic, with the prospect that some Americans and many Afghans who have been helpful to the United States will not be evacuated by the deadline.
Ivo Daalder, president of the Chicago Council on Global Affairs and a former U.S. ambassador to NATO, said, "They're not in a good place. But they were never likely to be in a perfect place . . . The decision to withdraw was preordained to leave behind big problems. What we were trying to do for 10-15 years wasn't working."
Biden was dealt a difficult hand by Trump, who drew down U.S. forces significantly after reaching a deal with the Taliban, even to levels lower than that deal required. The agreement allowed the Taliban to continue to gain territory, though U.S. forces were no longer targeted.
Biden had vowed that the final withdrawal would not result in chaos. On July 8, he said a Taliban takeover was conceivable, though not inevitable and would not be immediate, and he dismissed any comparisons with the chaotic departure from Vietnam in 1975. "The Afghan troops have 300,000 well-equipped - as well-equipped as any army in the world - and an air force against something like 75,000 Taliban," he said. "It is not inevitable."
There was an internal contradiction in all of this: This is a president who has long believed that the Afghan government was corrupt and that its security forces were too dependent on the U.S. military. Yet he seemed persuaded, as Daalder put it, "that if we left, they would stand up long enough for tens of thousands of Afghans to leave."
That there has been damage to Biden's presidency is irrefutable. How much and how lasting is the question.
The withdrawal has riled allies, who say they were not consulted about the decision.
Biden's "America is back" rhetoric had been welcomed abroad after the Trump years. He and his team now have remedial work to do with some of America's best friends.
Adversaries might see weakness and attempt to take advantage. Biden on Thursday said the United States would go after those responsible for the suicide bombing outside the Kabul airport. And on Saturday, Pentagon officials said two "high profile" Islamic State targets were killed by a drone strike the day before. This is only a start: In the future Biden will be watched for how vigorously he responds to provocative actions by China or Russia or Iran.
Some analysts have said this is Biden's 9/11 moment - a severe test relatively early in his administration, though one of his own making, and in the eyes of some a self-inflicted wound. It will shape him and his team.
Panetta compared this with the Bay of Pigs debacle in the early days of the Kennedy administration: "Not only because of the failure to plan for all the consequences," he said, "but also because John F. Kennedy did accept responsibility for that decision and made sure that the Bay of Pigs did not define the foreign policy of his administration. That's what I'm hoping will happen with Joe Biden."
The fallout for Biden is not entirely predictable, as Afghanistan is just one of several key issues that will affect the public's views of his still nascent presidency. He faces major challenges in the fight against covid-19 and the delta variant, which has altered the trajectory and hopes of a return to relative normalcy. At the same time, the president could be celebrating major victories in a few months if Congress passes both the bipartisan infrastructure package and the separate package focused on climate change, education and social programs.
Polls show that the public supports the decision to get out of Afghanistan. The fuller judgment on Biden's leadership and executive competence is yet to come.