Advocacy group files legal petition to State Department demanding all Afghan visa applicants are evacuated
by
Sarah Cammarata
Stars and Stripes
August 18, 2021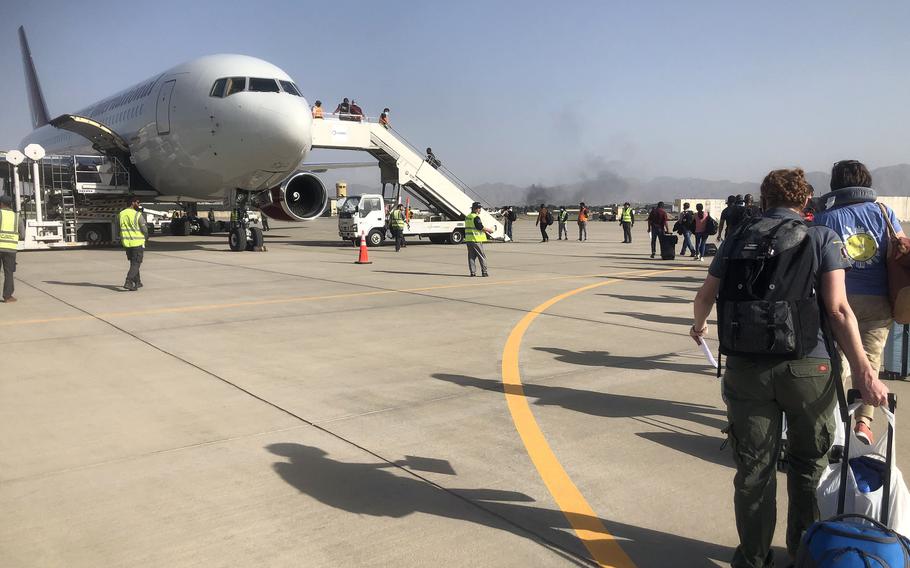 WASHINGTON — An advocacy group that provides legal services to displaced people around the world filed multiple petitions for protection to the State Department on Wednesday to demand the United States evacuate all Afghans seeking special immigrant visas to safety regardless of the status of their applications.
The International Refugee Assistance Project filed one of the legal claims on behalf of all applicants in the Special Immigrant Visa Program and multiple others on behalf of specific individuals. The group said it marks the first time the State Department has been petitioned to carry out its legal duty under the Afghan Allies Protection Act.
The law requires the U.S. to protect all SIV applicants when they are in "imminent danger," according to Becca Heller, the group's executive director.
State Department officials said the U.S. has already evacuated 2,000 Afghans who worked with Americans as translators and interpreters during the 20-year war in Afghanistan. However, President Joe Biden's administration has said up to 22,000 additional special visa applicants are expected to be evacuated.
But the International Refugee Assistance Project estimates the number of individuals with pending applications is more likely to be 100,000, which includes all the primary applicants for SIVs and their families. The group said the Biden administration does not intend to evacuate all of these individuals under Operation Allies Refuge, the Defense Department-led operation to airlift at-risk Afghans from Afghanistan.
"Tens of thousands of SIV applicants were left out of the first phase of Operation Allies Refuge — including a significant number of IRAP clients — because they had not yet received their visas or reached medical exams, which is the final stage of visa processing. For several reasons, we ask that the evacuation be expanded to include the SIV applicants who remain in Afghanistan," according to the petition for all applicants.
Members of the group said the State Department has justified evacuating a smaller number of applicants by only accepting people who have completed the first stage of the application process, which is often the most arduous and dysfunctional.
"[The administration] is blaming our own allies for their failure to have a functioning application process. And then using that as an excuse to argue that they shouldn't have to evacuate them. It's morally reprehensible," Heller said during a teleconference with reporters to discuss the petitions.
The petitions come as the Taliban has taken control of Afghanistan and the Defense Department is attempting to boost evacuations from Kabul's international airport to between 5,000 and 9,000 people from Afghanistan each day.
"The unwillingness of the U.S. government to protect our allies, after they sacrifice their safety and, in many cases, their lives is a historically unprecedented failure that only a sustained attempt to hold the Kabul airport and meaningfully evacuate people can even begin to remedy. The timing could not be more urgent," Heller said.
The State Department has told U.S. citizens as well as Afghans who are attempting to flee the country that they cannot guarantee safe travel to the airport.
"Communications, even to U.S. citizens from State Department, as recently as a few hours ago, said in all caps 'The United States government cannot assist you with safety or cannot guarantee your safety on the journey to Kabul,'" said Michael Breen, president and CEO of Human Rights First, an international human rights organization.
Breen said SIV applicants and other refugees within sight of the airport have been beaten severely by Taliban fighters and killings at individual homes are already taking place throughout the country.
Heller said the group's client told her that at least five translators have been killed by the Taliban in the last two days.
An Afghan women's rights advocate and International Refugee Assistance Project client Fatima, a pseudonym in place of her real name for fear of speaking out, said on a pre-recorded message provided by IRAP during the teleconference that she applied for a special immigrant visa in 2018 and is still waiting for a response.
Fatima said she worked on U.S.-funded projects for several years. In that time, she said she received many threats and warnings to stop serving the United States. Yet, she saw the projects through to the end "because of my commitment and loyalty to U.S. government," she said.
Now, she and her family are hiding from the Taliban.
"We all are worried and afraid. I can't face them as a lone woman in this situation. I'm thinking how much more I can hide from them, myself and my family. They can find us out any moment, any day, and kill us all," she said on the recording.
International Refugee Assistance Project has sued the U.S. government twice over the extreme delays in administering special immigrant visa applications and the group is now arguing the government has not done enough to fix the "broken system."
"SIV applicants who are stuck in Afghanistan are there because their access to safety has been needlessly delayed for years," Heller said.
Khaled Hosseini, an Afghan-American novelist and humanitarian worker who spoke during the teleconference, said his family and friends who are in Afghanistan are "terrified."
"Some of the people that I've spoken to, friends in Kabul, aligned themselves with American initiatives knowing that will turn them into targets to the Taliban and other insurgent groups. But they did it anyway, because they believed in a better future for their country, because they believed in the promise of a peaceful and stable Afghanistan. … America has a moral obligation to evacuate those people as quickly as possible and bring them to safety," Hosseini said.