US and allies gather at Ramstein to discuss how to help Ukraine defeat Russia's 'unjust invasion'
By
John Vandiver and Jennifer H. Svan
Stars and Stripes
April 26, 2022
---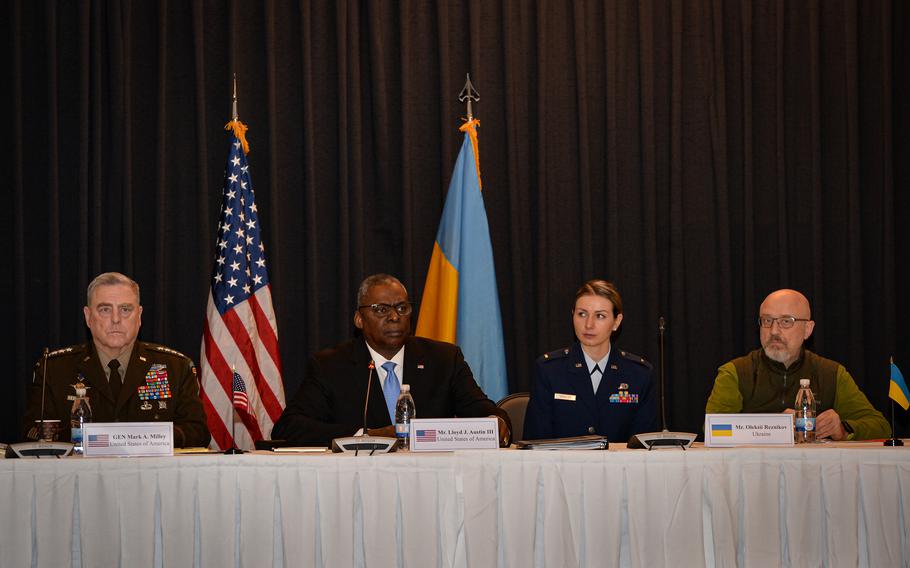 RAMSTEIN AIR BASE, Germany — Defense Secretary Lloyd Austin said that allies must "move at the speed of war" to get more weaponry into the hands of Ukrainian forces, following meetings with dozens of foreign military leaders at Ramstein Air Base on Tuesday.
"I know that all the leaders leave today more resolved than ever to support Ukraine in its fight against Russian aggression and atrocities," Austin told reporters. "And I know we're all determined to do even more to better coordinate our efforts."
The gathering at Ramstein was the first monthly meeting of the "Contact Group," which includes NATO and partner countries.
"The Contact Group will be a vehicle for nations of goodwill to intensify our efforts, coordinate our assistance, and focus on winning today's fight and the struggles to come," Austin said.
Ukrainian forces have dealt the Russian military a severe blow since Moscow's full-fledged invasion in February, inflicting a high number of casualties, Austin said.
"They are weaker than when they started," he said.
The aim of the Ramstein talks was to come to a common understanding on Ukraine's changing military requirements as its war with Russia enters a new phase, said Austin, who led discussions with officials from more than 40 countries.
"Ukraine clearly believes it can win and so does everyone here," Austin told the assembled defense leaders as the meeting began. "Ukraine needs our help to win today and they will still need our help when the war is over."
Gen. Mark Milley, chairman of the Joint Chiefs of Staff, and NATO Secretary-General Jens Stoltenberg also attended the gathering.
Since February, the U.S. has provided Ukraine more than $3.4 billion in security assistance. Among the weaponry that has been dispatched: anti-tank Javelins and Stinger missiles, tactical drones, howitzers and an array of ammunition.
Other countries made additional commitments to supply Ukraine with weapons and aid at Ramstein on Tuesday.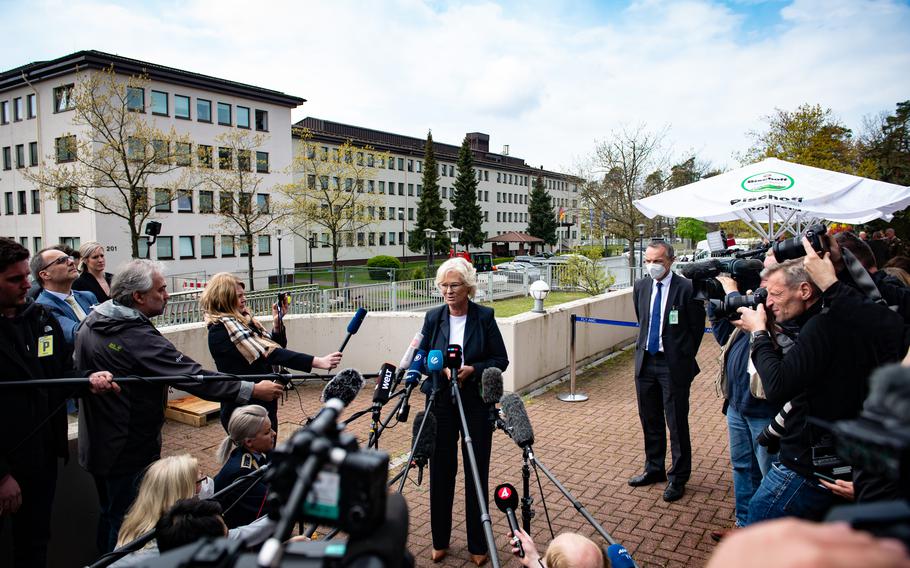 German Defense Minister Christine Lambrecht said her country will deliver an unspecified number of Gepard "anti-aircraft cannon tanks" to Ukraine soon, without committing to a timeline. The systems meet priority requests by Ukrainian defense officials, Lambrecht said.
Krauss-Maffei Wegmann, a German defense contractor, said it had about 50 Gepards, also called Cheetahs, ready to deliver.
Germany's plans represent a broad change from a couple of months ago, when the country was unwilling to donate weaponry and received criticism for announcing it would contribute 5,000 helmets to Ukraine. Days after Russia's full-scale invasion, German Chancellor Olaf Scholz said his country would commit about $113 billion to its national defense and would further support Kyiv.
Also on Tuesday, Canadian Defense Minister Anita Anand told reporters at Ramstein that Canada plans to give Ukraine M777 armored vehicles. Austin later said Ukraine would receive eight of them.
Canada will continue to send Ukraine weapons from its defense inventory and is signing contracts for more, including "cameras for drones that are being used in combat right now," Anand said.
Meanwhile, a defense official from Finland indicated Tuesday that the country is more likely than ever to seek NATO membership, citing widespread public support. Sweden's and Finland's militaries are already at NATO standards and the two countries would be welcomed quickly if they asked to join, alliance officials have said.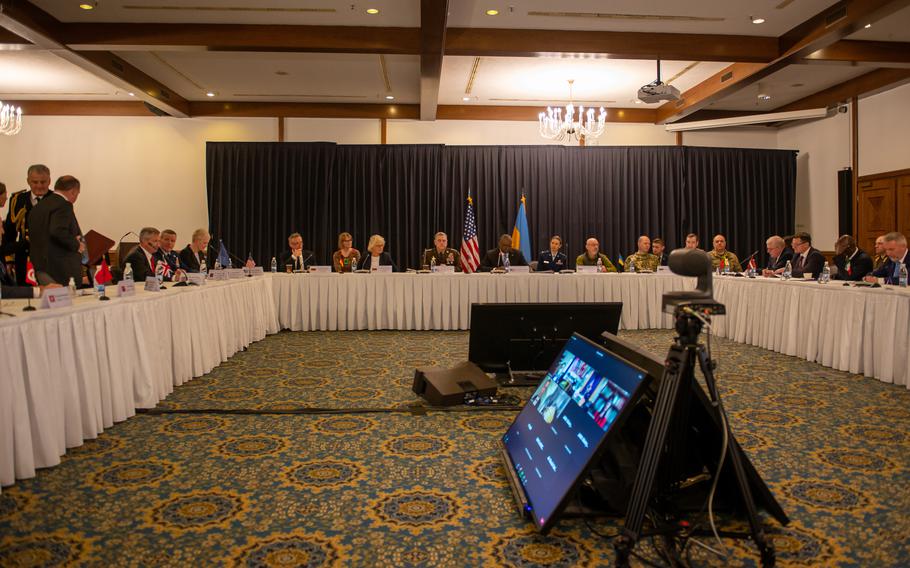 Austin welcomed the growing defense contributions.
"But we don't have any time to waste," he said. "The briefings today laid out clearly why the coming weeks will be so crucial for Ukraine. So we've got to move at the speed of war."
So far, weapons from allies are making their way into Ukraine unimpeded, a senior defense official said, noting that the Russian bombardments of five Ukrainian railway stations on Monday haven't affected efforts.
In Austin's opening remarks, he accused Russian forces of war crimes, including executing Ukrainian civilians. He called Russia's war on Ukraine one of choice, "to indulge the ambitions" of Russian President Vladimir Putin.
"The stakes reach beyond Ukraine and even beyond Europe," said Austin, adding the war presents a challenge to the whole of the "free world."
Allies also discussed what will be required to meet the materiel demands of assisting Ukraine over the long term, Austin said.
"That means dealing with the tremendous demand that we're facing for munitions and weapons platforms and giving our staunch support to Ukraine, while also meeting our own requirements, and those of our allies and partners," he said.
Austin's meeting at Ramstein comes after a stop Sunday in Kyiv, where he and U.S. Secretary of State Antony Blinken met with Ukrainian President Volodymyr Zelenskyy.
Russian forces are refocusing their efforts on Ukraine's south and east after being repelled in their bid to seize the capital of Kyiv.
The battle ahead will put Russia's larger and better-armed force on more open terrain, pitted against a Ukrainian military that has proved to be more agile and adaptive on the battlefield.
"Your resistance has brought inspiration to the free world," Austin said in remarks directed to Ukrainian Defense Minister Oleksiy Reznikov, who also attended the meeting at Ramstein.
Stars and Stripes reporter Alexander Riedel contributed to this report.
---
---
---
---