Biden approves another $800M in military aid, including more howitzers, for Ukraine
By
Stars and Stripes
April 21, 2022
---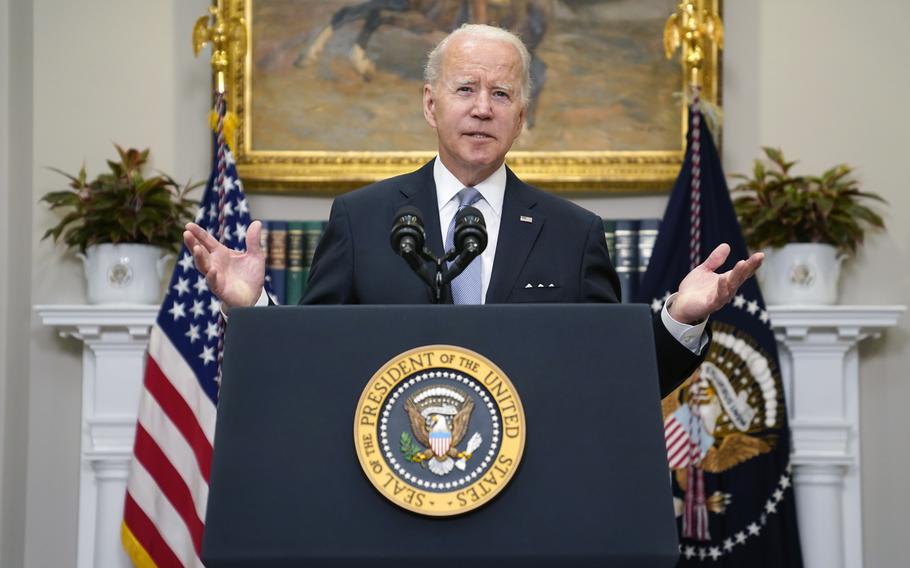 WASHINGTON — President Joe Biden on Thursday approved the second $800 million military aid package that includes howitzers and vehicles in just more than a week and provides Ukrainian forces more weapons for the mounting battle in the country's eastern Donbas region.
The new package includes 72 U.S. 155mm howitzers, 72 tactical vehicles to tow them and 144,000 artillery rounds for the howitzers and other "field equipment and spare parts," chief Pentagon spokesman John Kirby said Thursday.
It also includes 121 Phoenix Ghost tactical drones, a new weapon rapidly developed by the Air Force specifically for Ukraine's war with Russia, a senior U.S. defense official said Thursday.
"It provides the same sort of tactical capability that a Switchblade [drone] does," said the official who spoke on condition of anonymity. "[The] Switchblade is a one-way drone, and it clearly is designed to deliver a punch."
Those weapons will be particularly useful on the flat terrain of the Donbas region in eastern Ukraine, where Russia is focusing its renewed assault on the country, Biden said.
"Fighting in the Donbas region is a different war than in other places because topographically, it's different," he said. "It's flat, it's not in the mountains, and it requires different kinds of weapons to be more effective."
Russia has refocused on the eastern region after failing to enter the Ukraine capital of Kyiv and retreating to Belarus and Russia on April 6, the Pentagon has said. The Russian forces had been stalled outside the northern city for nearly six weeks due in part to supply and logistics challenges.
The U.S. has already sent Ukraine more than 700 Switchblade tactical drones, 18 howitzers, 40,000 artillery rounds, 14 counter artillery radars and more than 5,500 Javelin anti-armor missile systems, according to the Pentagon.
The latest two military aid packages combined include 90 howitzers, which are enough to equip five Ukraine battalions, according to the U.S. defense official.
"We think it could add significant additional firepower for the Ukrainians," the official said. "If we didn't believe that, we wouldn't have moved forward with that many howitzers and that many more rounds."
Biden said the U.S. has provided 10 anti-armor systems to Ukraine for every Russian tank in the country.
"To modernize Teddy Roosevelt's famous advice, sometimes we will speak softly and carry a large Javelin because we're sending a lot of those as well," he said.
Since taking office in January 2021, Biden has sent Ukraine about $4 billion in military aid — an amount that senior U.S. defense officials have said nearly matches Ukraine's defense budget for last year, which was about $4.2 billion.
Those funds helped Ukraine "beat back [Russian President Vladimir] Putin's savagery that tried to seize Ukraine's capital and wipe out Ukraine's government," Biden said.
"The Battle of Kyiv was a historic victory … for freedom won by the Ukrainian people with unprecedented assistance by the United States and our allies and our partners," Biden said. "Now we have to accelerate that assistance package to help prepare Ukraine for Russia's offensive."
About $3.3 billion of the U.S. aid has been sent since Russia invaded Ukraine less than seven weeks ago, according to the Pentagon.
The first shipments from the package will leave the U.S. in the next 24 to 48 hours, the official said. Until now, the Pentagon's average time to begin delivering shipments has been four days once approved.
The U.S. is prepared to continue sending aid to Ukraine, Biden said. "We have the capacity to do this for a long time" despite the pace of the consecutive shipments, he said.
The president said he plans to send a supplemental budget request to Congress next week "to keep weapons and ammunition flowing without interruption."
Congress last passed a supplemental funding bill in early March that included $13.6 billion to assist Ukraine — about half of which was earmarked for Ukraine security assistance and related U.S. military operations in Europe.
However, Biden said he has "almost exhausted" those funds with the approval of the latest aid package.
"Every American taxpayer, every member of our armed forces, can be proud of the fact that our country's generosity and the skill and service of our military helped arm and repel Russia's aggression in Ukraine," he said.
House Speaker Nancy Pelosi, D-Calif., said Tuesday that the lower chamber will take up legislation to authorize more military spending for Ukraine as early as next week.
"We want to do more," she said. "The president said he will be asking Congress for more. We'll learn about that in the next day or so, to be taken up as soon as we can next week."
Sen. Roger Wicker, R-Miss., said Russia's assault has reached a "key inflection point" and the U.S. should be rushing shipments of advanced weaponry — tanks, missiles, Javelins and more — to help Ukraine fight and win.
Wicker, a senior member of the Senate Armed Services Committee, reiterated his call for the Biden administration to appoint a Ukraine aid coordinator to speed up weapons deliveries. A bipartisan group of senators proposed creating the position in a letter to the White House last week.
"The American people are united, and we stand with Ukraine," Wicker said. "President Biden cannot leave Ukraine with inadequate defenses."
Stars and Stripes reporter Svetlana Shkolnikova contributed to this story.
---
---
---
---