First American howitzers bound for Ukraine arrive in Europe as US troops begin training Ukrainians on the cannons
By
Stars and Stripes
April 20, 2022
---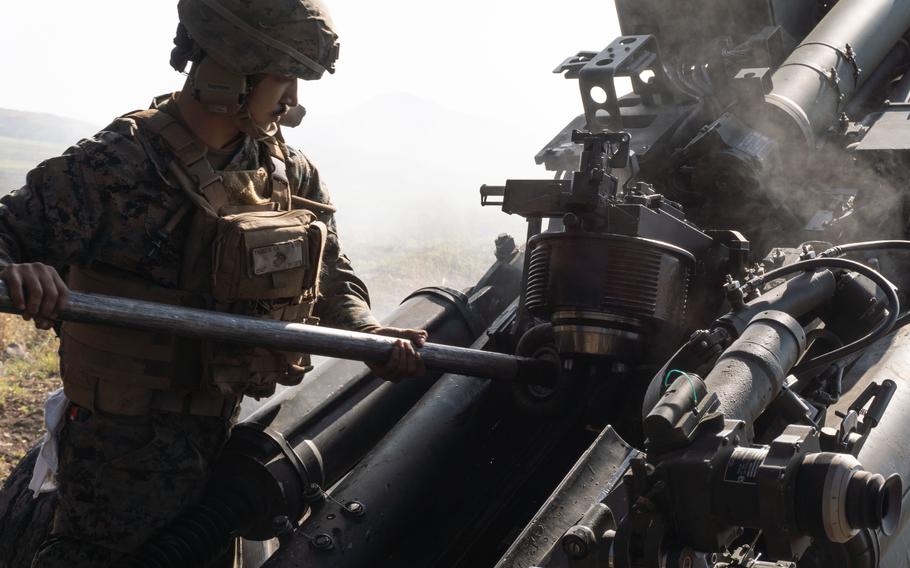 WASHINGTON – The first U.S. 155mm howitzers from the latest $800 million military aid package for Ukraine have arrived in Europe as American troops there begin training Ukrainian forces on the artillery, a senior U.S. defense official said Wednesday.
Some – but not all – of the 18 howitzers and 40,000 artillery rounds that the U.S. is sending Ukraine as part of the aid authorized April 13 by President Joe Biden have arrived in Europe as the U.S. delivered another four flights of military aid during the past 24 hours, said the official who spoke on condition of anonymity.
In that time, U.S. troops have begun training some Ukrainian forces on how to use the American howitzers, the official said. The training is expected to last "about a week."
The official declined to say where in Europe the training is happening, but said it is not occurring inside Ukraine. After completing the instruction, the Ukrainian troops will return to the fighting and teach other troops how to use the American howitzers.
The official declined to say whether the U.S. is sending its M777 or M198 155mm howitzers. Both American cannons are a different caliber than Ukraine's 152mm Msta-B howitzers, but they share the same "basic outlines," a defense official said Monday.
Both U.S. howitzers can fire up to about 4 rounds per minute, according to the Army.
The U.S. is sending the howitzers after Ukrainian officials asked for artillery, which is expected to play a significant role in Russia's new focus on the flat, rolling plains of the Donbas region in eastern Ukraine, the official said.
"We knew from talking to Ukrainians that artillery was going to be a critical need because of the way the terrain lays," the official said. "And so we saw early on the Russians were moving artillery [for the battle in the Donbas]."
Despite the latest delivery, the Pentagon might need to send more artillery in the future, the official said Wednesday. With 18 howitzers and 40,000 rounds on its way to Ukraine, it amounts to about 2,222 rounds per cannon.
"I think you can assume that should there be additional need in the future for more 155 artillery rounds, the United States will be right at the front of the line doing what we can to help get them there," the official said.
Biden on Tuesday told reporters he planned to send Ukraine more artillery as he got off Air Force One after landing in New Hampshire for a public address.
Earlier that day, he also discussed "providing more ammunition and security assistance to Ukraine" on a video call with allies and partners, including the presidents of France, Poland, and Romania, White House Press secretary Jen Psaki said Tuesday.
Also on the call were the prime ministers of Canada, Japan, the United Kingdom and Italy, the chancellor of Germany, and European Commission, NATO and European Council leaders.
"Certainly, we will continue to provide them more ammunition as we will provide them more military assistance," Psaki said. "There's an ongoing discussion with the Ukrainians about what they need, with Congress about what we can provide."
---
---
---
---