US sending $100 million in Javelin anti-tank weapons to Ukraine
By
Stars and Stripes
April 6, 2022
---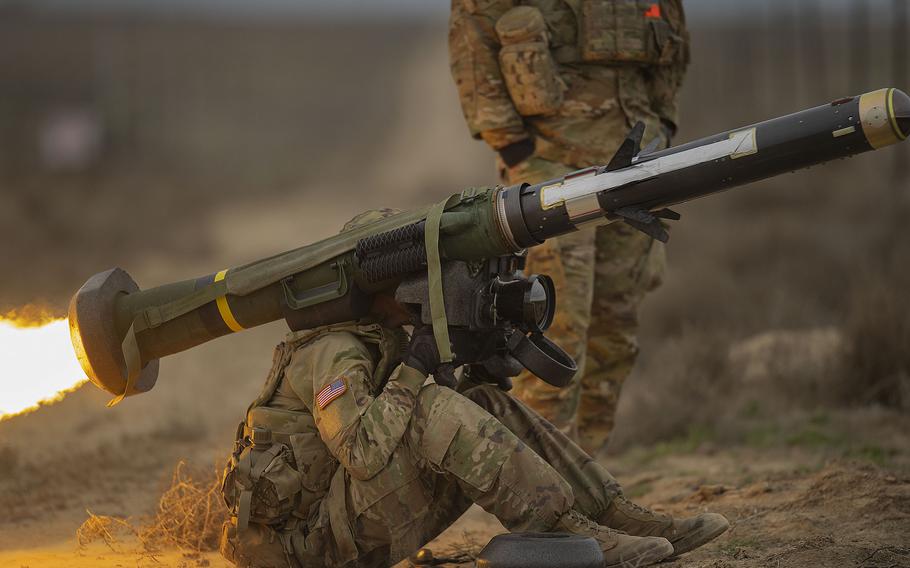 The White House on Tuesday authorized another $100 million in aid to Ukraine for more Javelin anti-armor weapons in its battle to repel the Russian invasion that began in late February.
The shoulder-fired Javelin automatically guides its projectile to the target, allowing the gunner to take cover immediately after firing and avoid being hit by counterfire.
Ukraine's armed forces have an urgent need for more of these particular weapons, which "they have been using so effectively to defend their country," Pentagon press secretary John Kirby said in a news release Tuesday evening announcing the aid.
The anti-tank weapons come on the heels of a $300 million package of military aid for Ukraine announced by the Pentagon on Friday.
That batch included laser-guided rocket systems, Switchblade tactical drones that in some cases are capable of taking out armored vehicles, Puma drones for surveillance and intelligence gathering, small and large caliber ammunition, night-vision devices, machine guns, communications equipment, medical supplies and other items.
With the addition of the newest aid, the U.S. has committed $1.7 billion for the defense of Ukraine since Russia invaded the country on Feb. 24.
"The United States, along with our Allies and partners, will continue to work closely with our Ukrainian partners to evaluate their specific requirements to ensure our assistance meets Ukraine's highest priority needs as they courageously defend their country," Kirby said in the news release.
Jointly developed by Lockheed Martin and Raytheon, the Javelin has a range of roughly 2,700 yards.
It is particularly effective against tank armor because the projectile contains two charges. The first explodes upon contact with the tank, which then sets off a second, more powerful armor-piercing blast.
---
---
---
---