Army's Cavoli to be next EUCOM chief and NATO commander in Europe, report says
By
Stars and Stripes
April 12, 2022
---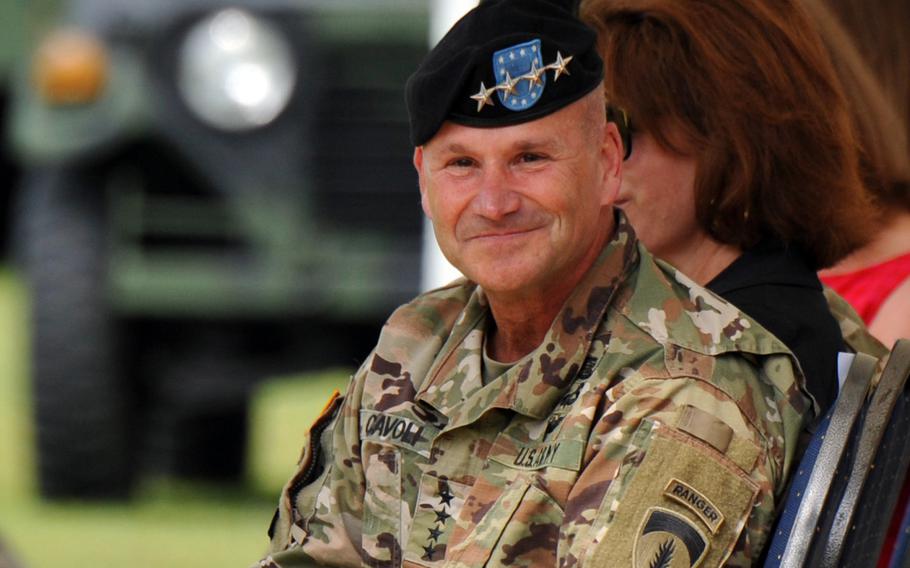 STUTTGART, Germany — Gen. Christopher Cavoli, a Russian speaker who has led the Army in Europe for the past four years, has been tapped to serve as the next head of U.S. European Command, according to a Wall Street Journal report.
Cavoli would replace Gen. Tod Wolters, who is slated to retire, the Journal reported Monday, citing unnamed U.S. officials.
The shakeup comes at a crucial time in Europe, where Russia's war on Ukraine has prompted the U.S. and its allies to send thousands more troops to NATO's eastern flank. If confirmed, Cavoli also would serve simultaneously as NATO's supreme allied commander.
During his tenure at U.S. Army Europe and Africa, Cavoli has overseen a mission that was growing even before Russia's Feb. 24 full-fledged invasion of Ukraine. Additional units, such the Army's 56th Artillery Command, have taken up new positions in Germany, marking a reversal from the decadeslong post-Cold War drawdown of U.S. troops in Europe.
In October 2020, Cavoli was promoted in connection with U.S. Army Europe and Africa's elevation to a four-star headquarters.
Going forward as EUCOM chief, Cavoli is expected to play a key role in designing what the future U.S. mission in Europe will look like.
Joint Chiefs of Staff Chairman Army Gen. Mark Milley and other military leaders have said they anticipate more U.S. troops being based on NATO's eastern flank in the future in connection with concerns about further Russian aggression. That increase could involve rotational forces or a mix of revolving and permanently based troops.
Cavoli, who was born to an Army family in Wuerzburg, Germany, during the Cold War, grew up at various military bases around Europe.
A graduate of Princeton University, he served multiple tours in Afghanistan. He also is a foreign area officer and held a previous staff job as director for Russia on the Joint Staff.
A replacement for Cavoli at Army headquarters in Wiesbaden, Germany has not yet been announced.
---
---
---
---